Jobs US Calistoga, CA:
1 Newborn (0 - 2 months)
3 Toddlers (1 - 2 years)
1 Newborn (0 - 2 months)
3 Toddlers (1 - 2 years)
Babysitting Safety
Safety is one of the most important responsibilities of a babysitter, both safety of the children under your supervision and safety for yourself while on the job and traveling to and from jobs. In this section, we cover various aspects of safety that all babysitters should know. We encourage you to read all of these helpful articles.
1 Newborn (0 - 2 months)
3 Toddlers (1 - 2 years)
How Kidsit Works (only 2 Steps)
Create a profile or login to use an existing one
Apply for jobs with your profile attached
Kidsit is a Free Service 😊
Create a Profile to Apply For Jobs
Child Ages
How you plan for each babysitting job will largely depend on the ages of the children who will be under your care. In this section, we look at the specific babysitting requirements for individual age groups, the pros and cons of each age, potential pitfalls to look out for, and age-appropriate games and activities that we recommend.
Kids Activities
After child safety, engaging entertainment is probably the most important thing a good babysitter can provide for children. In these articles, we reveal hundreds of entertainment options for children of all ages.
Babysitting Interviews
An essential part of winning new babysitting jobs is being able to present yourself to parents in the best possible light by showcasing your good qualities, skills, and qualifications. The following articles cover all aspects of babysitting interviews, what to bring, what to wear, what to expect, and questions you should ask parents.
Babysitting Qualifications
To become an effective and professional babysitter you will need to have completed some essential training (or have equivalent practical experience) the following articles cover the most common babysitting qualifications.
Babysitting Equipment
Good babysitters always come prepared. The following articles cover the most important items to bring while babysitting.
Babysitting Skills
There are many classic skills that you should know as a babysitter if you want to excel at your job. Read our guides to the most importnat skills below.
How Much To Charge?
One of the most asked questions by babysitters is "how much should I charge?" and to be honest, there isn't a simple answer. Your babysitting rate will depend on where you live, your age, what skills and qualifications you have, how in-demand you are, and also, how effective you are a negotiating your pay rate.
Special Occasions
There are a few dates each year when babysitters find themselves in high demand. On these special days, babysitters can easily charge 1.5 times their normal rate. These are also times when new babysitters can find greater success in securing new jobs. Read on to learn how you can make the most of these dates to advance your babysitting business.
Outings
Babysitting doesn't have to be boring, it can be an adventure! In these articles, we take a look at kid-friendly outings that you may want to try on your next babysitting job. The kids will love them!
How To Promote Your Babysitting Service
Once your babysitting business is set up, it is essential that you have a cost-effective way to promote your service to new families. In these articles, we look at a variety of free and cheap advertising methods that we recommend to babysitters and how best to use them for your particular circumstances.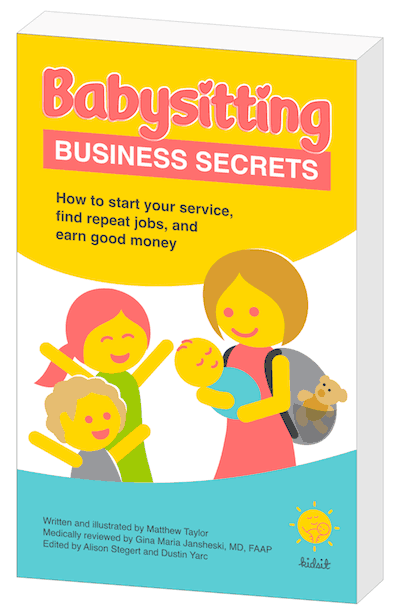 Take Your Babysitting Service To The Next Level!
My book, Babysitting Business Secrets, is out now as an inexpensive ebook or full-color paperback. If you're serious about becoming the best babysitter you can be, or if you want to make as much money as possible, then this book is perfect for you. I reveal all my tricks and tips for first-time babysitters or experienced sitters who just want to up their game. Get your copy today!
- Matthew Taylor, Kidsit Founder