29 Skills You Can Learn From Babysitting
(And Why They're So Valuable)
Previously we've covered the many reasons to become a babysitter, and how easy babysitting is, but today, we'll focus on the skills you learn and why these are perhaps the most useful.
These skills are not limited to babysitting work either. Most are fully transferable to other occupations.
Babysitting teaches you a wide range of skills including practical childcare techniques, business know-how, essential homemaker experience, and personal growth. These skills, when combined, can set you up for a lifetime of achievement.
Babysitting jobs are a popular alternative to childcare internships because you can learn so much and often get better pay.
Here are the main categories of skills we're going to cover:
If you're looking for babysitting skills so you can add them to your resume then read our handy guide: How to add babysitting to your resume for our essential tips and examples.
Let's get started.
Babysitting teaches you practical childcare skills
If you are considering a career in childcare, then babysitting work is an ideal first step. You can learn many rich and varied child-related skills.
1. Safety skills
Babysitters know you can't take your eyes off a child for even one second, kids need constant adult supervision to keep them safe.
The world is an especially dangerous place for babies with choking hazards, sharp objects, dirt, and gaps to trap curious fingers everywhere.
When looking after children you quickly learn to be constantly aware of your surroundings and to look out for any possible danger.
The safety awareness skills you learn while babysitting will stay with you throughout your life.
Read our article on How to be a safe babysitter for essential tips when looking after kids and if you're taking them to the beach read our Kids water safety guide before you go.
Also see our kids fire safety tips for babysitters.
Don't forget to keep yourself safe too, read our guide on How to stay safe when babysitting for helpful advice.
2. First aid skills
Kids hurt themselves all the time so it's important to know how to deal with these situations.
You'll learn that bumps and scrapes (no matter how small) can always be helped with a neon band-aid and a touch of sympathy.
But emergencies can happen too.
It's common practice for babysitters to acquire first aid certificates before working with families, and for most parents, this is a non-negotiable requirement for the job.
You never know when your CPR skills could save someone's life.
And future employers always prefer candidates with safety training, all else being equal, so these skills can help your career prospects too.
3. Child development knowledge
Working with lots of children can teach you the stages of childhood development and what to expect at different ages.
You can learn to tailor your babysitting strategies to match the capabilities of children under your supervision.
These skills are useful when working with kids at any time in your future and especially if you're planning to have a family someday.
Learn more about child development in our babysitters guide to child psychology.
4. How to entertain kids
With enough babysitting practice, you can have child-entertaining down to a fine art.
You can quickly become a master of playing, reading, singing, drawing, improvising, and having fun. See our huge list of 200+ babysitting games for kids if ever you're stuck for an idea.
Download our Kidsit colouring book and bring print-outs to your babysitting jobs.
Or, try out one of our recommended education and learning apps.
You can really impress parents while babysitting by bringing one of our recommended kids books for babysitters and trying out the follow-on games that are perfect to keep kids entertained.
If you're dedicated, you may also reach a higher level of entertainment ability, where the daily chores become fun games that no-one wants to miss out on.
Never underestimate the ability to see the fun in everything!
5. How to care for sick children
Kids get sick a lot (particularly when attending childcare centres) so caring for children when they're not well is something you'll pick up over time.
There are lots of tactics to learn that can make a child feel more comfortable, loved, and to help them recover quicker.
You can also learn how to prevent the spread of germs and stop other people from getting sick, including yourself!
Most of these skills can be applied to children of all ages (and even adults).
See our in-depth guide to babysitting sick children for more information and to download a useful checklist.
If you fall ill, find out how sick is too sick to babysit and learn how to manage parent expectations.
6. Discipline strategies
Helping children to understand their emotions, manage their feelings, and learn the difference between right and wrong behaviour, is challenging, but it's also a rewarding experience.
These skills are both an art and a science.
There are many subtleties to learn and every family may have a slightly different set of disciplinary values they wish to uphold.
Developing these skills can teach you a lot about human psychology.
7. Dealing with tantrums
Babysitting kids who are prone to tantrums can teach you lots of skills:
You can become more aware of other people's emotional states and how to communicate with more tact.
You can learn to pre-empt trigger situations, and how to plan around them.
You can learn the art of distraction (very powerful).
And if a tantrum does occur, you can learn how to stay calm in stressful situations while sticking to your principles.
Read our guide: How to babysit difficult children for some helpful strategies for dealing with tantrums.
These skills are all valuable in employment, business, and dealings with people in general.
8. Conflict resolution
Kids often fight with one another because they don't yet have the skills to resolve disagreements on their own.
Good babysitters know it's their job to teach these skills.
As you coach children to resolve conflicts on their own, you can learn to become a better negotiator for yourself.
This is an invaluable life-skill to master.
9. Child encouragement and motivation strategies
Babysitting is an excellent way to fine-tune your child motivation strategies.
You can learn to apply appropriate encouragement tactics to match any personality type.
You can also learn the value of:
Explaining why things need to be done;
Building trust, and;
Leading by example.
Learn how babysitters can nurture children to encourage and motivate them to be their best.
These learned strategies can be invaluable in your day-to-day dealings with all people.
Learn one of the most valuable child encouragement skills; how to get kids to bed while babysitting (you'll find these tricks invaluable on the job).
10. How to promote love, affection, and foster lasting friendships
Babysitters often form close ties to their work families, they can learn the importance of maintaining a loving environment where kids feel safe to grow.
Watching kids learn teaches you a lot.
You can learn to become a better team player by teaching kids kindness, helping them empathise with one another, and showing them how to work together.
By promoting love and kindness you create a friendlier world.
Babysitting teaches you business skills
11. Negotiation
Not only can you help kids negotiate with one another but as a babysitter, you'll get experience negotiating with other people.
You can learn to strategically aim for win-win situations where everyone is happy with the outcome.
Babysitting can teach you how to negotiate in a business setting with parents and other family members.
Good negotiation skills will help you to reach agreement on dates and pay rates for your babysitting jobs.
And negotiation skills can continue to serve you in any other occupation in the future.
See our babysitting rate guide to see how much you're worth, then read our article: How to negotiate a babysitting pay rate to learn some valuable techniques and strategies for increasing your pay.
12. Money management
Babysitters are typically responsible for managing their personal finances so there will be many opportunities to learn about money.
You can learn how to keep track of your income by maintaining written records of payments and costs. This information can help prepare for tax time.
And learn how to forecast your earnings, anticipate upcoming bills, and set weekly budgets as necessary.
Babysitting is a business that teaches you valuable money management skills. These skills can help you in all types of businesses.
Read our guide on managing your babysitting job taxes if you're just getting started.
13. Networking
If you enjoy meeting people and maintaining relationships then you'll love the networking that babysitting can offer.
Every new parent, family member, teacher, librarian, or doctor you meet can help grow your professional network.
Keep a record of your contacts and stay in touch.
You never know when the people you have worked with could help you later in life.
And of course, you can learn how helping others can build stronger relationships.
People who you have helped, are much more likely to help you in the future.
Your network of relationships is an asset worth investing in.
14. Teamwork
Babysitting can teach you how to work in a team environment.
Whether you're encouraging multiple kids to get their chores done, or working with parents and family members to achieve a task, you can learn how to work together.
You can play to your strengths, complement other's skills, and effectively achieve common goals.
15. Event planning
Anyone who's taken young children shopping will appreciate how much work it can be, not just the outing itself, but also the preparation required beforehand.
There are so many things to learn:
Planning ahead: So you're ready in advance.
Asset management: Making sure you take everything you need (or could need).
Logistics: Ensuring nothing gets lost along the way.
Timing: Because even the simplest things can take forever, and
Contingency planning: Because the unexpected is a normal occurrence!
Babysitting can teach you excellent event planning skills.
See the best things to pack in your babysitting bag so you have everything you need for a smoothly running babysitting job.
16. Delegation
When you have so many little things that need doing it makes sense to share the load by delegating appropriate tasks.
Kids love to help and it gives them a chance to learn new skills too.
And nothing is more satisfying than sharing achievement.
When you learn effective delegation skills you can achieve more than you ever could alone.
17. Marketing and promotions
Running your own babysitting business is a great way to learn marketing skills.
If you are to survive and earn good money while sitting then families need to find out about your services. As a babysitter you will have the chance to try out many different promotional ideas, particularly cheap and free methods that can get the word out without costing you more money than you make.
Check out our 8 free techniques to promote your babysitting services to give your business a push forward.
18. Leadership skills
As a babysitter, you're responsible for the children under your supervision. You'll need to take control and lead by example.
You must learn to be accountable, reliable, and fair.
You'll be in charge in many situations so you'll decide what to do, what games to play, what jobs need doing, and when.
Babysitting can help you practice leadership skills and to acquire a leader's mindset.
Read our guide to learn more about how babysitting fosters leadership skills.
Bring your new-found business skills to your next occupation or why not become your own boss and turn babysitting into a business and run it as your full-time career.
Babysitters learn valuable domestic skills
Domestic skills are not very glamorous but they're essential to daily life.
19. Cooking and food preparation
You don't have to be a master chef to be a good babysitter but learning basic food preparation skills can take you a long way.
You can learn the art of making healthy snacks in no time at all, and how to squeeze veggies into yummy dinners that kids will love.
And you can have fun cooking with kids, learning recipes, and teaching them about food.
Cooking doesn't have to be a chore, you can learn how to make it a fun activity everyone can share.
20. Cleaning skills
No-one likes cleaning, but as a babysitter, you'll get plenty of opportunities to practice your cleaning skills.
Babies and kids are messy by nature, so you'll quickly learn efficient ways to clean all kinds of spills, dirt, and mess.
And you can learn how important it is to prepare for unexpected accidents (never leave home without wipes!)
And of course, making cleaning fun is the ultimate skill to learn. Give kids rides on the vacuum cleaner, take turns doing mop-shoe moonwalking down the hallway, or have tidying-up races!
If you can turn cleaning into a game it feels a lot less like work!
Be sure to read our article on cleaning for babysitters to learn what kinds of cleaning parents typically expect and how to set realistic expectations.
21. Household organisation
Babysitting can teach you how to run an efficient household.
You can learn how to keep everything organised, the importance of maintaining a shopping list, and how to keep on top of scheduled of tasks.
Good homemaker skills can help you make the most of your time so there's more time for fun!
Babysitting jobs help your personal development
Working as a babysitter gives you many opportunities to learn life skills and to grow as a person.
22. Patience
Patience is important when coaching children, you can learn the value of planning ahead and allocating extra time for daily tasks so you never feel rushed.
Sometimes good things just take time.
And learning to be patient can help you find success in achieving your long-term goals.
23. Problem-solving
Kids can be unpredictable so you may often find yourself in sticky situations where only you can find a solution.
You can learn to think on your feet, adapt to your surroundings, and exercise your creative problem-solving skills.
Thinking out of the box is a useful skill in all aspects of daily life.
24. Communication and relationship building
Babysitters meet many types of kids and family members through their work and this can teach you good communication skills.
You can become more effective working with different personalities and with people from different backgrounds.
You'll get to practice digital, and face-to-face communication, and you'll learn the right time for each one.
Good communication skills are an essential life-skill, and babysitting can help you progress in this area in many ways.
25. Multitasking
There are always so many things to do when babysitting, you can quickly discover how to prioritise tasks and to juggle responsibilities to ensure continual forward progress.
Taking multiple children on an outing is perhaps one of the best ways to improve your multitasking skills.
Being aware of many things at once is almost a prerequisite for running your own business.
26. Time management and scheduling
When you're booking in babysitting jobs, planning outings, and fitting tasks into a busy schedule, you can learn excellent time management skills.
You'll know all the good productivity apps too because you'll use them all the time.
And you can learn to appreciate being on time and to be reliable and dependable for your busy clients.
See our recommended babysitting apps for time management.
27. Self reliance
Working as a babysitter is running your own business, it teaches you to be self-reliant.
Everything is up to you.
You must become responsible for all aspects of your job if you want to succeed.
And there is a satisfaction when achieving such independence.
28. Creative skills
When working with kids there are endless opportunities to be creative.
Invent crazy games.
Draw and paint beautiful pictures.
Build amazing things with blocks or lego.
Make up silly songs.
Stage a concert and dance or act.
Write a kids book on scrap paper.
Construct a cubby house from pillows and blankets.
Exercise your creative-problem solving skills.
And so much more.
In a world of computers, robots, and artificial intelligence, creativity is fast becoming the most valuable human trait.
Babysitting is a great way to take your creative skills to the next level.
29. Confidence
Building skills as a babysitter is a great way to grow your confidence.
Your daily interactions with people and children expose you to a wide variety of situations to learn from.
Before long you can become a well-rounded and capable individual who's not afraid of a challenge.
You can learn who you are, what you want out of life, and you'll have the confidence to pursue your goals, whatever they are.
Conclusion
As a job, babysitting is one of the best ways to learn new, and valuable skills.
These skills can remain useful for the rest of your life and many are fully transferable to other occupations.
Next:
Written & Illustrated by: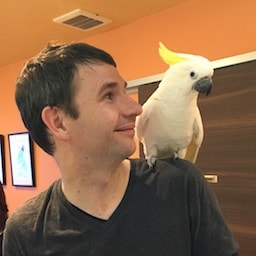 Kidsit Founder, Editor, Illustrator, and father of three beautiful kids in Sydney, Australia.
Published: 14 August 2018
More Babysitting Tips
Learn the most popular babysitting qualifications, what they are, why you need them, and how they can put you ahead of the competition when applying for jobs.
Impress future employers with a professional resume that highlights your babysitting experience. Follow our simple guide and get that job!
See out how much you're actually worth as a babysitter by reviewing your skills, experience, the job requirements, and where you live.
Give yourself the best chance in a babysitting interview by asking parents the right questions that demonstrate your experience and interest in the job.
Learn the most common responsibilities that parents expect of their babysitters and how your duties may change depending on the job requirements.
See what traits make a good babysitter, and different things you can do to make a good impression on both parents and kids alike.
See how much money you can make as a babysitter, how to start getting sitting jobs, and how to increase your pay once you're already working.
Babysitting can definitely be considered work experience for your resume, job application, or college application. See how to list your experience...
In most places, you don't need qualifications to babysit. However, parents prefer carers with a First Aid Certificate & other basic credentials. Find out what qualifications you need.
Learn what separation anxiety is, what it looks like, and how to help minimize the effects while you're babysitting with our 15 tips.
Learn some basic water safety tips for children, as well as what to bring to the pool and what types of games kids might want to play.
I'll walk you through the major steps of a babysitting interview process so you'll know how to prepare and what to expect.
BE SAFE! Learn how to prepare yourself for a fire emergency and how you and the kids should handle the situation if it ever happens while babysitting.
Learn to recognize dangerous water hazards and the basic safety tips needed to keep kids safe around water while you're babysitting.
With a well stocked babysitting binder, you can focus on caregiving because you know you have everything you need.
Learn how to deal with difficult children, it will make work easier, and can also open up extra well-paying jobs that others aren't willing to take.
Learn some essential tips and strategies to bring to the bargaining table to help get you the pay rate that you deserve.
Learn how to babysit a baby by following our simple beginners guide and you'll know what to do in no time.
We have the best jokes that kids love, including riddles, knock-knocks, puns, nonsense jokes, Doctor-Doctor, and even funny Dad jokes!
Learn if babysitting is right for you and which simple steps you need to follow to become a successful and confident babysitter.
Strike the best balance between professional and practical by following our handy clothing tips for your next babysitting job.
Learn these 8 simple tricks to nail a successful bedtime every night! It's surprising how many of these sleeping tips are not commonly known.
How sick is too sick? Do I need to find a replacement? What are the risks of babysitting when sick? Read on for the answers.
Learn what preschoolers need, what's important to them, effective discipline strategies, and common mistakes all babysitters should avoid.
Learn the important things to keep in mind when you're babysitting a toddler, as well as 28 tips to make your job a bit easier.
Learn how to tailor your babysitting strategies and activities to the age and development stage of the children in your care.
Learn what risks babysitting websites might pose, what safety checks they should have in place, and some warning signs and scams to look out for.
Learn what a legal guardian is and the rights and responsibilities a legal guardian has, and how this is different to your obligations as a babysitter.
We cover the many reasons why babysitting might actually be the dream career you've always hoped for.
We explain what a babysitting license is, what different kinds of certification are available, how to get a license, and whether you can babysit without one.
Create Your Own Beautiful Babysitting Flyers in 2 Minutes! Choose a Template. Customize Your Design. Download a Free Printable PDF!
Learn what babysitting references are, why they're important, who you should use as a reference, and some essential tips to put you ahead of the competition.
We look at some of the key qualities that parents look for, and you should have if you want to be a successful babysitter!
Learn the steps needed to start babysitting with no experience. Once you have some experience under your belt, you'll be really marketable as a babysitter.
Be confident in your babysitting job interviews by preparing well. Follow our interview checklist so you never forget anything important!
Learn what to expect when babysitting on New Year's Eve, how much to charge, what to bring, and recommended nighttime babysitting activities to try.
Learn how babysitting shows leadership, how to effectively lead children, and how to develop important leadership skills through childcare work.
Learn what constitutes an employee and a self-employed independent contractor and see how they relate to working as a babysitter.
Learn if your babysitting situation requires you to pay taxes and what other exceptions may apply in your country.
Make the most of your downtime! Learn 10 things to do while babysitting after the kids are asleep, plus 7 things you should NEVER do!
Learn how to build meaningful relationships with the children you babysit and set the right conditions to build success in their life.
Learn why a babysitter might get insurance, what insurance the parents should have, and what insurance requirements there are for a child care center.
Learn how to communicate well with the parents, set boundaries with the children, and establish who's in charge so the job runs smoothly.
Learn what babysitting expenses sitters are eligible for, and receive a tax credit or deduction. It could save you hundreds or thousands of dollars!
Try face painting on your next babysitting job and discover the pure delight and wonder that children can experience. You can be the best babysitter ever!
Learn all the steps for keeping safe from the interview, to on the job childcare. Our tips include preventative measures and best practices while babysitting kids.
Learn how to be a safe babysitter by following our essential safety tips and best practices while looking after children. Safety is so important!
Cleaning is a part of doing a good job. A good babysitter will tidy up any mess made while caring for the children. But how much cleaning is necessary?
Babysitting is most definitely a real job. Sitters get paid in real money and have real work. You can also earn more while babysitting than a lot of other jobs.
Download and print our free babysitting kit. It's packed full of useful resources to make childcare easy and fun.
205 Kids Games, Activities & Ideas to keep even the fussiest kids entertained for hours.
We explore the main benefits of being a babysitter to help you decide if it's the right job for you.