Get Your Printable Babysitting Kit!
(Download Free Forms, Checklists & Documents)
If you're starting out babysitting, then the following printable resources will be super-useful.
Simply download, and print them whenever you need! You don't need to fill in any forms. Everything is free.
Jump down to the printables you're looking for:
Plus, check out our guide on how to create a babysitting binder to hold spare copies of everything.
Babysitting Forms
These forms make it super easy to capture important information from the families you work for.
Parent Details (Form)
When arriving at a babysitting job, ask the parents to fill out their details in this handy form so all their contact information, plus important details about the children, is in one place.
Put it on the fridge or kitchen table so you know exactly where it is in an emergency. After the job, keep it in your babysitting binder for future jobs with the family.
Free Download
(parent-details-form-v2.pdf 36kb)
Special Needs Child Details (Form)
When babysitting children with special needs use our custom form to capture useful information from parents.
Learn more by reading our guide: How to babysit autistic children.
Free Download
(special-needs-child-details-form.pdf 49kb)
Babysitting Checklists
Never forget anything important again by following our various checklists specifically designed for babysitters.
What To Bring To A Babysitting Interview (Checklist)
If you're attending babysitting job interviews then make sure you follow our handy checklist so you don't forget to bring anything important.
Read our article: What to bring to a babysitting interview for more details.
Free Download
(babysitting-interview-checklist.pdf 24kb)
Questions Babysitters Should Ask Parents (Checklist)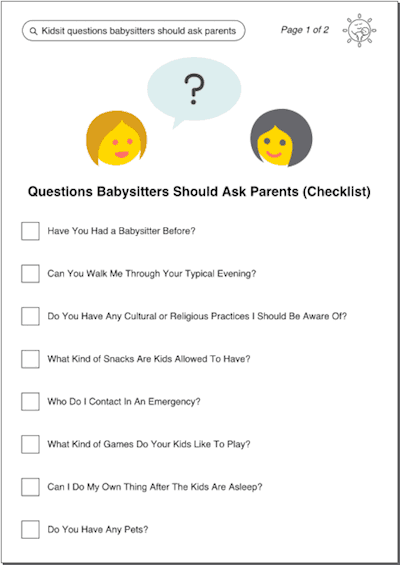 It's important when attending a babysitting interview to ask parents the right questions that show you are experienced and that you are interested in the job.
Download this checklist of our top 20 questions to ask parents and take it with you to your interview.
Read our article: What should babysitters ask parents for more details.
Free Download
(questions-babysitters-should-ask-parents.pdf 49kb)
What To Bring On A Babysitting Job (Checklist)
Use our babysitting checklist and never forget to take essential items on your babysitting jobs.
Read the full article for even more details.
Free Download
(what-to-bring-on-a-babysitting-job-checklist.pdf 32kb)
Babysitting Bathtime Checklist
We've created a handy bath time checklist that you can print and keep a copy in your babysitting binder. It includes:
A checklist of what to get ready before a bath
Genius tips to encourage kids to get into the bath
Common bath time fears to look out for
Read our articles: 21 Bathtime Tips For Babysitters and How to get Kids Into the Bath for all the details.
Free Download
(babysitting-bath-time-checklist-v3.pdf 58kb)
Beach Babysitting (Checklist)
Print out our handy beach babysitting checklist to keep in your babysitting binder so you always have this information at your finger tips.
See our Babysitting at the beach article for full details.
Free Download
(babysitting-babysitting-checklist.pdf 57kb)
Babysitting Autistic Children (Checklist)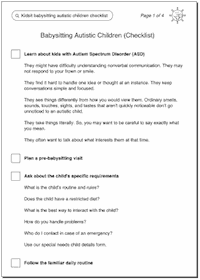 Follow the important steps when babysitting children with autism to make sure your job funs as smoothly as possible.
Free Download
(babysitting-autistic-children-checklist.pdf 104kb)
Babysitting Guides
These guides step you through some of the most common babysitting tasks that you will come across on the job.
Diaper Changing Guide
Download our printable guide to changing diapers and keep a copy in your babysitting binder, so you always have it with you while you're on the job.
Free Download
(how-to-change-a-diaper.pdf 251kb)
Baby Formula Guide
Download our printable guide to making, and storing, baby formula and keep a copy in your babysitting binder, so you can refer to it while you're on the job.
Free Download
(baby-formula-guide.pdf 69kb)
Babysitting Flyers Guide
Download and print out this guide to take with you when posting babysitting flyers around your neighborhood.
Create your own custom posters with our free babysitting flyer maker.
Download Checklist
(babysitting-flyers-checklist.pdf 14kb)
Babysitting Sick Kids Guide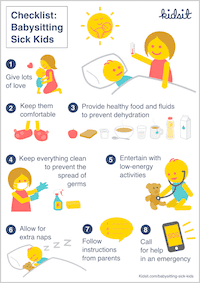 Just in case a child you're babysitting becomes sick, print off this checklist so you know exactly what to do.
See our Babysitting sick kids article for full details.
Free Download
(babysitting-sick-kids-checklist.pdf 37kb)
Babysitting Documents
We have several other downloadable documents to help you with babysitting.
Emergency Contact Sheets
Download our printable contact list of emergency numbers and keep a copy in your babysitting binder so you have it with you whenever you're on the job.
Download the right one for your country:
The US
(emergency-numbers-us-v2.pdf 32kb)
Canada
(emergency-numbers-canada-v2.pdf 64kb)
The UK
(emergency-numbers-uk.pdf 27kb)
Australia
(emergency-numbers-australia.pdf 32kb)
New Zealand
(emergency-numbers-new-zealand.pdf 32kb)
Learn about the other emergency numbers you need to know so you can collect them too.
Kidsit Coloring Book
Download the Kidsit colouring book and print out copies to take to your babysitting jobs along with a small set of coloured pencils.
Drawing and colouring-in is a great activity for children of all ages.
Download Colouring Book
(kidsit-colouring-book.pdf 48kb)
Babysitting Flyers (Free Maker!)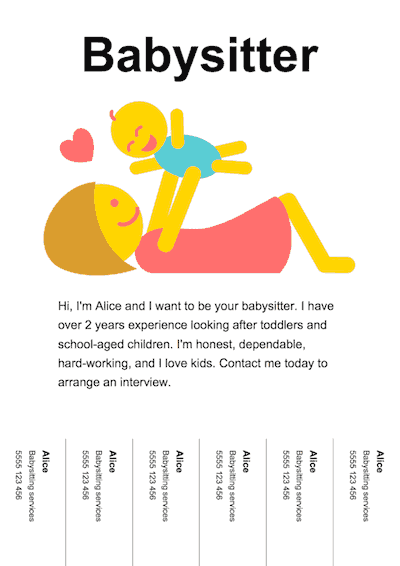 Make your own custom babysitting flyers with our free poster creation tool.
Multiple templates and 45+ images to choose from.
It only takes 2 minutes!
What are the most useful babysitting documents?
Forms
Checklists
Guides
Kids activity sheets
Other documents
↑ Vote to see results
Babysitting Coupons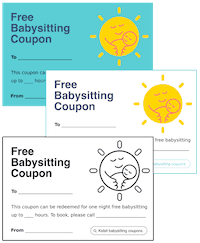 We have a selection of beautiful Kidsit babysitting coupons that are free to download and print out whenever you need them, they come in full color, light coloring, and black & white.
Simply fill one out when needed and give it to a family as a superb gift! Learn more about the benefits of babysitting for free.
Download Free Coupons
(babysitting-coupons.pdf 78kb)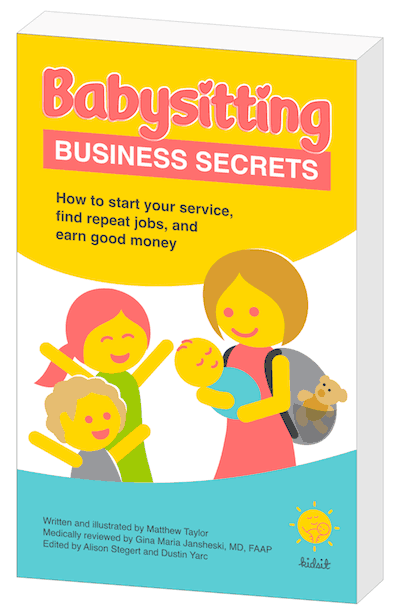 All my babysitting secrets revealed!
My book, Babysitting Business Secrets, is out now as an inexpensive ebook or full-color paperback. If you're serious about becoming the best babysitter you can be, or if you want to make as much money as possible, then this book is perfect for you. I reveal all my tricks and tips for first-time babysitters or experienced sitters who just want to up their game. Get your copy today! Or, learn more about the book here.
If you are serious about child safety, then you need access to a trusted first aid kit while babysitting. See our recommendation!
See all the skills that babysitting can teach you and learn why most of them are fully transferable to other occupations.
Impress future employers with a professional resume that highlights your babysitting experience. Follow our simple guide and get that job!
See out how much you're actually worth as a babysitter by reviewing your skills, experience, the job requirements, and where you live.