Get Your Printable Babysitting Kit
(Download Free Forms, Checklists & Documents)
If you're starting out babysitting, then the following printable resources will be super-useful.
Simply download, and print them whenever you need! You don't need to fill in any forms. Everything is free.
Jump down to the printables you're looking for:
Plus, check out our guide on how to create a babysitting binder to hold spare copies of everything.
Babysitting Forms
These forms make it super easy to capture important information from the families you work for.
Parent Details (Form)
When arriving at a babysitting job, ask the parents to fill out their details in this handy form so all their contact information, plus important details about the children, is in one place.
Put it on the fridge or kitchen table so you know exactly where it is in an emergency. After the job, keep it in your babysitting binder for future jobs with the family.
Free Download
(parent-details-form-v2.pdf 36kb)
Special Needs Child Details (Form)
When babysitting children with special needs use our custom form to capture useful information from parents.
Learn more by reading our guide: How to babysit autistic children.
Free Download
(special-needs-child-details-form.pdf 49kb)
Babysitting Checklists
Never forget anything important again by following our various checklists specifically designed for babysitters.
What To Bring To A Babysitting Interview (Checklist)
If you're attending babysitting job interviews then make sure you follow our handy checklist so you don't forget to bring anything important.
Read our article: What to bring to a babysitting interview for more details.
Free Download
(babysitting-interview-checklist.pdf 24kb)
Questions Babysitters Should Ask Parents (Checklist)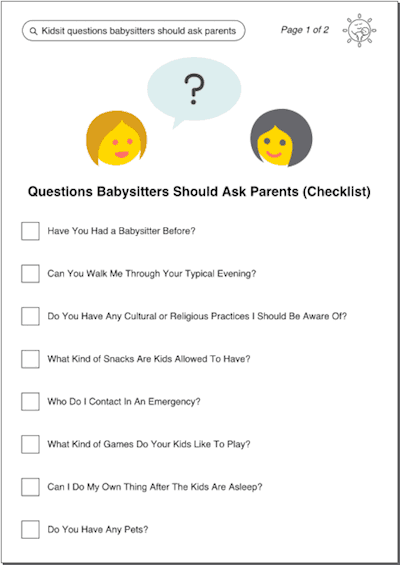 It's important when attending a babysitting interview to ask parents the right questions that show you are experienced and that you are interested in the job.
Download this checklist of our top 20 questions to ask parents and take it with you to your interview.
Read our article: What should babysitters ask parents for more details.
Free Download
(questions-babysitters-should-ask-parents.pdf 49kb)
What To Bring On A Babysitting Job (Checklist)
Use our babysitting checklist and never forget to take essential items on your babysitting jobs.
Read the full article for even more details.
Free Download
(what-to-bring-on-a-babysitting-job-checklist.pdf 32kb)
Babysitting Flyers (Checklist)
Download and print out this checklist to take with you when posting babysitting flyers around your neighborhood.
Create your own custom posters with our free babysitting flyer maker.
Download Checklist
(babysitting-flyers-checklist.pdf 14kb)
Babysitting Bathtime Checklist
If you're going to be bathing small children then print out this checklist so you don't forget any important bath items or necesssary steps.
Read our article: 21 Bathtime Tips For Babysitters for all the details.
Free Download
(babysitting-bathtime-checklist.pdf 21kb)
Babysitting Sick Kids (Checklist)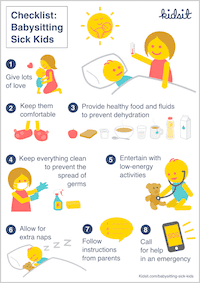 Just in case a child you're babysitting becomes sick, print off this checklist so you know exactly what to do.
See our Babysitting sick kids article for full details.
Free Download
(babysitting-sick-kids-checklist.pdf 37kb)
Babysitting Autistic Children (Checklist)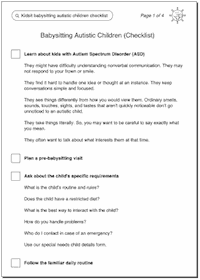 Follow the important steps when babysitting children with autism to make sure your job funs as smoothly as possible.
Free Download
(babysitting-autistic-children-checklist.pdf 104kb)
Babysitting Documents
We have several other downloadable documents to help you with babysitting.
Kidsit Coloring Book
Download the Kidsit colouring book and print out copies to take to your babysitting jobs along with a small set of coloured pencils.
Drawing and colouring-in is a great activity for children of all ages.
Download Colouring Book
(kidsit-colouring-book.pdf 48kb)
Babysitting Coupons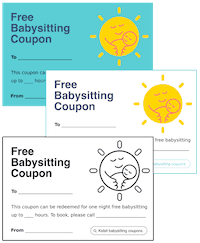 We have a selection of beautiful Kidsit babysitting coupons that are free to download and print out whenever you need them, they come in full color, light coloring, and black & white.
Simply fill one out when needed and give it to a family as a superb gift! Learn more about the benefits of babysitting for free.
Download Free Coupons
(babysitting-coupons.pdf 78kb)
Babysitting Flyers (Free Maker!)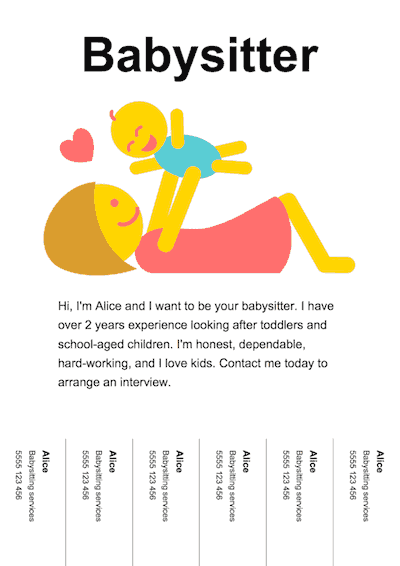 Make your own custom babysitting flyers with our free poster creation tool.
Multiple templates and 45+ images to choose from.
It only takes 2 minutes!
More Babysitting Tips
See out how much you're actually worth as a babysitter by reviewing your skills, experience, the job requirements, and where you live.
Learn the most popular babysitting qualifications, what they are, why you need them, and how they can put you ahead of the competition when applying for jobs.
Learn if babysitting is right for you and which simple steps you need to follow to become a successful and confident babysitter.
Strike the best balance between professional and practical by following our handy clothing tips for your next babysitting job.
Learn these 8 simple tricks to nail a successful bedtime every night! It's surprising how many of these sleeping tips are not commonly known.
Learn what preschoolers need, what's important to them, effective discipline strategies, and common mistakes all babysitters should avoid.
Learn the important things to keep in mind when you're babysitting a toddler, as well as 28 tips to make your job a bit easier.
Impress future employers with a professional resume that highlights your babysitting experience. Follow our simple guide and get that job!
See all the skills that babysitting can teach you and learn why most of them are fully transferable to other occupations.
Give yourself the best chance in a babysitting interview by asking parents the right questions that demonstrate your experience and interest in the job.
Learn the most common responsibilities that parents expect of their babysitters and how your duties may change depending on the job requirements.
Create Your Own Beautiful Babysitting Flyers in 2 Minutes! Choose a Template. Customize Your Design. Download a Free Printable PDF!
We look at some of the key qualities that parents look for, and you should have if you want to be a successful babysitter!
Learn why a babysitter might get insurance, what insurance the parents should have, and what insurance requirements there are for a child care center.
Take your babysitting to the next level by reading these iconic children's books that naturally lead to fun and engaging activities that kids love
205 Kids Games, Activities & Ideas to keep even the fussiest kids entertained for hours.
Learn how to keep kids safe during their bath, how to make bathtime fun, what items you need, and some general tips for hassle-free washing!
Learn some basic water safety tips for children, as well as what to bring to the pool and what types of games kids might want to play.
I'll walk you through the major steps of a babysitting interview process so you'll know how to prepare and what to expect.
Learn how to tell for yourself if you're old enough to start babysitting, and things you can do to make yourself more likely to get hired as a young babysitter.
Everything you need to know about babysitting kids with autism including how to prepare, effective care strategies, safety, and fun activities to enjoy together.
BE SAFE! Learn how to prepare yourself for a fire emergency and how you and the kids should handle the situation if it ever happens while babysitting.
Learn to recognize dangerous water hazards and the basic safety tips needed to keep kids safe around water while you're babysitting.
With a well stocked babysitting binder, you can focus on caregiving because you know you have everything you need.
Learn how to babysit a baby by following our simple beginners guide and you'll know what to do in no time.
Learn the different tasks and responsibilities that need doing if you're babysitting at night time including the finer art of bedtime routines.
We have the best jokes that kids love, including riddles, knock-knocks, puns, nonsense jokes, Doctor-Doctor, and even funny Dad jokes!
Learn what babysitting references are, why they're important, who you should use as a reference, and some essential tips to put you ahead of the competition.
65% of employers say that clothing could be a deciding factor between two otherwise equal candidates. Read our essential tips and beat the competition!
Learn the steps needed to start babysitting with no experience. Once you have some experience under your belt, you'll be really marketable as a babysitter.
Learn what overnight babysitting involves, what items you should bring, how to prepare, and what questions to ask parents before they leave.
Learn what to expect when babysitting on New Year's Eve, how much to charge, what to bring, and recommended nighttime babysitting activities to try.
Learn how babysitting shows leadership, how to effectively lead children, and how to develop important leadership skills through childcare work.
Learn why babysitting can be a rewarding and profitable business, who the business is right for, and how to setup a company structure.
Learn how to build meaningful relationships with the children you babysit and set the right conditions to build success in their life.
Learn how to communicate well with the parents, set boundaries with the children, and establish who's in charge so the job runs smoothly.
Try face painting on your next babysitting job and discover the pure delight and wonder that children can experience. You can be the best babysitter ever!
Learn some simple tricks to make babysitting easier and more fun for both you and the kids. Sitting doesn't have to be difficult.
Learn how to be a safe babysitter by following our essential safety tips and best practices while looking after children. Safety is so important!
Babysitting is most definitely a real job. Sitters get paid in real money and have real work. You can also earn more while babysitting than a lot of other jobs.
In most places, you don't need qualifications to babysit. However, parents prefer carers with a First Aid Certificate & other basic credentials. Find out what qualifications you need.