Babysitting Qualifications (Which Ones Do You Need?)
Most countries don't require any kind of formal training to be a babysitter. But what specialized classes should you consider taking to set yourself apart from other sitters?
What babysitting qualifications should you acquire? All babysitters should start by taking a basic babysitting course and first aid training, regardless of age or experience. Beyond that, there are many other qualifications that you might want to consider, such as getting your driver's license, a background check, or infant care classes.
In this article, I'll cover the top 24 babysitting qualifications, explain what they are, and why you might need them.
The first two are qualifications that I believe every babysitter should have.
1. Basic Babysitting Course or Training
The Red Cross offers its own babysitting course in North America, Australia, and the U.K. It's one of the most established and trusted training courses for babysitting in the world. Additionally, other well-known organizations and private companies have their own courses available.
The training is typically structured as a one-day session that takes approximately six hours in total to complete. In some areas, it is beginning to be offered as an online course.
Personally, I recommend taking a course in person to get the most from it, as it allows for discussion of important points and for you to ask any specific questions you may have.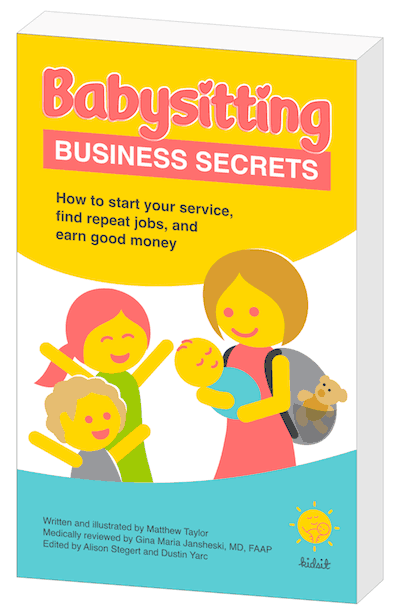 Become a better babysitter!
My book, Babysitting Business Secrets, is out now as an inexpensive ebook or full-color paperback. If you're serious about becoming the best babysitter you can be, or if you want to make as much money as possible, then this book is perfect for you. I reveal all my tricks and tips for first-time babysitters or experienced sitters who just want to up their game. Get your copy today! Or, learn more about the book.
Taking specialized classes will help you to become a more knowledgeable and professional babysitter, and enable you to stand apart from other sitters. In addition, the more training, skills, and experience you have, the more you will be able to charge for your babysitting services.
In addition, you'll be better prepared for any unexpected situations that might come up while you are babysitting, handling them in the most professional way.
Many of the babysitting skills that people consider "common sense" actually need to be taught, particularly if you've never watched children before.
I recommend that all new babysitters between 11 and 15 years of age should definitely complete some form of babysitter training.
If you're 16 years or older and don't want to be in a babysitting class with younger teens, I'd recommend the Red Cross Advanced Child Care Training. It's designed more for older teens and adult sitters. It offers much of the same content, but the way the information is taught has been adjusted for a different age group.
A babysitting course will teach you things such as:
How to deal with difficult behaviors, for example when a child isn't obeying you
How to conduct yourself professionally as a babysitter and communicate with parents
When it's appropriate to call 911 versus a parent
How to handle medical emergencies like asthma attacks or bee stings
Taking a babysitting course will give you confidence. When you walk into your first babysitting job, you'll feel assured that you already know the types of situations that might arise and how best to handle them.
See my recommended babysitting courses.
2. CPR and First Aid
CPR and First Aid courses are most commonly taught around the world by the Red Cross and St. John Ambulance. Just like babysitting courses, there may be other institutions offering similar training depending on where you live. For example, your local hospital, fire station, or YMCA may offer their own course.
You may find CPR and First Aid taught together as a single course, or you may need to take them separately.
I would recommend taking both of these courses before you begin your babysitting career. While the chance that the children you're babysitting will have a serious injury or illness is small, accidents can happen to anyone, no matter how closely you're watching the children.
Having the knowledge and skills necessary in the case of a medical emergency may literally make the difference between life and death.
A First Aid course will help you to recognize, prevent, and respond to emergencies and accidents such as dehydration, choking, and concussions. You'll also learn how to treat everything from minor scrapes and bruises all the way to broken bones. CPR is a life-saving skill in the case of a cardiac arrest or if a child suddenly chokes or becomes unconscious.
Many parents won't even consider hiring babysitters who don't have first aid training or CPR. So it is instrumental in the development of your career.
You might even consider taking an infant CPR class that specializes in emergency situations related to babies and very young children.
Certifications for first aid and CPR are usually only valid for about two years, so you'll need to take refresher courses to keep your skills up to date.
Your initial in-class time will usually be about 14 hours the first time that you take the course and will be split across multiple days. Your refresher course should only take about 3 to 6 hours.
I also highly recommend you bring your own portable first aid kit when babysitting, see the kit we think is best.
Once you've taken a babysitting course and First Aid/ CPR training, you're ready to start babysitting.
However, if you want to get more serious about your babysitting career, there are other certifications and training that you might want to consider. They'll allow you to go from caring for the children of neighbors, family members, and friends to running an actual babysitting business.
If you plan to eventually become a nanny or have your own daycare one day, you'll definitely want to take advantage of some of these opportunities.
3. Anaphylaxis Training
First aid courses give a general overview of what anaphylaxis is, how to recognize it, and how to treat it. There are also anaphylaxis-specific courses that you may want to take, especially if you already know that a child you'll be babysitting has a life-threatening allergy to peanuts, bee stings, or anything else.
Anaphylaxis training will teach you how to be aware of allergies and prevent them, as well as how to use an EpiPen if a child you're watching is exposed to something they're seriously allergic to.
4. Driver's License
Having a valid driver's license and a clean driving record can give you access to higher-paying babysitting opportunities.
Parents will pay more for the convenience of having you pick their kids up from school or drive them to and from piano lessons. In addition to running errands for the family, you'll be able to take kids on outings to zoos, museums, and parks while they're in your care.
If you don't have your license yet, visit your nearest Department of Transport, DMV, or regional equivalent to get the information and instruction you'll need to take your exam.
Manual Or Automatic?
Some countries have separate licenses for driving vehicles with an automatic or manual transmission. If the family you're babysitting for drives a stick shift and you'll be borrowing their vehicle, then it might be worth learning how to drive that way.
However, it really depends on where you live.
In Australia, about 70% of vehicles are automatic these days.
In the US, that number is even higher. Only about 5% of the vehicles sold in America and Canada today come with a stick shift (manual), and less than 20% of all Americans know how to operate manual vehicles!
In the UK and Europe, it's the complete opposite, and more than 80% of cars have manual transmissions.
5. Defensive Driving
If you've already got your license, you may want to consider taking an additional defensive driving course. It will help you avoid accidents on the road and improve your driving even further.
You'll learn all about common road hazards, which is important if you're going to have children in your car. You might even get a discount on your car insurance After completing the course!
Depending on where you live, you may be able to take a defensive driving course from the same place that you get your license, or you might need to go through a separate company or organization.
6. Working With Children Check (WWCC)
In Australia, if you're over 18 years of age and doing anything beyond unpaid babysitting for family and friends, then you'll need a Working With Children Check. The UK has a similar requirement, although the US and Canada do not.
A Working With Children Check screens criminal records across all Australian states and territories, as well as professional conduct findings and determinations by various institutions. It also includes ongoing monitoring of any applicants who pass the check.
You'll need to apply and wait about three weeks for your application to be approved. Each check is valid for five years unless revoked.
If you plan to work as a teacher or in any other career that associates directly with children later on, you'll need a WWCC anyway. So, it's good to have it ready to put on your CV/resume in advance.
Some parents may also want babysitters (particularly full-time sitters) who are registered carers or approved carers so that they're able to deduct babysitting expenses on their taxes.
7. Background Checks
Even if you don't live somewhere that requires a Working With Children Check, there are still other types of background checks that parents may want to see before hiring you as a babysitter.
While these aren't qualifications in the sense that you take a course, the fact that you have passed various background checks will help better qualify you as a responsible and trustworthy babysitter.
It's a good idea to preemptively get background checks done to speed up the hiring process when you're working with a new family. Otherwise, you may need to wait several weeks to get your results back before you can begin working for them.
8. Criminal Background Check
The most common type of background check is a criminal record check, which you can obtain from your local police station. This report will show if you've ever been charged with or convicted of a crime.
In Canada, if you're dealing with children under 18 years of age or anyone with a physical or mental disability, you should also ask for a Vulnerable Sector Check, which reveals if a person has a record suspension (pardon) for any sexual offenses.
9. Identification
Parents will usually want to see some kind of identification, such as a driver's license, passport, or social security card to confirm your identity, particularly if you're over 18 years old.
Bring a government-issued ID with you to babysitting interviews or whenever you babysit for a new family for the first time.
See our complete list of things to bring on a babysitting job interview, so you don't miss anything important.
10. Babysitting References
References are another type of background qualification that parents will often want to see before hiring a babysitter. Even if you were referred to them by a family member or friend that they trust, they might still request to take a look at any you might have, or speak to them directly.
If you don't have any parent references, then I recommend babysitting for free for friends and family a few times to get some.
Parents will follow up with contacts that you provide as references. So be sure to include families you've babysat for in the past, and others who know you and will give a positive review.
See our complete guide to babysitting references.
11. Social Media
Anything that you make publicly available on Facebook or Instagram is fair game for parents to use as a background check! Assume any parent you babysit for is going to do a Google search of your name before hiring you.
So you may want to remove any photos from your social media that feature you drinking or partying since they could give parents a bad impression. Or at least set them to private!
If you're already friends on social media with the parents that you plan to babysit for (this might be the case if they're a friend of the family or neighbor), then you may want to go back and clean up your profile more thoroughly.
12. Early Childhood Education
Getting a diploma or degree in early childhood education is not only a big commitment, but it can really boost your level of expertise and the amount that you can charge per hour of babysitting.
Most ECE certificates take between 6 and 9 months of full-time study. However, many parents will pay even more for an ECE student who is still in school. It shows you are serious about childcare and already have some education on the topic.
Taking an ECE course is a great way to transition from a teenage job babysitting into teaching, working at a daycare, or becoming a full-time nanny or home childcare provider.
Learn about physical and mental development in children by reading our babysitter's guide to child psychology.
And consider taking your sitting skills to the next level with the information in this article: How babysitters can nurture children and help them achieve their best.
13. Foreign Language Skills
If you speak a second language, you open yourself up to a wider range of potential babysitting clients. Many families may speak a language other than English at home and are looking for a babysitter who speaks the same language or comes from the same culture as they do.
In Canada, approximately 21% of people speak French as their first language. So depending on what area of the country you live in, being able to speak French could be a huge benefit. Particularly in Quebec, New Brunswick, and northern Ontario.
In the United States, Spanish is the second most-spoken language, with over 40 million people speaking primarily Spanish at home. This is especially prevalent in southern states near the border with Mexico.
In Australia, the proximity to Asian countries means that a considerable number of citizens speak Mandarin, Cantonese, or Vietnamese at home.
In England, Polish is the next most spoken language after English and Welsh, followed by Indian and Pakistani languages such as Urdu, Punjabi, and Gujarati.
If you already know a second language, it's a strong extra skill to add to your babysitting resume. If not, it's easier than ever to begin learning new languages by using free apps such as Duolingo. I use Duolingo to learn Japanese and I love it!
14. Infant Care Classes and Certification
Working with babies requires a specific skill set that isn't typically covered in great depth when you take introductory babysitting courses.
An infant care class will teach you the basics of caring for a baby, including how to change a diaper (see our guide), how to prepare a bottle of breastmilk or formula and feed a baby (we have a guide for that too), how to bathe a baby (see our 21 bathtime tips for babysitters), and more. It will likely also briefly cover some infant-specific CPR and first aid techniques.
Babies are more fragile than older kids and require more specific attention and knowledge. New parents are much more hesitant about leaving their little one with a stranger. So showing that you're specially certified in the care of infants can help give them some extra peace of mind.
Expect to charge more when you're taking care of a baby as well since they're a lot more work and require constant supervision!
See our beginner's guide: How to babysit a baby for basic tips and advice.
15. Babysitting Insurance
If you're a teenager who is just babysitting part-time to earn some extra money, then getting babysitter's insurance isn't necessary. In most cases, you're already covered on the homeowner's insurance policy of the family that you're babysitting for.
But, if you're a full-time babysitter or nanny, it may be worth looking into specific insurance for your job. In fact, for any kind of contract worker, I'd recommend looking into liability insurance.
It will protect you in the case of any accident or damage to your client's home while working. And it's especially important in the United States where an ambulance or trip to the emergency room usually needs to be paid out of pocket.
If you're considering getting insurance, read this article first: Do babysitters need insurance to learn what's right for your situation.
16. Proof of Citizenship or Residence
In most locations, you need to be a resident or citizen in order to work legally. So parents that you babysit for will likely want to see some form of proof of either one.
If you're a citizen, then the easiest way to prove your citizenship is with your passport or birth certificate.
If you're a legal resident, then you should have a permanent resident card or certificate that shows you're legally allowed to work in the country, or at least a visa in your passport stating as much.
17. Positive Discipline Training
Positive Discipline is a model used by babysitters, parents, and schools that focuses on positive behavior. It teaches and reinforces good behavior while weaning children from negative behavior patterns without verbally or physically hurting the child.
Having proof that you've taken Positive Discipline training or a similar program shows parents that you understand how to develop positive and healthy relationships with their children.
Depending on the discipline style that a family uses, they may really appreciate a babysitter who is trained in Positive Discipline or a similar technique.
Read our handy discipline guide: How to babysit a difficult child for some basic steps to follow.
18. Physical Fitness
Physical fitness isn't something you can get a certificate in, but it will be readily apparent when you first meet with parents who are considering you as a babysitter.
Kids are a lot of work, and babysitting is a very active job that involves a lot of running around and looking after children. If parents have any doubts about whether you're in sufficient physical shape to look after their active kids, it may disqualify you from a babysitting job.
Being in shape isn't just something that helps you as a babysitter. It also affects your health and how you feel, so everyone should take some time to incorporate exercise into their routine and eat healthy regardless.
If you have experience as a personal trainer or some other area of fitness, it can also be a great asset. Parents love babysitters who can help their kids to stay healthy and active.
19. Special Needs Care
There is a wide variety of physical and mental disabilities that children can experience, and each requires a different type of care.
If you're babysitting a hearing-impaired child, then knowing sign language is a must. Other conditions, such as blindness or autism, have their own special requirements.
If you want to specialize in caring for children with disabilities, there is a lot of general knowledge as well as need-specific medical information that you'll need to master. Look for a local college or university that offers a workshop or program on the topic, or reach out to special needs organizations in your area.
Experience in special education can be a huge asset if you ever want to transition into a role as a social worker or work in developmental services in the future.
If you've already got a teaching degree, then it may be quite easy to get additional certification in working with students with disabilities or teaching special education.
Learn more about babysitting special needs children by reading our guide: how to babysit children with autism.
20. Water Safety Training
If you plan on babysitting for a family with a pool or that lives near a beach, then lifeguard or basic water safety training makes sense. Lots of accidents can happen around water, so babysitters should know what to do in an emergency.
Even if you'll be taking the children you babysit to a pool that already has a lifeguard, it doesn't hurt to know water safety yourself. It only takes a second for a child to slip beneath the surface of the water. Being knowledgeable and able to react quickly might make the difference between a small scare and a serious incident.
You can get lifeguard training through the Red Cross, YMCA, or a local pool or community center in your area.
Please read our 26 water safety tips for babysitters; they might just help you save a life!
Also, take a look at our complete guide: babysitting at the pool for a checklist of items to bring and fun games to play.
21. Pet Care
Many families have dogs or cats, and you should get some basic pet training so that you know how to take care of them properly.
Not only that, you might want to add pet sitting to your resume in addition to babysitting! Many people will pay for pet sitters, especially if they're going out of town for several days. You may be able to watch their pets at their home or your own.
As a babysitter, you might be able to earn extra money by doing some dog walking with the kids you're watching as well.
Look for a pet sitting course in your area. Local pet shops or veterinarians are usually a good place to look for advice.
22. Cooking Classes
Proper nutrition is critical for growing kids.
Any babysitter can microwave leftovers for the kids they're watching, or maybe make some macaroni and cheese or eggs. But a few cooking classes can really set you apart from other babysitters.
This is especially important if you're going to be watching kids full-time and need to prepare a variety of healthy lunches or dinners for them. If you're sitting for kids on a regular basis, then just making hot dogs every day probably isn't going to cut it.
You don't need to be a professional chef. But having the ability to make a few popular dishes means that you can add cooking to your list of skills on a babysitting resume.
You can sign up for cooking classes at culinary schools or community colleges in your area. Some grocery stores or health food stores will even offer free cooking classes from time to time.
See our recommended ideas for Cooking with kids, and turn food preparation from a chore into a fun activity you can share with the children you babysit.
23. Professional Nanny Certification
The International Nanny Association (INA) offers a Nanny Basic Skills Assessment, which provides a credential for nannies who don't have a child-related degree, or simply those who want to add an extra qualification to their resume.
This can be good to have if you're new to babysitting or childcare and don't have much in the way of relevant experience or references.
The nanny assessment will test your knowledge about childcare, including topics like safety, nutrition, child development, health, and professionalism. When you pass, you get a certificate to prove you have the expertise necessary.
You can also become a Certified Professional Nanny through specialized nanny schools that have been approved by the INA or American Council of Nanny Schools. While certification isn't necessary to become a nanny or babysitter, it is an excellent way to demonstrate that you know how to professionally care for kids and have passed a thorough training program to prove it.
24. Age and Maturity
These aren't qualifications that you can necessarily control. But the age and maturity level of a babysitter are major factors that parents will look seek out.
The American Red Cross recommends that parents don't hire babysitters under 11 years of age, while others believe the minimum should be age 14.
Maturity is often a more significant factor than age when parents are evaluating a babysitter. So when meeting with parents the first time for a potential babysitting job, be sure to relay a sense of maturity and professionalism.
You'll need to convince parents that won't just be friends with their children, but that you can handle specific instructions and care for them in a responsible manner.
Read our article: How young can you start babysitting to learn more about age and maturity requirements for this important job.
Conclusion
It's a good idea to take extra photocopies of your qualifications when meeting a family for the first time. Assemble a babysitting binder to keep everything together in a safe place.
Only minimal qualifications are required to get started babysitting, but there are many other useful credentials to gain. To take your skills to the next level, enroll in courses that will put you ahead of the competition.
If you're interested in pursuing a career in childcare or early childhood education, then you may want to seriously consider the qualifications listed above. Any skills you learn today can serve you well now and throughout your career.
Next: