Do Babysitters & Nannies Need Insurance?
(Guide for Caregivers)
Starting out as a babysitter or nanny is basically like starting your own business. But exactly how "businesslike" is this business? How far do you have to go to set it up? What are the legal requirements?
Does a babysitter need insurance? A babysitter that is working occasionally for a family in their home is not required to have any kind of insurance, although it still might not be a bad idea. This is very different from a child care center (including ones run in the child care provider's home), which definitely should have liability insurance.
That's the simple answer. In the rest of this post, I'll explain why a babysitter might choose to get insurance, what insurance the parents should have (including insurance considerations for hiring a full-time childcare professional), and what insurance requirements there are for a child care center.
Insurance for Babysitters
It would be pretty rare for a teenager that's babysitting while the parents are out on a date to have any kind of insurance. If anything, the parent's home, medical, and umbrella insurance would cover the large majority of problems that could come up.
However, especially for adult babysitters that work quite a bit, babysitter insurance might make sense.
Here are some situations where babysitter insurance would be really good to have:
You take the kids to the park, and a kid gets hurt and the parents sue you for negligence, and you need to pay the medical bills.
While at the mall, someone kidnaps a kid on your watch and the parents blame you and take legal action.
You're wrongly accused of sexual abuse and are facing legal fees to defend yourself.
If the parents don't have their own coverage and they're not treating you as an employee (withholding money for taxes and paying worker's compensation fees), then you might want to look into what it would take to get your own coverage.
Those are just some examples of where things might go really, really wrong. Realistically, these aren't common occurrences by any means. But if you're working frequently as a babysitter, you might want to look into what the cost of some basic insurance would be.
Nannies
Whether or not a nanny should look into getting insurance is largely dependent on whether she's considered an employee or an independent contractor.
As an employee, your employer is responsible for you, and they'll be paying worker's compensation fees for problems that might come up. As an independent contractor, you're generally responsible for your own work.
If you're working as a nanny, providing frequent and regular care to children, then you're generally, legally considered an employee as opposed to an independent contractor. This means that the parents are under legal obligations for the nanny's work as opposed to the nanny.
Here's why a nanny is an employee instead of an independent contractor:
The parents have control over the schedule, not the nanny.
The duties to be performed are dictated by the parents.
It's the parents responsibility to find a backup if the nanny isn't able to come to work.
The nanny is economically dependent on the job; losing the job means that they have to find another one.
There are really rare cases where the nanny would be considered an independent contractor:
If the nanny determines her own schedule, which can be changed to suit her needs.
The nanny has procedures regarding how she does her work and the parents must agree to them.
The nanny has a network of contacts to fill in if she can't do the work.
The nanny is not financially dependent on the job; there are other clients that contribute to earnings.
The nanny works under a business name and gives the parents invoices.
The reason that nannies are very rarely independent contractors is that it's easy to qualify someone as an employee, but you need to strongly prove that someone is an independent contractor. The IRS is very strict that way.
Honestly, if you take a complete look at risk vs reward from the parent's standpoint, it's best to err on the side of declaring a nanny an employee instead of an independent contractor. This means withholding pay to cover taxes, worker's compensation coverage, etc. There are just far fewer ways for this to go sideways if problems come up.
Insurance for the Family
Really, it's the family's insurance that will cover incidents. If the family is used to working through a service, they might think that the childcare insurance they're used to is needed. Here's how you can point them in the right direction in case questions come up.
Home insurance should cover anything that could go wrong on the family's property. For example, a fire in the kitchen, a massive water leak that floods your basement, etc., even while you're the one watching the kids.
Medical insurance should cover the family in case there's an injury, for example, a kid falls down the stairs and breaks a leg or cracks his skull open in a Buzz-Lightyear-style attempt to soar over furniture.
If you're going to use the family car, automotive insurance should also cover anyone using the vehicle with a valid license, not just the owner of the vehicle. Otherwise, the family might not get reimbursed if there's a car accident while you're in the driver's seat. Tell them to check their Uninsured and Underinsured Motorist limits to see what they're covered for. They need to have the correct kind of insurance to be covered when other people are using their car.
It's actually a good idea to check what kind of insurance the family has on the car before you drive it. Make sure that you won't be left high and dry if someone rear ends you and runs off before you can get their plate.
Umbrella insurance is also really worthwhile to look into. This can cover them for things like accidents at the playground and off their personal property. This could also cover you if there are other children in the home that get injured on your watch. For example, some of the kid's friends come over, one breaks an arm, friend's parents want to sue to cover medical costs, etc.
Working Through a Service
One advantage of working through a nanny or babysitting service is that they might have their own insurance to cover anything that could go wrong on your watch. This could make the generally higher cost (to the family) of using a service worthwhile. It eliminates the need for all these extra concerns and simplifies the entire process of hiring and finding work.
The nice thing about these nannying services that offer coverage is that they look out for everyone involved; the parents and you as the childcare provider.
Child Care Centers
If you're running child care services out of your own home or in a facility, then you're totally on your own. Being fully insured is a really, really good idea, even if it's not mandatory in your state.
Without liability insurance, you're on the hook for anything that could go wrong. Your home insurance won't cover you for things that are caused by your business. If a kid gets hurt and needs medical attention, you'll probably get sued. Without insurance, you're the one paying out of pocket.
Read our essential guide: How to babysit from home to learn more about the insurance requirements as they apply to you.
Related Questions
Does a babysitter need to pay taxes?
Money earned from babysitting is taxable. While the minimum taxable earnings change from year to year, generally any self-employment income under $400 doesn't need to be claimed. If you're a dependent child, your self-employed income doesn't have to be claimed until it exceeds $1000. Make sure that you consult with an accountant.
See our guide on babysitting tax: Do babysitters pay taxes? for more detailed information.
Does a babysitter need to be licensed?
The requirements for training and licensing will vary by location. Generally speaking, in the US, you don't need any kind of license. However, in some states, you might need some kind of business license to do any kind of self-employed work, including babysitting.
For a complete explanation of possible requirements and required qualifications to babysit, see our articles: Babysitting licences, and Can you babysit without qualifications.
Also, check out our complete list of babysitting qualifications to learn what other certification is available.
Written & Illustrated by: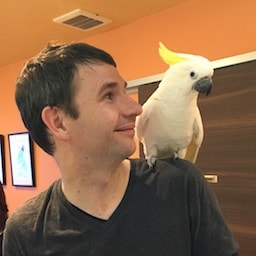 Kidsit Founder, Editor, Illustrator, and father of three beautiful kids in Sydney, Australia.
Published: 16 February 2019
More Babysitting Tips
Learn the most popular babysitting qualifications, what they are, why you need them, and how they can put you ahead of the competition when applying for jobs.
Learn why babysitting can be a rewarding and profitable business, who the business is right for, and how to setup a company structure.
BE SAFE! Learn how to prepare yourself for a fire emergency and how you and the kids should handle the situation if it ever happens while babysitting.
Learn how to deal with difficult children, it will make work easier, and can also open up extra well-paying jobs that others aren't willing to take.
We explain what a babysitting license is, what different kinds of certification are available, how to get a license, and whether you can babysit without one.
We look at the key differences between babysitting from home and running a daycare, special restrictions that might apply in your area, insurance, and costs.
Learn how babysitting shows leadership, how to effectively lead children, and how to develop important leadership skills through childcare work.
Learn what babysitting expenses sitters are eligible for, and receive a tax credit or deduction. It could save you hundreds or thousands of dollars!
Learn some basic water safety tips for children, as well as what to bring to the pool and what types of games kids might want to play.
Everything you need to know about babysitting kids with autism including how to prepare, effective care strategies, safety, and fun activities to enjoy together.
Learn to recognize dangerous water hazards and the basic safety tips needed to keep kids safe around water while you're babysitting.
See out how much you're actually worth as a babysitter by reviewing your skills, experience, the job requirements, and where you live.
Learn how to babysit a baby by following our simple beginners guide and you'll know what to do in no time.
Learn if babysitting is right for you and which simple steps you need to follow to become a successful and confident babysitter.
How sick is too sick? Do I need to find a replacement? What are the risks of babysitting when sick? Read on for the answers.
Caring for sick children doesn't have to be difficult. Follow my 10 worry-free tips to create a fun and rewarding experience that encourages a fast recovery, and don't get sick in the process!
Learn the most common responsibilities that parents expect of their babysitters and how your duties may change depending on the job requirements.
Learn the important things to keep in mind when you're babysitting a toddler, as well as 28 tips to make your job a bit easier.
Learn how to tailor your babysitting strategies and activities to the age and development stage of the children in your care.
Learn what risks babysitting websites might pose, what safety checks they should have in place, and some warning signs and scams to look out for.
We cover the many reasons why babysitting might actually be the dream career you've always hoped for.
Learn what babysitting references are, why they're important, who you should use as a reference, and some essential tips to put you ahead of the competition.
Learn the steps needed to start babysitting with no experience. Once you have some experience under your belt, you'll be really marketable as a babysitter.
Learn what overnight babysitting involves, what items you should bring, how to prepare, and what questions to ask parents before they leave.
Learn what to expect when babysitting on New Year's Eve, how much to charge, what to bring, and recommended nighttime babysitting activities to try.
Learn how to build meaningful relationships with the children you babysit and set the right conditions to build success in their life.
Try face painting on your next babysitting job and discover the pure delight and wonder that children can experience. You can be the best babysitter ever!
Learn all the steps for keeping safe from the interview, to on the job childcare. Our tips include preventative measures and best practices while babysitting kids.
Men can definitely babysit, but there is a lot of stigmatism in child care. We go over the challenges male babysitters face, as well as how to overcome them.
Learn how to be a safe babysitter by following our essential safety tips and best practices while looking after children. Safety is so important!
Take your babysitting to the next level by reading these iconic children's books that naturally lead to fun and engaging activities that kids love
In most places, you don't need qualifications to babysit. However, parents prefer carers with a First Aid Certificate & other basic credentials. Find out what qualifications you need.
Download and print our free babysitting kit. It's packed full of useful resources to make childcare easy and fun.
205 Kids Games, Activities & Ideas to keep even the fussiest kids entertained for hours.
See all the skills that babysitting can teach you and learn why most of them are fully transferable to other occupations.