Best First Aid Kit For Babysitters (Lightweight, Compact, & Perfect for Sitting)
If you are serious about child safety, then you need access to a trusted first aid kit while babysitting. If an emergency occurs, you must always be well prepared. It's part of your job.
Unfortunately, the only way to guarantee access to a well-stocked first aid kit (particularly if you babysit for multiple families) is to bring your own.
That's why at Kidsit, we recommend all babysitters carry the Johnson & Johnson All-Purpose First Aid Kit (view on Amazon). This kit is perfect for babysitters on the go, and it's amazing just how many essential supplies it contains!
Why Should Babysitters Carry A First Aid Kit?
We recommend all babysitters carry their own portable first aid kit for the following three reasons:
1. To Be Prepared for Unexpected Emergencies
When an accident happens, you need to take action immediately, so it's vitality important that you know exactly where the emergency supplies are. You don't want to be frantically searching around a strange house during an emergency!
When you bring your own first aid kit, you have everything you need, and it's always right there with you.
2. To Give Yourself Peace of Mind
You don't want to be constantly worrying about what might happen. If you feel unprepared for a babysitting shift, this can lead to stress and lower job satisfaction. To prevent this, bring a first aid kit and put your mind at rest, knowing you have the right tools if ever you need them.
3. To Show Parents You're a Serious Babysitter
Parents will be easily impressed when you show up to babysit with your own first aid kit. When you bring your own kit, it demonstrates care and commitment to their children's safety, and parents will take notice.
I highly recommend that you tell parents about your first aid kit when mentioning your first aid and CPR training during the babysitting interview because it can:
Give you an advantage over other babysitting candidates;
Give you a reason to charge a higher babysitting rate; and
Show you as a trusted and caring professional.
But there are also longer-term benefits; these include:
More repeat work with existing families.
More impressive babysitting references from happy employers.
Together, these benefits can make a real difference to your babysitting success.
What If My Work Families Already Have A First Aid Kit?
Even if you babysit for a family that already has a first aid kit, you can never be sure it will always be fully stocked with what you need or even kept in the same place.
Also, when you find work with new families, some of them may not have a first aid kit at all.
For these reasons, it's always best to bring your own trusty and well-stocked kit, just to be safe.
Should I Use Supplies From My First Aid Kit Or The Family's Kit?
If you have a choice between using your supplies or those from the family's first aid kit, then I recommend first using the family's kit. After all, the supplies are being used for their children.
Just make sure to let the parents know what items have been used so they can replace them. Write down a list and give it to them when they return home, so they don't forget.
But What If I Don't Need A First Aid Kit?
In an ideal world, you would never need a first aid kit, but even with the world's safest babysitter, accidents can happen.
Maybe you're lucky and you've never needed one before, but the more often you babysit, the greater the chance that something will eventually go wrong.
You never need a first aid kit until the day you do, so make sure that on that day, you are prepared.
What Type Of First Aid Kit Is Best For Babysitters?
When choosing a first aid kit for babysitting, there are several things you should look for:
It's Lightweight
Babysitters need to carry a lot of things, and you may often walk to local babysitting jobs, so having a light first aid kit is essential. The Johnson & Johnson All-Purpose First Aid Kit is only 1.19 pounds (540 grams), so you'll hardly know it's there.
It's Compact and Portable
Most babysitters bring a zip-up binder or a bag to carry everything they need for each job, so their first aid kit needs to fit comfortably inside. The Johnson & Johnson All-Purpose First Aid Kit is perfectly sized to fit into most babysitting binders, and it will easily fit in any backpack.
It Contains the Essentials for Babysitters
The Johnson & Johnson All-Purpose First Aid Kit is packed with 140 items that are most often used:
Band-Aid Brand Adhesive Bandages in assorted sizes
Band-Aid Brand First Aid Products gauze pads
Full size 0.5 oz Neosporin
Pain Relief topical cream
Full size 1.0 oz Extra Strength Benadryl Itch-Stopping topical cream
Tylenol Extra Strength acetaminophen caplets (Please remove these and leave them at home as they are not suitable for children.)
Bengay Non-Medicated Instant Cold Pack
Cleansing wipes
Gauze pads
Rolled gauze
Two pairs of gloves
Helpful first aid guide
That sure is a lot of supplies in one neat, little package!
Are First Aid Kits Expensive?
The Johnson & Johnson All-Purpose First Aid Kit is well worth the small amount it costs. Your total investment will be less than the pay from an average babysitting job, and the benefits of owning one can last for years.
Even if your first aid kit only helps you to get one extra babysitting job, then it has already paid for itself!
Get Your First Aid Kit Today
The Johnson & Johnson All-Purpose First Aid Kit ticks all the right boxes!
It makes the perfect choice for a babysitting first aid kit and that's why, at Kidsit, we recommend it to all babysitters.
Buy your own kit today (check the current price on Amazon) and take your babysitting to the next level.
Extras For Your First Aid Kit
Here are a few additional items that are perfect for babysitters to include in their portable first aid kit.
Novelty Bandages
Kids will love these cute novelty bandages. Stick a few in your first aid kit, and they are sure to bring a smile when it's needed most. See the current price on Amazon.
Travel Hand Sanitizer
It's more important than ever to prevent the spread of germs and viruses, so it's essential to carry travel hand sanitizer whenever you are babysitting. Keep it in your babysitting bag, and use it when you arrive for your job. I recommend the Purell Advanced Hand Sanitizer Gel view on Amazon.
Compact Flashlight
When babysitters are working at night in unfamiliar houses, it's essential to have a flashlight to see through the darkness. I recommend the LE CREE LED Flashlight because it's ultra-compact, bright, water-resistant, and it has a zoomable beam, so you can focus on what's important. View its other features on Amazon.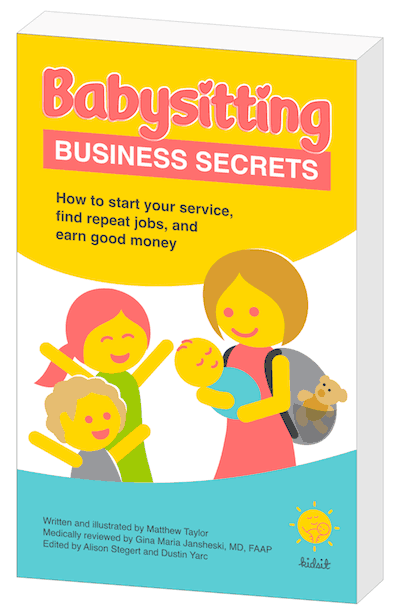 All my babysitting secrets revealed!
My book, Babysitting Business Secrets, is out now as an inexpensive ebook or full-color paperback. If you're serious about becoming the best babysitter you can be, or if you want to make as much money as possible, then this book is perfect for you. I reveal all my tricks and tips for first-time babysitters or experienced sitters who just want to up their game. Get your copy today! Or, learn more about the book.