How to Add Babysitting to Your Resume (Sample Job Skills & Example Templates)
Maybe you're ready to apply for your first job that actually relates to what you've been studying at university? Or perhaps you just need a resume to apply for more babysitting jobs to make yourself look more professional and increase your chances of getting hired? Either way, how do you add babysitting experience to your resume?
Add an experience section to your resume, then list all of your babysitting work as a single job titled 'Babysitting'. Give a combined start and end date, then list the key duties you performed over this time. Finally, list any skills or qualifications you have such as CPR and First Aid certification.
Babysitting is a less traditional job and is often seen as an entry-level position but many of the skills transfer easily over to other jobs you might want in the future - whether in the childcare or education industry, or elsewhere. In this article, you'll learn exactly how to add babysitting experience to your resume in a way that will impress future employers.
How To Add Babysitting To Your Resume
Adding babysitting experience to your resume is pretty straightforward and should only take you a couple of hours or less. Most of the work will involve brainstorming and thinking of the best words and phrases to use.
Have your resume alongside this article and work your way step-by-step through the following sections. You'll have a fantastic updated resume faster than you think!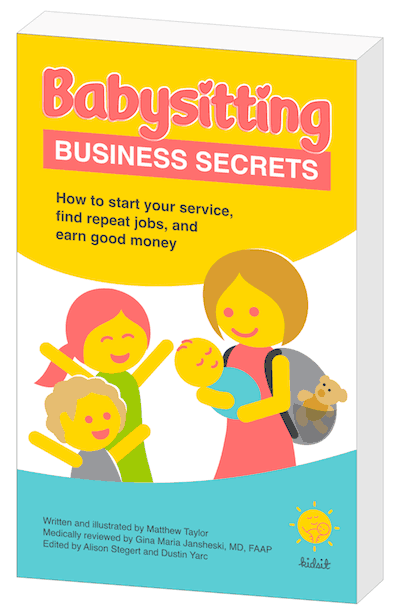 Earn more money babysitting!
My book, Babysitting Business Secrets, is out now as an inexpensive ebook or full-color paperback. If you're serious about becoming the best babysitter you can be, or if you want to make as much money as possible, then this book is perfect for you. I reveal all my tricks and tips for first-time babysitters or experienced sitters who just want to up their game. Get your copy today! Or, learn more about the book.
Add An Experience Section To Your Resume
Start by making an "Experience" section on your resume, if you don't already have one. This usually comes after the part of your resume that lists your education, although you might opt to put it first.
Under the experience section, put your job title, "Babysitter." Also include the city and state/province where you completed your babysitting work, as well as the date range that you worked as a babysitter.
For Example:
2014 – Present BABYSITTER
SELF-EMPLOYED, Dallas, Texas
Tips:
Combine all of your experience into one job. Rather than listing out each individual family that you babysat for, it's best to lump all of your babysitting experience into one big time period. Employers are hesitant when they see resumes of people who jump between many different jobs every couple of months, as it might be a warning sign that they can't keep a job. Instead of potentially being put on the spot and having to defend yourself in an interview, just present babysitting as one ongoing job that you did over many years.
Consider other job titles. The word babysitter has some juvenile connotations attached to it so you might want to think about swapping it for something else like "Childcare Provider." This sounds much more professional, but it's still an accurate and truthful way to represent yourself.
Talk About The Work You Performed As A Babysitter
Use a bulleted list and action verbs here to keep your resume short and engaging. Ideally, you want to tailor the information so that it relates specifically to the job you're applying for.
For example, if you're applying for a teaching position, it would be good to emphasize any academic assistance you provided while babysitting, like tutoring and help with homework. You can also discuss behaviour management strategies or social emotional learning methods you utilized.
If you're applying to work at a daycare, talk about the ages of children you babysat for, how many hours at a time you watched them, any special needs they had, and activities you did with them.
Babysitting might not seem like it applies to the job you're applying for at all. If you're applying to be a bank teller, it can be hard to relate that to your babysitting experience. In this case, try to focus on larger themes like responsibility. When in doubt, just try to list the parts of your babysitting experience that most closely match or sound most impressive.
Are you looking for a more professional word for "babysitter" to put on your resume? See my article Professional Words For Babysitting for lots of suggestions.
What Are Action Verbs?
These are words that you use to describe your babysitting experiences to give a sense of action, as well as make your resume flow better and easier to read.
Here are some action verbs that you might want to use as part of your babysitter resume.
Cared
Created
Played
Ensured
Helped
Looked
Cleaned
Prepared
Coordinated
Supported
Nurtured
Fostered
Supervised
Administered
Examples of what your bulleted points should look like:
Cared for two boys aged 4 and 6 during evenings and occasionally overnight.
Created engaging, educational, and innovative games adapted for a child with learning difficulties.
Consistently ensured children were fed, bathed, and put to bed before parents returned home.
Organized and cleaned the property as needed.
Assisted children with school homework, assigned reading, and other activities. Helped contribute toward student achieving honors award two years in a row.
Coordinated play dates with other childcare providers and families as per a parent-approved list.
Ensured proper hygiene and safety.
Discussed progress and limitations with the employer when necessary.
Prepared and provided healthy meals, snacks, and beverages to children.
Provided comfort and support to distraught or injured children.
Safely transported children to and from school, as well as parks and playgrounds.
Do You Still Need More Bullet Points?
Need help brainstorming some more bullet points to list below your babysitting experience? Think of all the different skills and services you provided during your time as a babysitter. Brainstorm a list of everything you did as a babysitter, and then think about how you can phrase them so they appeal to a prospective employer.
Childcare. This includes major skills that are needed to care for children. Include jobs like changing diapers, feeding, potty training, giving medication, supervising, and clothing them.
Domestic. Includes duties like using cleaning products safely, preparing food, using a dishwasher, or washing machine. These skills emphasize that you can take care of a property and keep it clean and organized.
Safety. Skills that help prevent kids from getting injured, or that you need to use in case of emergency. Outline tasks such as child-proofing a room, or administering first aid.
Personal. These are physical and emotional attributes you need to take care of a child. Include information about your patience, stamina, ability to lift a certain amount of weight safely, responsibility, empathy, etc.
Read our comprehensive article on valuable skills babysitters learn if you need more ideas for your resume.
Be sure to word your experiences in a professional way. It sounds a lot better to write "resolved conflict situations" on your resume instead of "broke up fights between two brothers."
Add A Separate "Skills" Section To Your Resume
Underneath the Education and Experience sections of your resume, you'll want to add an Additional Skills section. Here you can add extra details that apply to more than just your babysitting job, or items you simply didn't have room to fit under the Experience section.
Include qualifications here like your CPR and first aid certifications, any babysitting courses, or other courses that you've taken that relate to babysitting or the job you're applying for.
Check out our list of common babysitting qualifications and be sure to include any that you have on your resume.
You can also include specific situations that you're able to handle, even if you don't have any official certification related to it. If you've worked with children with a specific disability like autism or down syndrome, list that under your Skills section too.
If you speak another language like French or Spanish (well enough to consider yourself bilingual), that's a great skill to list here as well.
Does your Skills section still look a little shorter than you'd like? You can pad it out a bit by adding some "soft skills" like communication, time management, ability to work under pressure, leadership, conflict resolution, etc.
Example:
Additional Skills
CPR and First Aid Certification, The American Red Cross – Valid until August 2023
Fully bilingual in Spanish and English
Excellent verbal and written communication skills
Read our article on how babysitting shows leadership to see a great example of the skills you can learn on the job.
Add A References Section To Your Resume
If you've got a resume that's already a full page or more, you'll most likely want to make a separate "References" page and staple it to your resume. That will help to save room instead of listing out contact details for multiple people after your Experience, Education, and Skills sections. If your completed resume is looking a bit sparse and you've got room to list them, your employer will likely appreciate having your references immediately available at the bottom of your resume.
Having a References section will be especially important if you're applying for another job in the childcare or education industries. Pick your best references and expect your future employer to follow up with all of them.
List the names of your references, their relationship to you, and their phone number and/or email address.
Example:
MRS. JANET SMITH
Babysitting Client
Phone: (123) 456-7890
Email: jsmith123@gmail.com
Tip: It's best to ask permission before using someone as a reference on your resume. Not only is it common courtesy, but it will make them aware you've used them and expect the call. That way they can prepare themselves and won't be caught off-guard when they're contacted.
See our complete guide to babysitting references for more help with this part of your resume.
Consider A Functional Resume
If you're young and don't have much education or job experience, you might want to consider using a functional resume instead of following the usual chronological format.
A functional resume places your skills at the beginning of your resume and your work history and education toward the end.
It normally starts with a main section called "Professional Skills" or "Qualifications Summary" where you list skills you have that specifically relate to the job you're applying for.
What's An Objective Statement On A Resume, And What Should Mine Be For A Babysitting Job?
An objective statement on a resume briefly explains your goals and intentions to a prospective employer at a glance. It lets you explain yourself and what you're all about in just 1-3 sentences.
It's important to have a good objective statement, whether you're looking for a babysitting job or any other type of job. Recruiters only spend an average of about 6 seconds looking at resumes the first time through, so it's important to sell yourself right from the start!
If you're a babysitter applying for a job, your objective statement might be something like:
"To obtain a part-time babysitting position with the Smith Family"
"A babysitter with 4+ years experience seeking a summer position with a family and the opportunity to make a difference in the lives of their children."
"Seeking babysitting position to gain experience with children, as preparation for a future career as an elementary school teacher."
Instead of an objective statement, you may instead choose to include a professional summary that highlights your qualifications and strengths, like:
"Highly adaptable and dependable babysitter. Excellent record of both parent and child satisfaction. Available all days evenings and some weekends for flexible scheduling and availability. Capable of quickly and creatively responding to challenging childcare situations."
Common Resume Mistakes That Babysitters Make
Not keeping it professional. Your resume should be as professional as any other persons, even if you're only applying for another babysitting job. Don't try to make your resume overly-cute by using brightly-colored paper, glitter, markers, images, or cutesy language and slang. There are subtle ways that you can inject your personality into your resume, but going over-the-top will most likely just get your resume tossed into the recycling bin.
Including irrelevant information. You should edit each resume you send out to align it with the requirements of the job you're applying for. If you're applying for another childcare position, saying that you know how to change diapers is an awesome skill to have on your resume, but if you're applying to work in an office environment, it's a really strange tidbit about yourself to include.
Including a photograph. Including a photo of yourself is the standard for a few professions like acting and modeling. You might have good intentions by including a photo of yourself with your resume, thinking that it will help show that you're a responsible and intelligent-looking person. But the vast majority of companies frown upon this. Having photos of candidates on resumes is a bit of an HR nightmare.
On one hand, hiring staff might be accused of only picking a candidate because they were attractive. On the other hand, the company may worry that a candidate will accuse them of discrimination based on how they look if they don't get the job. So for that reason, let your writing do the talking when it comes to your resume.
Not proofreading. Most of the employers I've spoken to say they'll immediately skip over a resume once they see a typo. Make sure to go over your resume to check for spelling and grammar errors before you send it out. You can use free tools like Grammarly. It's good to get a second person to look at it too because they'll often catch things that you missed.
Including every job. You don't need to list absolutely every work experience you've ever had on your resume. Pick your 3 or 4 most important jobs, usually the most recent ones. After you reach a certain point in your career and have worked a couple full-time jobs, it's not necessary to keep jobs from your teenage years like babysitting or a paper route on your resume, and it might actually hurt more than it helps.
Not sharing all of your accomplishments. You don't want to lie or embellish on your resume, but don't be ashamed to include your accomplishments either. If you had a 4.0-grade point average in school last year, include that. If you helped successfully potty train multiple children, include that too.
What is the main purpose of your resume?
To get babysitting work
To get nanny work
To get a childcare job
To apply to a college or other educational program
Some other reason
↑ Vote to see results
Related Questions
How many babysitting skills should I put on my resume?
You should have 5 to 8 skills on your resume if you have that many. If you can think of more than that, focus down to the ones that relate most to the position you're applying for. Looking over the job description of the job you're applying for is a good way to see the specific skills they're looking for. Custom-tailoring your resume to your job will give you a much better chance than someone who just submits a generic resume with all of their applications.
What do I put on my resume for my first babysitting job?
You might get asked for a resume when applying to your first babysitting job. This might make you panic at first, since you've not had any other real jobs to put on a resume. With a little creativity, you can still make a great resume.
Think of situations where you helped with children in the past, even if you weren't paid for them. For example, maybe you've babysat for an aunt or uncle for free before, volunteered at an after-school program, or helped children at your church. Even taking care of younger brothers and sisters is fair game.
See our guide: Babysitting for free to learn why offering your services at no cost is a good way to earn childcare experience and parent references.
Also see our absolute beginner's guide: How to start babysitting with no experience if you're just starting out.
Anything else that I need to include on my resume?
Don't forget to put your full contact information at the top of your resume! Putting your contact information at the top of your resume lets clients who are interested easily contact you to set up an interview. Make sure to include your full name, address, email address, and the best phone number to reach you at. If you have your own website that shows off your babysitting service and includes more information like testimonials, be sure to include that as well.
Next: