Babysitting Flyers: Free Online Maker!
(3 Easy Steps to Create Customized Flyers!)
Get Help With Your Flyers
Kidsit can help you at every step in your babysitting venture. Click below to jump down to each help topic:
PDF Printing Tips
Are your flyers not printing to the edge? Select the 'fit to page' option in your print settings or adjust the size to be slightly less than 100%.
Is your text overlapping the tear-off tabs? Try using a smaller image, reduce your headline to one line, or shorten your text to the most important points.
Is the ink running on your flyers when they get wet? Some inkjet printers use ink that dissolves in water, to stop running ink, use a water-resistant ink cartridge.
Alternatively, print your flyers on a black & white laser printer or take your PDF file to your local copy center and use their color laser printers.
Another great idea is to print black flyers then let kids color them for you! This is not only a fun babysitting activity for kids but it looks great and adds a lovely personal touch to your flyers that people will notice!
Tips For Managing PDF Files
How do I save my PDF file? Choose the save option from the PDF menu to save a copy to your computer or mobile phone. On mobile, you may have to tap the screen to make the menu overlay appear before you can see it.
How do I email my PDF file? First download the PDF file (see above) then open a new email, click the paperclip icon and select your file to attach it. You can now send your printable flyer to whoever you like!
Where Is The Best Place To Post Babysitting Flyers?
Get more job opportunities by posting flyers near places where local parents with kids are most likely to see them.
Here are the top locations that I recommend:
Places where kids play
Parents are never far away from their playing kids, particularly younger children. Try postering flyers near:
Playgrounds
Parks
Community centers
Local beaches & public waterways
Pools and waterparks
Sports centers
Places where families visit
The following locations are frequently visited by families with kids, poster your flyers nearby so they see them as they walk past:
Schools
Daycare centers
Toy shops
Kids clothing stores
Children's hospitals
Kid-friendly cafes and restaurants
Your local library
Art galleries and museums
Doctors surgeries and Chemists.
Shopping centers
Busy places with lots of foot traffic
Flyers in the busiest parts of town will get noticed by a lot more people including many parents. Give these places a try:
Along busy roads and thoroughfares
Train stations
Bus stops
Ferry wharves
Car parks
In shop windows
Around your local neighborhood
The best babysitting jobs are the ones just around the corner because they're easiest to travel to at a moments notice and they're safer to get home from at night.
You may already know some of the kids in your local area so that might improve your chances at landing a job too.
Do a letterbox drop to promote your babysitting services and be sure to include any families with children.
Post flyers along the streets in your local residential area.
Postering is such an effective marketing strategy! Read my article 12 Reasons Why Babysitting Flyers Work So Well to see all the reasons why.
Make Sure You Have Permission To Post Flyers
Most towns have great places where everyone has permission to post flyers such as on public notice boards and designated posting poles, but for everywhere else make sure you are allowed.
Visit your local council to learn what the postering laws are in your area.
Always ask establishment owners before posting in shop windows or on privately owned notice boards.
Never post on private property, including at schools, unless you have prior written authorization to do so.
You may find that posting on poles in the streets around schools (and other private locations) is more effective anyway.
Plan Your Postering Expedition
Postering works great when you can plan to dedicate a few hours to do a good job.
What to bring
An over-shoulder bag or backpack that you can easily carry with one arm (while opened) without things falling out.
Your printed flyers. Put them inside the bag in a place where they're easy to access. Print a variety of different templates and designs to test out.
A few rolls of clear sticky tape, you will almost definitely need more than you think!
A drink (if it's hot weather.)
Your mobile phone because you might start receiving calls while you're still postering!
Babysitting Flyers (Checklist)
Download and print out this checklist to take with you when posting flyers around your neighborhood.
Bonus pole postering instructions are also included.
Free Download
(babysitting-flyers-checklist.pdf 14kb)
Check out our other babysitting checklists too!
Plan your route
Look at a map of your local area and come up with a rough plan of where you want to go and in what order.
Make sure you have enough flyers for your route.
You can even prepare different flyers to match different locations that you plan to visit.
Bring a friend
If you're feeling a bit shy or if you'd just prefer a bit of company, invite a friend along and have fun postering together.
One person can hold the flyer while the other tapes it.
Or have a little competition and see who can poster the most in an hour. You can do both sides of the street at the same time!
How to Tape Pole Posters
There is both an art and a science to postering efficiently.
My recommended technique is to hold your flyer against the pole, then tape across the top of the paper, spiral behind-and-down the pole and tape across the bottom in one big 'swoop' of tape. I find this works much better (and faster) than using separate pieces of tape for each corner.
Give it a try:
Your first attempt will probably be a total disaster!
Your second attempt will be much better but it will take you forever!
By number 10 you will be twice as fast but probably a bit rough.
By number 100 you will have developed your special technique that looks something like karate!
However you do it, just don't tape over the rip-off tabs, otherwise, they become a bit difficult for people to use! :P
Stay Safe While Postering
Here are a few things that you can do to stay safe while postering flyers:
Always let someone know that you are postering, where you intend to be, and what time you expect to be back.
Never poster alone at night. Morning is probably the safest time plus you may meet more parents with kids who are often up early.
Always bring your mobile phone in case of emergencies.
Say hello to your neighbors and tell them what you're doing if they ask. The more neighbors who know you, the safer you can be in your local area.
Bring a friend along if you can and look out for each other.
If a situation or person seems suspicious leave the area straight away, it's just not worth the risk. You can always try postering there again on a different day.
See our safe babysitting guide for safety tips on the job too.
Monitor Your Posters
Keep an eye on your posters from time to time to see how they're going.
Have any tabs been torn off?
Have any been taken down or postered over?
You may find that flyers in busy areas don't last as long and you may need to redo those locations. In residential areas, they can last a lot longer.
If you're lucky, some of your flyers will last for months. Take note of these locations, you'll want to keep using them because they work so well!
When families contact you, always ask where they heard about your services so you know what areas are the most effective for flyer advertising.
What is the best method for finding babysitting jobs?
Through family and friends
Word of mouth
Babysitting flyers
Through a babysitting app or website
Social media
Newspaper or online ads
Some other way
↑ Vote to see results
What To Do When A Family Calls You!
Congratulations!
When families contact you, it means your babysitting services are in demand.
We have lots of useful guides to help you through the next steps on your babysitting venture.
How to ace your babysitting job interview
For a babysitting interview, you want to be well presented, have all your paperwork with you, and be prepared for the common questions that parents are likely to ask.
Read our interview guides so you can stand out from the competition!
Babysitting Tips
Read our guides on how to babysit children of different ages and how your general duties change depending on child maturity.
Learn how to babysit:
Child entertainment ideas
Looking for things to keep the kids occupied while you're babysitting? Check out our 200+ babysitting activities and filter by age or category to find the perfect games, fun crafts, and ideas that children love.
Beginner babysitter tips
These guides will be perfect for getting yourself started as a babysitter:
Other helpful tips
Babysitting requires a lot of different skills. Here are some of our most popular tips:
Good Luck And Have Fun!
Stay safe and enjoy your postering expeditions.
I hope you find the best local babysitting jobs with loving families!
And don't forget to try our other useful tools: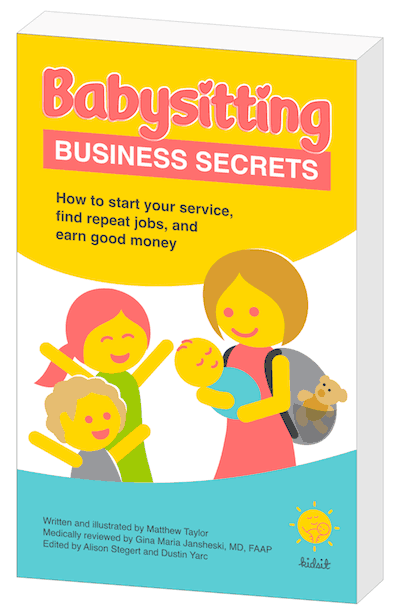 All my babysitting secrets revealed!
My book, Babysitting Business Secrets, is out now as an inexpensive ebook or full-color paperback. If you're serious about becoming the best babysitter you can be, or if you want to make as much money as possible, then this book is perfect for you. I reveal all my tricks and tips for first-time babysitters or experienced sitters who just want to up their game. Get your copy today! Or, learn more about the book here.
205 Kids Games, Activities & Ideas to keep even the fussiest kids entertained for hours.
See out how much you're actually worth as a babysitter by reviewing your skills, experience, the job requirements, and where you live.
Create Your Own Beautiful Babysitting Business Cards in 2 Minutes! Choose a Template. Customize Your Design. Print for Free!
If you are serious about child safety, then you need access to a trusted first aid kit while babysitting. See our recommendation!