12 Reasons Why Babysitting Flyers Work So Well
Are you looking to promote your babysitting business and get more customers? Posting babysitting flyers is one marketing strategy that can lead to a lot of success.
Why do babysitting flyers work so well? Babysitting flyers are an effective advertising method since they're so inexpensive and easy to make. You can target local families that live nearby. Plus, they're something tangible in an increasingly digital world.
In this article, I'll tell you some of the top reasons why babysitting flyers work so well, then I'll let you know about some potential disadvantages to keep in mind too.
The Advantages of Babysitting Flyers
Babysitting flyers have a lot of things going right for them. When it comes to advertising your babysitting services, creating flyers is likely to deliver some of the best results compared to the amount of time put into creating and distributing them.
Here are some reasons why babysitting flyers work so well.
You Can Make Them Easily
Babysitting flyers can be as simple or complex as you want them to be. You can design them with all kinds of fancy graphics if you'd like. But you can also keep them bare-bones and put a flyer together with no specialized experience or knowledge of graphics software.
A babysitting flyer can be as simple as opening up a Word document and typing up all of the important info in a big readable font, and printing it out. They're low effort, but have a high impact.
Want a super-easy way to make your own babysitter flyer in just a few minutes? Check out my free online babysitting flyer maker!
They Save You Money
It doesn't matter if you're just starting out as a babysitter, or if you've been doing it for a few years. Chances are that you don't have much extra money to spend on advertising to find new families to babysit for.
Babysitting flyers can help you to get yourself visible to a large number of possible clients, without costing you a fortune in the process.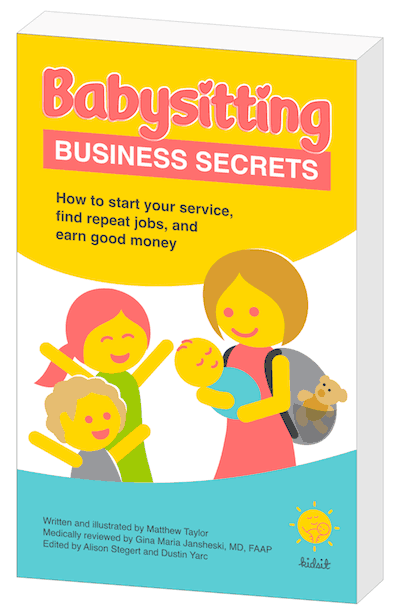 Start your babysitting business today!
My book, Babysitting Business Secrets, is out now as an inexpensive ebook or full-color paperback. If you're serious about becoming the best babysitter you can be, or if you want to make as much money as possible, then this book is perfect for you. I reveal all my tricks and tips for first-time babysitters or experienced sitters who just want to up their game. Get your copy today! Or, learn more about the book.
You Can Target Clients Locally
You probably want to find clients that live nearby to you, within a couple miles or kilometers of your house. Especially if you don't drive.
Posting babysitting flyers on your own street or nearby streets is a good way to reach out to families that live nearby. That way you won't need to travel across the city to work.
Think of what kinds of places parents that live nearby would also visit frequently, like the closest grocery store or post office. Post some babysitting flyers there as well.
They Provide Measurable Results
You can use a discount code on your flyers or some other feature that lets you know where your referrals are coming from. Then you can see exactly how many parents that you end up babysitting for are the result of your flyers.
If you have a website or social media, you can also use a QR code, a special referral link, or some other way to track people who find your flyers and then look you up online.
This lets you know how many people are actually seeing your flyers. You'll also be able to tell how many people visit your social media or website as a result of your flyer, and how many reach out to you for babysitting work after that. Then you can easily identify any possible problems at different stages of your marketing strategy, and adjust them accordingly.
You Can Use Them In Multiple Ways
Babysitting flyers are versatile. You can use one design multiple ways. Of course you can post them up on the street on telephone poles and in other places. As well as on bulletin boards in your local shops, community centers, churches, and other locations.
But you can also go door to door and drop them in people's mailboxes as well. This can be a great option especially if you live in an area with a nearby school, so there might be lots of kids living in the area.
If you have a second part-time job as a newspaper delivery person, you can multitask and use your flyers as newspaper inserts. Just slot them in with the regular flyers that are included each week, and you can save yourself a trip and won't have to hand-deliver your flyer to people's houses by itself.
People Can Read Them Easily
Babysitting flyers are straightforward and easy to understand.
Your flyers should use a really big font. It only needs a few keywords, along with your contact information in a smaller font underneath.
That way you'll catch the attention of people passing by, even from the other side of the street. Someone with a short attention span has time to read your flyer saying "Babysitter For Hire" and decide to stop for a second look.
Keep your flyer readable by not trying to pack in too many extra words. Redirect parents to your website or have them contact you for more information instead.
Once a parent contacts you from your flyer, they'll likely want to interview you. See my article Babysitting Interviews: What to Expect (Phone & In-Person) so you're not caught off-guard.
You Can Produce Them Fast
Some other kinds of marketing might take days or weeks to get everything arranged. But you can sit down at your computer and design a basic babysitting flyer in an hour or less.
As long as you've got a printer at home, you can print them all out yourself. Or print a single copy and take them to your local office supply store, and make some photocopies for just a few cents each. Then grab a roll of tape or a stapler and you can have your flyers made and posted all over your neighborhood in a single afternoon.
You're Able to Include Incentives
Using babysitter flyers allows you to use coupon codes or other incentives to convince parents to give you a try. You might include a coupon code on your flyers that lets parents get a percentage like 25% or a flat amount like $10 off their first time that you babysit for them.
You can add a sense of urgency by saying the discount is only available for the first three people that book you, or something similar.
They Allow You To Get Creative
Babysitting flyers give you complete creative control over your message. You can make them look however you think will be most effective in attracting babysitting clients. You can put images on your flyer, print it on a hot pink colored paper, or use glitter. The possibilities are endless!
They're Something You Can Hold
Babysitting flyers are a tangible piece of paper you can see and hold. We live in a digital world where we're constantly bombarded with advertisements on our computer or cell phone screens. So we're a bit desensitized to messages sent that way. Printing your flyer out on physical paper is something classic that makes a big impact.
Not many other babysitters are likely to go to the work of putting up flyers all over town either. So you'll really stand out and might be able to get a lot of the babysitting business in your area. Try to really stand out from the crowd with your babysitting flyers!
They Add A Personal Touch
If you go door to door delivering your flyers, you may run into parents coming or going from their homes and get a chance to introduce yourself. This is a great way to put a person with the name and make a bigger impact on them. After they've seen you, they're more likely to pick you than another random name without a face.
If you're brave enough, you can even start knocking on doors and introducing yourself to anybody that's home. Even those without kids may pass your flyer on to someone they know if you make a good impression. And if nobody answers the door, you can always leave a flyer in their mailbox.
Important: Don't bother anyone who has a sticker saying "No soliciting," "No advertisements," or anything similar on their door.
You Can Reach A Wider Audience
If you and your parents have large social circles, then word of mouth can be an effective way to find babysitting jobs. But you might have recently moved to a new area, or you just don't know as many people as other babysitters.
In that case, babysitting flyers are a great way to extend your babysitting services to a larger group of people in your community.
The Disadvantages of Babysitting Flyers
Like all forms of marketing, using babysitting flyers aren't with their own drawbacks. Here are some areas where flyers fall behind other ways of letting people know about your babysitting business.
They Have A Short Lifespan
Babysitting flyers have a shorter lifespan than other ways that you can advertise.
Since they're just pieces of paper, they're at risk of getting damaged by the elements. It just takes one rainstorm to ruin any flyers that you attached to telephone poles in your area.
If you deliver your flyers to people's mailboxes, they'll likely discard them after they're done reading it. Only those who are truly interested may put your flyer up on their fridge as a reminder to contact you. For everyone else, they'll probably only see your flyer once.
People Can Ignore Them
Even if you post your babysitting flyers indoors, many people will just disregard them and walk past without giving it a read. For those that do look at your flyer, you only have a couple of seconds to catch their attention and make them take action.
This means your flyers may have a low conversion rate. Only a small percentage of people who see your flyer will take the time to read it fully or contact you. So to maximize your chances of success, it's essential to put your flyers in high traffic areas where lots of people will see them.
Even taking this into account, flyers are still a very useful marketing tool.
What To Put On Your Babysitting Flyer To Make It Stand Out
Babysitting flyers might be a terrific way to advertise your services. But the rewards of making flyers and putting them up won't come automatically. You need to put some work into creating flyers that really catch the attention of parents.
Here is some important information that you'll definitely want to include on your flyers:
A Great Title or Headline
Your headline is what will really make or break your babysitting flyer. So don't be afraid to really take some time to get this part perfect. Even if it's only a few words, each one needs to be crafted perfectly. Try to come up with a unique catchphrase or slogan like "You deserve a night off!" If you can't think of anything, you can always default to just writing "BABYSITTER" in a huge font at the top of your flyer. It's straight to the point and immediately lets them know if they might want to read further.
Your Contact Information
People who may want to hire you will need a way to get in touch! Give them lots of options to make contacting you as easy as possible. At a bare minimum, you'll want to include your phone number and email address. You may also want to link to your Facebook or other social media accounts, or your own website if you've got one.
The Areas That You Serve
Unless you live in a small town, it's best not to just write the name of your city on your flyer. Try to pick subdivisions, neighborhoods, or communities in your area to list. Most cities are broken down into these smaller sections, and locals will know what they're called. For example, I wouldn't write on my flyer that I cover all of Sydney. I'd say that I serve something like the Bondi Junction and Woollahra areas.
The Services That You Provide
Here you can get a bit more niche besides just "babysitting." Let parents know about any extra services you offer. For example, if you're also willing to clean or do the dishes, or if you offer tutoring, as well as specific babysitting times like after school, evenings, or weekends.
The Ages of Kids That You Babysit
Identify the age range of kids that you're willing to babysit. Or if you're open to babysitting kids all the way from infants up to pre-teens, you can say that you babysit all ages.
Your Qualifications
If you have room for it, you can add a section going over any certifications you have like CPR and First Aid. Let parents know if you have your driver's license, business insurance, and how many years of babysitting experience you've got.
Read my article Babysitting License (What is it and How do I Get One?) if you're looking to get some qualifications.
Testimonials
Getting testimonials from current clients is great social proof. If you can get a few parents that you babysit for to write a sentence or two for you, it shows other parents that you have happy babysitting clients.
Need more help with your flyer? See my article What to Include on a Babysitting Flyer so you don't miss anything important.
Where Will Babysitting Flyers Perform The Best?
Set aside some time to strategize locations in your area where parents might spend their time. Many gyms, schools, restaurants, stores, and other businesses are willing to help connect you with parents to babysit for. So it doesn't hurt to ask in as many local spots as possible. Many places will even have bulletin boards that are free for anyone to use, so no permission is required.
Here are some good places to look at:
Schools and Daycares In Your Area
If you can get your flyers up in a school, that's a goldmine of potential clients. Pretty much every adult that passes through the school or daycare has a kid of their own that needs babysitting. It's hard to find a better hangout for your target audience.
Some schools and daycares might not want you to advertise during certain hours where they offer their own services. Especially in the week during the day. But many are happy to help find you clients during times they don't offer. Like on weekends, night time, or on holidays.
Libraries, Recreation Centers, and Community Centers
After schools, these are some of the next-best places in your city where parents and kids tend to congregate. Almost all libraries will have bulletin boards where you can put your flyers up. There's a good chance that you'll be able to at community swimming pools and arenas too. Even your local park might have a weather-protected board where you can put your flyer.
At Parties and Other Gatherings
If you'll be attending a child's birthday party or some other kind of holiday gathering, it can be a good place to set out some flyers to spread the word about your babysitting services.
You won't get the same amount of people seeing your flyers as if you put them in a public place. But it gets you in touch with some extended friends and family of parents that you might not have otherwise had access to. Plus you'll be more trusted since you already have some kind of connection to them, and your family and friends can put in a good word for you.
Social Media
Just because flyers are typically printed out, that doesn't mean that you don't have the option to use digital copies of them too.
Put up an electronic version of your flyer on your Facebook page, Twitter, Instagram, and other social media.
Since anyone in the world might be able to see your flyer when you post it online, I would include less personal information. For example, you'll probably want to leave your phone number off of it. People can email you or send you a direct message through whatever social media platform they're seeing your flyer on instead.
Check out my article How to Stay Safe Online as a Babysitter (11 Rules to Follow) before posting your flyers online.
What is the best method for finding babysitting jobs?
Through family and friends
Word of mouth
Babysitting flyers
Through a babysitting app or website
Social media
Newspaper or online ads
Some other way
↑ Vote to see results
Conclusion
Making a babysitting flyer is an easy and inexpensive way to reach out to parents in your area and offer your babysitting services.
They allow you to target local parents who live on your street or somewhere in the neighborhood nearby. Plus they're versatile. You can post flyers on telephone poles or bulletin boards, or deliver them to people's mailboxes.
If you aren't yet using flyers to advertise your babysitting business, why not give it a try?
Try my free babysitting flyer maker today!