Babysitter Profile Writing Tips (Bio Secrets that Work!)
So you want to share with the world that your babysitting service is open for business. But what are parents looking for on babysitting profiles, flyers, and other resources that you create for your services?
What should you write on a babysitter profile? You need a great profile picture and headline to capture attention in search results. On your full profile, use the "Five Ws" (who, what, where, when, why) to give a detailed explanation of your experience, education, and interests.
This article will teach you how to make a babysitter profile that really makes you stand out as a great choice for parents. It's not only applicable to your profile on babysitting websites, but you can also apply this information to babysitting flyers and other resources that need an "About Me" section too.
Why Do You Need A Great Babysitter Profile?
When you post your profile on a babysitting website, you're likely competing against thousands of other babysitters for the attention of parents who come to the site.
Parents might only spend a couple of seconds looking at each babysitter's profile before making a split decision on whether to add you to their "maybe" list. Otherwise, your profile gets passed over and you'll never even get a chance to interview for the job.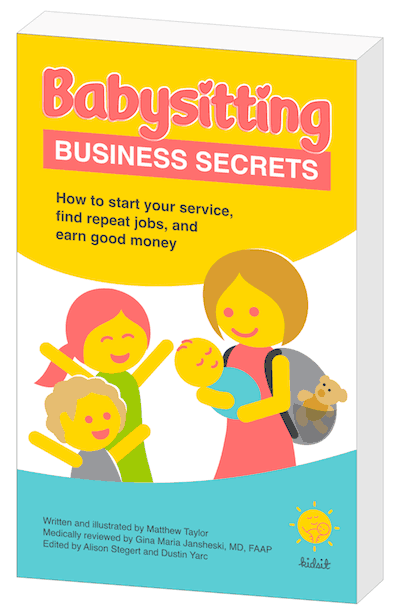 Become a better babysitter!
My book, Babysitting Business Secrets, is out now as an inexpensive ebook or full-color paperback. If you're serious about becoming the best babysitter you can be, or if you want to make as much money as possible, then this book is perfect for you. I reveal all my tricks and tips for first-time babysitters or experienced sitters who just want to up their game. Get your copy today! Or, learn more about the book.
A good babysitter profile will tell parents what you're all about. This description will help you find a family that is the perfect match for your personality and childcare style.
So it's important to keep looking over your profile and thinking of ways you can change the wording to improve it and show off the absolute best parts of yourself.
Are you writing about yourself on your resume or CV? Read my article How to Add Babysitting to Your Resume (Sample Job Skills & Example Templates) to learn more.
Taking A Great Profile Photo
Most babysitting websites allow you to include a portrait of yourself so that parents can see what you look like. If this is an option, it's critical that you include a photo. Parents might consider it suspicious if you don't have a picture on your profile and they're likely to just skip over your profile. That human element of being able to see the person you're hiring makes a huge difference in getting people to look through the rest of your profile.
Although it might seem shallow, people really do judge a book by its cover. So having a profile photo that stands out will really set you apart from other babysitters.
Use a recent headshot of yourself where you're smiling. Make sure it's clear and easy to see, even if they're just viewing it as a thumbnail in the search results.
You want to avoid using any pictures from social media that might look unprofessional, or "action shots" showing you doing something. Any picture that shows more than just your head will likely be hard to see at smaller resolutions.
Pass on anything too glamorous or artistic. You just want a simple and straightforward picture. Something that makes you look mature, responsible, and dependable.
If you plan to use a photo that includes a child that isn't yours, always make sure to ask their parents for permission before posting it to your babysitter profile.
Headline Writing Tips
Some babysitting websites might have a big headline that appears at the top of your profile. Consider this as your "catchphrase" as a babysitter. It's what will decide of parents decide to keep reading the rest of your profile or not, so it needs to be relevant and unique!
A good headline is positive, specific, and descriptive. Try to look at the headlines other babysitters are using and make yours conveying a similar idea, but different.
For headlines on babysitting websites, the norm is to use title capitalization. So don't make your headline either all lower or uppercase. You want to write it like it's the title of a book.
Examples of good headlines
"Experienced Babysitter Available For Afternoons and Evenings For Back-To-School Time!"
"A Dependable and Qualified Babysitter You Can Trust – Flexible Hours"
"Date Night Babysitter – Always Available For Evenings and Weekends"
"Competent and Trustworthy Babysitter - Your Kids Are In Good Hands"
What To Write on Your Babysitter Profile Description
You want to keep your babysitter profile fairly brief and on-topic. You don't want to write out your entire resume or give parents a page-long essay they have to read. Most will just skip over it if you make it seem like too big of a task! You only need to write a few sentences about your qualifications, previous childcare experience, and your strengths.
Pay particular attention to any shorter description of yourself that appears in search results, before parents even click through to your full profile. This is your big chance to catch the attention of parents and sell in just a few sentences that you're the perfect babysitter they're looking for.
Who, What, Where, When, Why
The "Five Ws" are often used in journalism by reporters to make sure they're getting the full story on a subject. And you want your babysitter profile to give a full picture of you as a person! So I think starting off with these five questions is a great jumping-off point if you're just starting to write out your babysitter profile from scratch.
Who – Who are you, and what kind of children have you looked after in the past? (Infants, toddlers, school-aged children, or children with special needs.)
What – What kind of work are you looking for? Are you a part-time, full-time, or occasional babysitter?
Where – You might not need to mention this one. But if you offer to babysit out of your own home instead of at a client's house, that's worth pointing out.
When – When have you worked as a babysitter? How many years of experience do you have, at what age did you start babysitting?
Why? - Explain why you choose to be a babysitter, and why you love working with kids. Do you love doing crafts, taking kids outdoors, helping them with homework, or something else?
Show Off Your Personality
You don't want to go overboard on this part. But add at least a few sentences that show off your personality and help differentiate you from the other babysitters that parents will also be looking at. Talk about any unique talents, hobbies, or skills that you have. Especially any things like loving the outdoors, crafts, or things that you may be able to do with children that you're babysitting.
Need some activities to keep kids busy while babysitting? Be sure to read my article Fun things to do when Babysitting (205 Kids Games, Activities & Entertainment Ideas)
Talk About Your Flexibility
No, we aren't talking about whether or not you can do the splits here! But rather, how flexible you are with regards to babysitting jobs.
Generally, the more flexible you are, the more that parents will be willing to work with you. So if you're fully flexible to babysit any day and any time, be sure to mention that.
If not, make sure to share what days of the week and which hours you're not able to work. There's no point in starting a conversation with parents who only need a babysitter on Friday nights if you're never available to work that day.
Are you available to start babysitting right away, or only after a specific date? Are you available for long-term or only short-term? Try to make your profile as clear as you can.
In terms of flexibility, also mention any extra tasks like cleaning that you're willing to do. Or if there are specific duties that you refuse to do, make sure to mention those as well.
Mention Your Education
Don't forget to include any relevant education that you've got, which might relate to babysitting. For example, if you're in university studying to become a nurse or a teacher, definitely mention that on your babysitting profile.
Some things may indirectly relate to working with kids that don't immediately come to mind. So try to mentally run through all of the training and education you've got, and see if any of it is relevant to babysitting.
Babysitting will teach you things you may not be able to learn in the classroom! Check out my article 29 Skills You Can Learn From Babysitting (And Why They're So Valuable) to see what I mean.
Outline Your Babysitting Rate
Getting nothing but lowball offers from parents who are looking to hire you for $5 per hour is almost worse than not getting any responses at all!
So I recommend always including an expected rate or wage, so parents have a better idea of what it's going to cost to hire you before they reach out. That means less time wasted for both you and them if they're not going to be able to afford the rate you're asking for.
You want to make your rates competitive. If your rate is too high, you risk parents just moving on to a cheaper babysitter. But don't sell yourself short either. If you have lots of qualifications and experience, don't be afraid to price yourself a bit higher than other babysitters.
On some babysitting websites, rates can be set or negotiated at whatever both you and the family feels comfortable with. On other websites, there may be a minimum rate that you're allowed to set. If so, it's usually the minimum wage for whatever your state or country is.
You may also want to specify details that could increase your rates, such as specific numbers or ages of children, extra duties, or working later at night.
Summarize Your Childcare Experience
Talk about all of the experience you have working with kids. Mention the age ranges you've worked for, and how many years you've been babysitting.
Also, mention any related experience like working for a daycare or volunteering at a children's charity that might also be relevant.
If you're a fairly inexperienced babysitter, don't hesitate to include babysitting your younger brothers and sisters, or any other experience you've got. If you're brand new to babysitting and have no childcare experience, you may want to omit this section entirely, instead of bringing attention to that fact.
Are you struggling to find jobs as a first-time babysitter? My article How to Start Babysitting with No Experience (7 Easy Steps) can help!
Keep Personal Information Out of Your Profile
You don't want to put your address, phone number, email, or even your full name in your babysitter profile. There are a few different reasons for this.
The first reason is for your own security. You don't want any person on the site to have your contact information and to be able to get in touch with you off the website. It opens you up to scams and all sorts of other problems.
The second reason is that many babysitting websites actually make this against their rules. Not only for safety but to prevent people from communicating off-platform. For babysitting websites that take part of the fee when you book a job through their site, they don't want you to reach out to parents separately and try to get around the system to avoid paying them. For this reason, many babysitting sites may actually ban you if you put personal information in your public profile.
An Example Babysitter Profile
Here's an example of what you might want to write on your babysitter profile. Feel free to use this and tweak it to your own situation.
"Hey! My name is Jill and I'm currently in my second year of the nursing program at the University of Michigan. I've been babysitting since I was 12 years old. I started off by watching my younger siblings and then started babysitting kids for other families in our neighborhood. I absolutely love working with infants and toddlers, but I babysit children of all ages. I love anything artistic and never miss a chance to do some finger painting with kids I'm babysitting :). But don't worry, I'm also very good at cleaning up afterward! When I'm not babysitting or in class, I love baking, swimming, and riding my bicycle."
Once You're Done Writing Your Babysitting Profile
After you've written everything that you want to include in your profile, there are a couple more steps to make sure you'll get the best response possible from parents.
Proofread It Again
Before you post your babysitting profile, you want to double-check and triple-check it to make sure you don't have any spelling or grammar errors. Read it over yourself, run it through an online spell checker, and get a friend or family member to give it a read too. Often a fresh pair of eyes can catch mistakes that you missed.
Any typos or errors in your profile will reflect poorly on you and might turn some parents off. It just makes you appear less professional than someone with perfect spelling and grammar on their profile.
Be Sure Your Profile Is Set To Visible / Active
On some babysitting websites, your profile isn't automatically set to be active once you've filled out all of your information. It remains hidden and parents won't be able to see it until you click a button to activate it.
If you forget to do this, you won't show up in any searches on the site and nobody will have a way of finding your profile.
If you're taking time off from babysitting, like going on vacation or going back to school, it's good to set your profile back to being inactive or invisible so you don't get job offers. But just remember to turn it back on when you're ready to start babysitting again.
Most babysitting websites will give a warning at the top of your profile telling you that it's hidden until you activate it.
What is the best method for finding babysitting jobs?
Through family and friends
Word of mouth
Babysitting flyers
Through a babysitting app or website
Social media
Newspaper or online ads
Some other way
↑ Vote to see results
Conclusion
A great babysitter profile works just like a resume or CV when you're applying for a job, or an online dating profile if you're looking to find the right partner. It lets parents know within just a couple of minutes whether you're the babysitter they're looking for or not.
You want a babysitter profile that really puts your best foot forward and makes you stand out from the hundreds or thousands of other babysitters you may be competing against in your area.
Your profile could be the main source of your babysitting jobs for years to come. So it's definitely worth putting several hours of work in to make sure that everything is worded exactly the way you want it. And don't be afraid to go back and tweak it from time to time if you can think of any improvements.
Your babysitter profile should have a professional-looking photograph of yourself, a catchy headline, and a detailed bio section that outlines why you're the perfect babysitter for any parent who views your profile.
Next: