Meeting Children
(How Babysitters Can Make a Great First Impression!)
Just like parents, kids will make their first impressions within a few minutes of meeting a new babysitter too. Follow these steps to put children at ease and make a great first impression.
How can babysitters make a great first impression when meeting kids? Keep a positive attitude and introduce yourself, but don't push kids to talk or interact with you before they're ready. Do activities or share a snack to start building a relationship, and reassure them that you're going to have lots of fun together.
In this article, I'll go over how to make a great impression with children the first time that you meet them. You'll learn things to plan and prepare ahead of time, how to deal with the interaction itself, and what to do afterward.
Plan Ahead Before Meeting Children For The First Time
Having a successful meeting with children you're planning to babysit starts by preparing ahead of time. A little bit of preparation will help prevent getting caught off-guard by any unexpected curveballs that they may throw your way.
Pick What You'll Wear
Stick with casual clothing when you're meeting children for the first time. Chances are good that you'll end up kneeling down to talk to them or sitting on the floor to play with them. So avoid heels, business dresses, or other clothing you might wear to a more formal interview setting. Dressing too formally can be intimidating for a child, as they don't typically interact with people dressed that way.
A polo or nice button-up shirt paired with jeans or khakis is a great choice. You want to wear something that's both practical and comfortable. It should be clothing you feel okay running around or getting a little messy in. Just don't get too comfortable. You want to avoid sweatpants, yoga pants, old t-shirts, or anything with rips or stains.
Need more ideas of what to wear? check out my article What to Wear When Babysitting (How to be Professional and Practical) for more detail.
Decide On Some Crafts and Activities To Bring
Having some activities or crafts to do with children will act as a great icebreaker for the first time they meet you. It gives them an opportunity to interact with you in a less direct way. Even if they aren't comfortable talking to you right away, they might be okay working on a puzzle or doing a craft together. Over time they'll warm up to you as you do the activity.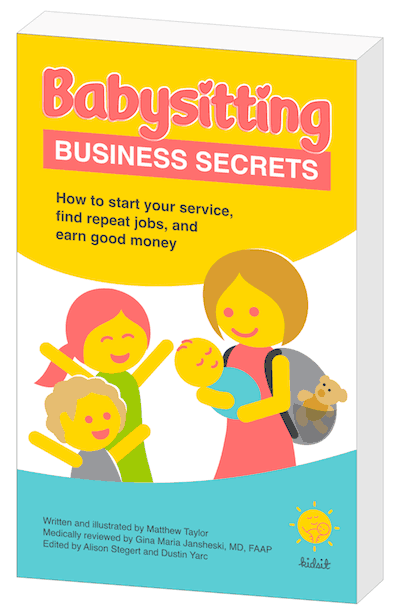 Become a better babysitter!
My book, Babysitting Business Secrets, is out now as an inexpensive ebook or full-color paperback. If you're serious about becoming the best babysitter you can be, or if you want to make as much money as possible, then this book is perfect for you. I reveal all my tricks and tips for first-time babysitters or experienced sitters who just want to up their game. Get your copy today! Or, learn more about the book here.
Be sure to pick activities that are age-appropriate. You might want to check with the parents in advance to see what kinds of things their children enjoy doing. See what kinds of arts and crafts they enjoy, what their favorite materials to play with are, or any materials that parents don't want you to use because they're too messy.
Parents can also tell you if they would prefer to do indoor or outdoor activities. If they're more interested in indoors, bring along some books to read or other indoor activities. If the children prefer the outdoors, find out what sports they like and bring along a soccer ball or something else to do outside.
Are you're having trouble coming up with activity ideas? Be sure to read my article Fun things to do when Babysitting (206 Kids Games, Activities & Entertainment Ideas)
Do Your Research
When you're meeting children for the first time, you don't want to go in completely blind with no idea what to expect. Text or email parents to ask for any basic details that you don't have, like their names and ages. See if there are any special needs that you should be aware of.
Most of this type of information should have already come up in your babysitting interview if you had one. Children of different ages can have very different wants and needs, so it's important to take this information into consideration.
Consider Arranging A Pre-Babysitting Meeting
A lot of the time, the first time you meet a child that you're going to babysit will be when you're actually scheduled to babysit them. But if parents are okay with the idea, it can help make things a bit easier to meet in advance.
If you've never met the children before, a pre-babysitting meeting is a chance to do it in a situation where they still have their parents and aren't being left alone with a stranger. It lets you introduce yourself and get acquainted in a setting with less pressure and fear for the children.
You only need a short pre-babysitting meeting, about 20 or 30 minutes. It's also a great chance to go over details with parents like any allergies, when bedtime and mealtime is, and any other instructions or expectations they have. If children have a chance to warm up to you before their parents leave them alone with you, it will likely make things much easier once it's time for the actual babysitting.
Most commonly a pre-babysitting meeting will be at the house of the family you're going to babysit for. But some parents might also suggest a more neutral location like going out for lunch or coffee instead.
Meeting Children For The First Time
Now that you've prepared for the meeting ahead of time, here are some action steps to help you to make a good first impression and get children engaged when you first meet them.
Introduce Yourself To Them
When you first meet a new child, it's best to start off by introducing yourself. Remember that kids are just little people, and deserve the same respect as if you were meeting an adult. It can be just a simple "Hi (child's name), my name is (your name)," which will work with children of any age.
Introducing yourself will very quickly give you a good indication of how shy or outgoing a child is as well. Some children are a bit more cautious with meeting new people, while others love it and will immediately start to tell you all kinds of things about themselves and what they like.
For children who are more reserved, try to give them space instead of forcing them to talk or interact with you. Let them have some time to warm up first. You could try doing an activity like drawing a picture or playing with blocks by yourself and let them wander over on their own when they get curious and interested in joining you. Understandably, it can be a bit stressful for a child to have a new stranger in their home who is now in charge of looking after them. You need to earn their trust a bit before they will accept you.
If you're still struggling to get a child to interact with you, you can ask parents if there's a particular game that might get them interested or something else you can do to make them more accepting of you and comfortable.
For more outgoing children, you can most likely jump right into having conversations and interacting with them, and things will be easier. You can start off by asking them about babysitters they've known in the past, what grade they're in and what they like to do at school, and their favorite sports, crafts, and other hobbies.
Set Reasonable Expectations
For even the most outgoing children, it's reasonable that they might have some mixed feelings about their new babysitter the first time that they meet you. This is normal, so don't feel like you're failing or doing something wrong if you aren't best friends by the end of your first babysitting session.
The important thing is to have a positive attitude, even if a child is being standoffish or nervous. Children can pick up on things like body language, the tone of your voice, and other subtle cues really well. So try not to let any frustration or disappointment show if things are moving slower than you expected.
On the other hand, if your first time meeting a child goes well, don't expect that things will be easy from then on. There could still be setbacks in the future even if it seems like a child warms up to you right away.
Don't Try To Bribe Their Trust
It can be tempting to try and use gifts to win children over and try to be the cool babysitter. But resist the urge to try and win their affection with these things. Building up a real relationship just takes time.
If you do this, they won't warm up to you as a person. They could just end up seeing you as a way to get neat stuff whenever you come over. But then when you actually need to interact with them or discipline them, things could suddenly break down. Or they might get upset the next time that you babysit if they stop receiving gifts.
Don't Try To Be Their Parent Either
Sometimes babysitters can go the opposite way of trying to win a child's affection, and instead try to use discipline to "show them who's boss" and put them in their place. This isn't a good strategy either.
Children respond best to positive discipline, so try to focus on rewarding the good aspects of their behavior, instead of scolding them for the bad. At some point during your time babysitting them you will have to correct their negative behavior most likely, but during your initial interactions isn't the right time.
If children are acting out the first time that you meet them, try not to react or take it personally. Even if they spit at you or try to push you away, you need to be the grown-up in the situation and not take it personally. Remember that they are likely scared and stressed and dealing with a new situation as best they can. Especially if their parents are still there during your initial meeting, you should have them correct any negative behaviors to start with, instead of doing it yourself.
It's all about finding the right balance. You don't want to be a pushover, but you don't want to be overly harsh with children the first time you meet them either. Trying to redirect their negative feelings and actions into something more positive is the best way to go.
Do Reassure Them
A big part of babysitting a child for the first time is easing them into it, without them feeling abandoned when their parent leaves for the evening. Children may seem like they're upset with you, but in reality, they may just be experiencing separation anxiety and missing their parents.
Empathize with them and let them know that you understand how they're feeling, but let them know that their parents will be home soon and that you're going to have a lot of fun together in the meantime!
It can also help to plan with parents and incorporate in some extra time to say goodbye before they leave. Parents are often in a rush when leaving kids with a babysitter, to get to a movie or dinner reservation at a certain time. But making the goodbye process a bit slower and less hectic can help reduce a child's anxiety. See if parents can factor in five or ten minutes to say goodbye before they leave.
Whant to know more on making a smooth transition when parents leave? Be sure to read my other article How To Deal With Separation Anxiety (15 Tips For Babysitters)
Do Distract Them
Children are really great at going into their own little world of imagination and play. So instead of letting them throw a tantrum and stew in their feelings, try to keep kids distracted.
Often the earlier you catch a child starting to get upset, the easier it will be to redirect them to something more positive or distract them. So try to catch them when you first start to notice their lip tremble or they begin to pout. Once they go into a full meltdown, it will be much harder to pull them out of it.
Have some activity ready to distract children as soon as their parents leave. For infants, this might be giving them a bottle or pacifier. For older kids, you can give them their favorite toy.
Food is also a powerful distraction that will help get a child's mind off the fact that their parent has left, and will work with kids of all ages. Sharing a meal will also help to start creating social bonds with children, and is a great opportunity to start communicating. Eating together helps kids feel safe, loved, and secure (source). So break out a bowl of fresh fruit or some crackers as an easy way to win them over.
See our top strategies for How to Calm an Upset Child.
Review How The Meeting Went Afterward
Once you've met children for the first time, or perhaps after your first babysitting session, it's good to review how things went. You can go over it by yourself, or take a few minutes to discuss with parents after the meeting is over.
Talk about what worked, any challenges that you faced, and other details. If you think a child hasn't completely warmed up to you yet, it's good to strategize how you may be able to deal with that next time you see them. A big part of being a great babysitter is strategizing with parents to figure out what's best for their child when they're away.
You can also get parents to have a casual post-babysitting conversation with their children to ask them what they thought. You can learn what their favorite part of the day was, what activities they enjoyed, and get an idea of what their opinion is of their new babysitter.
Conclusion
Meeting strangers can be awkward enough for grown-ups. So understandably, it's a stressful experience for children to meet a new babysitter. Especially when it's someone they'll be left alone with if they haven't built up some level of trust with them yet.
Making a great first impression with a new child starts with planning in advance. Plan what you're going to wear, what types of activities or crafts you'll do together, and other details. Learn about the different ages of the children you'll be babysitting, so you can gauge what their level of development and interests may be, and find out about any special needs in advance.
If you can arrange a pre-babysitting meeting where you meet children with their parents before you'll actually babysit them, that can help everybody to become comfortable with each other. If that's not possible, try to at least set aside a few minutes before your first babysitting job to introduce yourself while their parents are still home.
Try to cut children some slack if they're acting out when they first meet you. Instead of disciplining them, try to reward positive behavior, provide reassurance, and distract them with toys, activities, or food.
Next:
If you are serious about child safety, then you need access to a trusted first aid kit while babysitting. See our recommendation!
I'll teach you all about babysitting older kids. You'll learn some of the benefits of watching older kids, as well as some of the drawbacks.
See out how much you're actually worth as a babysitter by reviewing your skills, experience, the job requirements, and where you live.
Learn these 8 simple tricks to nail a successful bedtime every night! It's surprising how many of these sleeping tips are not commonly known.