Babysitting Business Cards (Free Maker in 3 Easy Steps!)
Click below for business card examples and other tips for babysitters:
Business Card Examples
There are so many different combinations to choose from with this babysitting business card tool. Below are some examples of what can be done to give you some ideas and inspiration.
Left-aligned text
Text on the right
Centered examples
Vertical business cards
How to Use Your Business Cards
Whether you're a babysitter, nanny, au pair, mother's helper, or some other kind of childcare worker, business cards are an essential part of your marketing strategy.
There are several ways your business cards can get you more work, repeat jobs, and greater flexibility in your weekly schedule.
Letterbox drops

Walk around your local neighborhood and place a business card in the letterbox of families who have kids. This is an excellent way to find more work.

Hand them out to people you meet

It's always a great idea to have a bunch of spare business cards in your wallet just in case you meet someone who may be interested in your services.

Hand them out to anyone who may be interested. Give people a few extras if they know other families that have kids too.

Calling cards

After you complete a babysitting job with a new family, leave a business card behind to encourage repeat jobs. Use a magnet to stick it on the fridge!

For leaving notes

Leave the back of your business card blank and always carry a pen so you can write short notes. This can be very useful in all kinds of situations.
The more your business cards can get out there, the more chances families will contact you.
Are you interested in other promotion secrets? Check out my article on the best and cheapest promotion ideas for babysitters.
Do you like this business card generator? You will love our babysitting flyer maker too!
Home Printing Tips
You can print your business cards on any home printer but here are a few tips for achieving the best results:
Print on card stock or thicker paper to make your cards feel more professional.
Use a color printer if you have one, alternatively, choose black and white images and color your cards by hand for a custom look.
Set your printer to print at 100% zoom so your cards come out at the correct size.
Use a guillotine to cut out your cards with beautiful straight edges. Here's a cheap guillotine on Amazon that does a brilliant job.
Safety Tips
Always keep your safety in mind when promoting your babysitting services. Here are some essential tips:
Don't include your full name on your business cards. It's just not necessary.
Never put your address on your business cards. Your exact location should be kept private until you know your clients better.
Don't do letterbox drops on your own. Take a friend with you so you're not walking around the streets by yourself.
Never give a business card to anyone with who you don't feel comfortable. It's always best to be more cautious than too open and trusting.
Babysitting Tips
Here at Kidsit we have all the information you need to become the best babysitter you can be. Check out our Complete Guide to Babysitting for everything from interviews, safety, child entertainment, and even tax help. This guide is designed to help everyone from complete beginners to seasoned professionals.
And don't forget to try our other useful tools: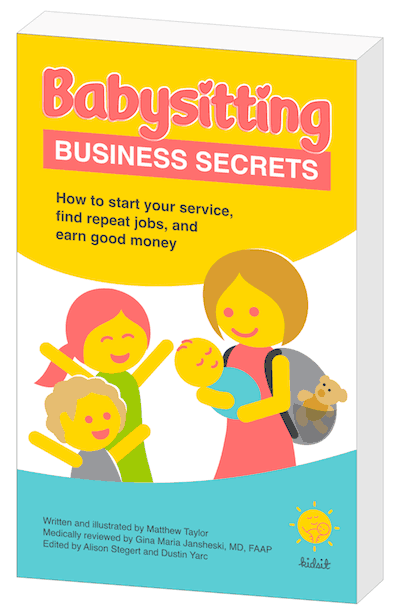 Babysitting secrets revealed!
My book, Babysitting Business Secrets, is out now as an inexpensive ebook or full-color paperback. If you're serious about becoming the best babysitter you can be, or if you want to make as much money as possible, then this book is perfect for you. I reveal all my tricks and tips for first-time babysitters or experienced sitters who just want to up their game. Get your copy today! Or, learn more about the book.