Babysitting Business (How to Start the RIGHT Way!)
You love babysitting. It's a job that you enjoy doing, find fulfilling, plus it also provides a decent income. But is babysitting just a hobby or part-time job for teenagers? Or is it something that you can make into a full-fledged business?
Is babysitting a business? Babysitting can absolutely be a business! It all depends on how much time and effort you want to devote to it. Babysitting is commonly a job for students, but you can certainly be a full-time babysitter as an adult as well.
Gaining certifications and registering as a business can give you more credibility. You might also want to consider other related careers such as becoming a nanny or running a daycare business.
In this article, I'll explain why babysitting can be a rewarding and profitable business, who the business is right for, and some of the more technical details about starting a babysitting business.
Why Babysitting Is A Business
A business is defined as "the practice of making a living by engaging in commerce" or "a person's regular profession, trade, or occupation."
Businesses can involve buying and selling physical products. Or in the case of babysitting, they can provide services to their customers.
If you earn a living through babysitting, then you're operating a business!
The exception is if you have an employer who you perform babysitting jobs for. In that case, you'd be an employee. However, the majority of babysitters are self-employed and do all the work to find their own clients and perform their jobs all on their own.
(Learn more about babysitting full-time as a career choice.)
Who Is A Babysitting Business Right For?
A babysitting business is a great option if you enjoy spending time with children.
You should be able to effectively communicate and connect with both children and their parents.
Someone who owns and operates a babysitting business should be:
Organized
Punctual
Mature
Respectful
Attentive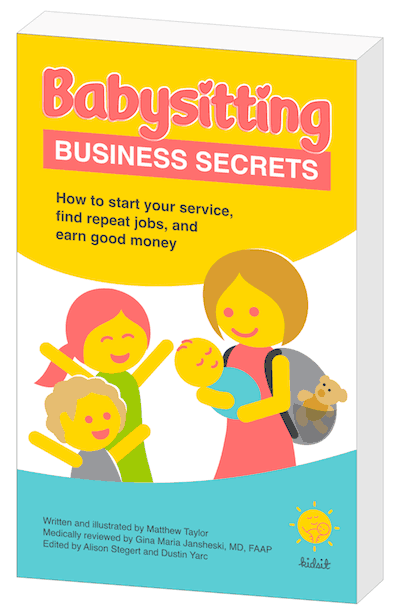 Earn more money babysitting!
My book, Babysitting Business Secrets, is out now as an inexpensive ebook or full-color paperback. If you're serious about becoming the best babysitter you can be, or if you want to make as much money as possible, then this book is perfect for you. I reveal all my tricks and tips for first-time babysitters or experienced sitters who just want to up their game. Get your copy today! Or, learn more about the book.
What Does A Babysitting Business Look Like?
A babysitting business includes babysitting duties like watching children, playing with them and preparing food for them.
But there are also other tasks that you'll need to do as a business as well.
You'll need to market and advertise your business to find more customers. You will also be responsible for handling the administrative work such as keeping track of your finances, responding to phone calls and emails, and managing your schedule.
If you hire employees within your babysitting business, then you'll need to book reservations, perform background checks on new babysitters, and get to know parents and their children to make sure that a babysitter is a good fit for their specific needs.
What Business Type Should Babysitters Use?
When it comes to running a business, there are many different ways to classify your business.
Sole Proprietorship. For most babysitters, I think the best choice is something called a sole proprietorship. Especially when they're first starting off. It saves a lot of the paperwork and legal fees associated with starting a business.
There isn't really anything you need to do to start operating a sole proprietorship, and any earnings from your business go on your personal taxes at the end of the year.
The downside of a Sole Proprietorship is that you own all assets of the business instead of a separate legal entity, and you have unlimited liability in case one of your babysitting clients ever tries to file a lawsuit against you.
If you're just getting started as a babysitter then read these two articles before you continue:
Corporations or LLCs (Limited Liability Companies.) A corporation or LLC is a separate legal entity that you can create for your business. All assets (things owned) and liabilities (money owed) are kept separate from you in this company.
These legal entities help to protect their owners from liability. Even if your business goes bankrupt, having a corporation or LLC may prevent creditors from coming after your personal property to collect on their debt.
Unless you're making a lot of money each year, I don't think it's usually worth babysitters creating a corporation or LLC for their business. You will need to pay legal fees to get either legal entity set up, and the accounting and taxes will be more complicated than having a sole proprietorship.
There are a couple of exceptions. In some areas, you could be required to have a corporation or LLC to run a business. In such areas, you don't have any choice except to create one.
The other time that I think it's a good idea to create a corporation or LLC for your babysitting business is if you're going to be hiring other babysitters to work for you. Once you start hiring employees, your business gets considerably more complicated and your liability increases as well.
Other Forms. There are other business structures such as partnerships, cooperatives, and franchises. But most of these aren't very relevant or useful for your babysitting business except in specific situations.
What Does It Cost To Start A Babysitting Business?
Startup costs for a babysitting business are very low. If you already have clients, then your costs are practically nothing.
All you really need to pay for is your transportation to and from babysitting jobs. It will likely cost you about $20 per week in gas if you drive a car car. Depending on the distance traveled to jobs, you may need to consider if public transit is the cheaper option.
Learn what expenses you can claim on your tax by reading our babysitting expenses tax guide.
Marketing will help you get additional clients. It might be worth making a website to let parents in your area know about you and your babysitting business. It doesn't need to be fancy, but having an online presence is more important than ever.
It's a good idea to set up a social media presence for your business on websites like Facebook as well. Although this usually won't cost you anything except your time.
If you decide to hire other babysitters as employees or rent out an actual office space, that's when the business will start to get considerably more expensive.
Do Babysitters Need A Business Licence?
It really varies from location to location, as well as the exact specifics in your area. You might need several different business licenses at a city, county, and state level.
In some regions, you may need government certification and could be required to pass a Working With Children Check (WWCC) or similar background check before you're allowed to run a babysitting business.
In other places, you may need to register your business name and obtain a DBA (Doing Business As) registration. Especially if you want to open a separate bank account under the name of your business or if you have other similar requirements.
Most of the time you can only babysit a certain number of children at a time before you would need to become certified as a daycare. Particularly if you're running your babysitting business out of your own home. Again, this number varies from place to place and also based on the age of the children you're caring for.
Are you planning to look after kids at your house? Read this first: A Guide To Babysitting From Home where I cover laws and requirements you should know.
It's worth checking in your area to see what permits and licenses are necessary to operate a babysitting business. Failing to meet the requirements can result in fines or even result in your business being shut down!
I highly recommend getting business insurance if babysitting is going to be your full-time source of income.
You also may consider getting babysitter insurance.
Related Questions
How Can I Promote And Market My Babysitting Business?
The hardest part of a babysitting business can be getting clients to babysit for. Unlike most other businesses, babysitting really relies on referrals and reputation. So getting your foot in the door if you're brand new can be difficult.
Reach out to family and friends first. This is how most babysitters often begin their business.
If you belong to a church or another type of community group, you might want to post on their bulletin board offering your babysitting services. This can provide you with a surprising number of new clients.
I also recommend trying our babysitting flyers maker, it's a free tool that lets you create and print custom posters to advertise your babysitting business.
Once you've exhausted all of your personal networks, you can try online resources. List yourself on babysitting directories online. Try to think outside the box for places online where many parents in your city will gather online, such as in local parent groups.
You can take that approach offline as well. Try reaching out to wedding planners or other people who host events that are usually adult-only. They may have connections to lots of parents who are unsure where to find a babysitter.
If you're on a tight budget check out these top free methods of promoting yourself as a babysitter.
When Does It Make Sense To Hire Employees?
If you've established a good reputation, you should eventually build up a happy client base that keeps coming back for your babysitting services on a regular basis.
If you reach a point where you're getting more requests for babysitting services than you have time for, you might want to hire an employee or partner with another babysitter.
Having a thriving babysitting business all on your own is definitely possible though, and hiring a team adds a layer of complexity that many sitters don't want to deal with.
If you love being a babysitter but don't necessarily love the idea of being a manager, then it's perfectly fine to never hire any employees and do everything yourself.
If you're constantly overwhelmed with work, it might be a sign that your prices are too low. Try increasing your prices gradually until demand starts to go down. You might be able to make more money by actually working fewer hours!
Next: