How To Promote Your Babysitting Business (8 Free Techniques)
You want to have a successful babysitting business. Promotion is a critical part of that since you'll need to attract new clients for your business to really take off.
How do you promote your babysitting business? Promote your babysitting services for free to family and friends through word of mouth, reach out to local parents via flyers and letterbox drops in your neighborhood, and spread the word online by posting ads on sitting sites, via social media, or creating your own business website.
In this article, we're going to discuss all these methods plus other techniques that can help promote your babysitting business. Best of all, most of these are free or have a very low cost associated with them.
(Are you just getting started? Check out my 13 easy steps to become a babysitter)
Why Promote Your Babysitting Business?
When it comes to getting started with babysitting the hard part is finding parents that want to work with you.
That's where promotion comes in.
Luckily there are lots of different options when it comes to promoting your babysitting services.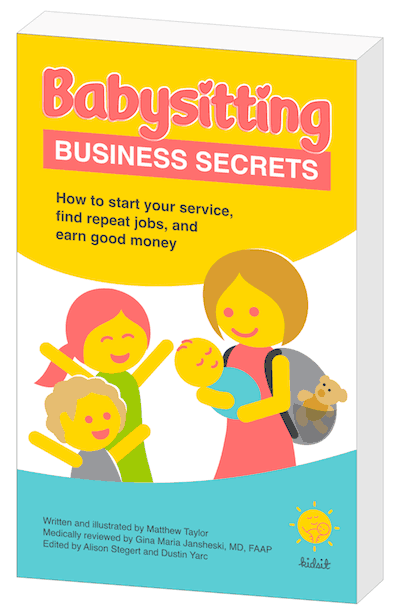 Babysitting secrets revealed!
My book, Babysitting Business Secrets, is out now as an inexpensive ebook or full-color paperback. If you're serious about becoming the best babysitter you can be, or if you want to make as much money as possible, then this book is perfect for you. I reveal all my tricks and tips for first-time babysitters or experienced sitters who just want to up their game. Get your copy today! Or, learn more about the book.
You can likely find a few babysitting jobs just by using a few of these promotional methods. But if you want your babysitting business to really take off, you'll want to use a bunch of different promotional techniques.
(If you really want to turn babysitting from a part-time job into a real business, read my article on the responsibilities and company setup involved!)
Here are our top eight free promotion techniques for babysitters:
1. Use Word of Mouth and Referrals
Even for brand new babysitters, word of mouth is one of the most powerful marketing techniques that you have access to.
When you're ready to start babysitting, be sure to let all of your family members and friends know. That way they can recommend you to any parents they know who might mention that they're looking for a babysitter.
Once you've got your first few customers, ask parents if they would be willing to recommend your babysitting services to their friends. As long as you're doing a good job, most people are more than happy to recommend you to people they know if the topic of babysitters ever comes up.
Parents of young children normally have a large network of other parents that they can connect with. If they have younger children, they're likely part of playgroups or know other parents they've met at the playground or daycare. It's a good way to get referred to babysit a bunch of other children in the same age group.
Creating some business cards and giving them out to parents is a small cost that can end up helping get some extra babysitting jobs.
People are much more likely to recommend your services if they have a business card handy with your phone number and other contact information readily available. You can also ask families you babysit for to post your business card on community boards at any schools, daycares, or other organizations that they frequent.
Try out my free babysitting business card maker! It's so easy to create beautiful business cards in just a few minutes.
2. Post Ads Online
There are a wide range of popular websites like Craigslist, Kijiji, or Gumtree that people use to arrange to buy and sell things online. You're probably already familiar with whatever the most popular classifieds website in your particular area is.
In addition to buying and selling used physical products, these sites also have a services section where you can advertise your babysitting services for free.
Anyone can reply to these ads however, so be sure to practice proper online safety. If you're a younger babysitter, it's advisable to get a parent to help you create your online ad and help you respond to any queries.
It's recommended to meet any strangers who contact you about your babysitting services in a public place the first time you meet so that you can get to know them and make sure that everything seems okay. Most families will want some type of interview or to at least meet you before leaving you alone with their children. So any stranger who simply asks you to come straight to their home for a babysitting job should be treated with suspicion.
For more information on staying safe while babysitting, here are some essential safety tips you should know.
Read our guide: How to stay safe online as a babysitter for some essential rules that all babysitters should follow.
3. Connect Through Facebook
Finding babysitting clients through Facebook is a bit safer and more secure compared to using online classified websites. You get a chance to actually see and message with any parents that might want to hire you.
You can look through their profile to make sure they actually have children in their photos and that they are who they claim to be. If you have any mutual connections, you can ask people that you know in common what they think of the person and their children.
Facebook Marketplace is the obvious place to start advertising your babysitting service on the platform. But there are often local parent groups and other opportunities to connect with families in your area as well. Ask parents you know if they're a part of any private Facebook groups for other parents. Just be sure to check the rules before posting and be sure that you're allowed to advertise. Otherwise, you might get kicked out of the group or have your message deleted.
4. Create Babysitting Flyers
While I love using online resources when it comes to promoting a babysitting business, sometimes the most effective ways to advertise your business are the old-fashioned ways that involve physical promotions.
Creating flyers and distributing them takes a little bit of extra work compared to just sitting down at your laptop and typing up an advertisement. But the payoffs can be worth it, particularly if other babysitters in your area are neglecting the "real world" advertising spaces.
A good babysitting flyer lets the reader know exactly what service you're offering and what they should expect. Make sure the word "babysitter" is large and prominent. Include words like experienced, reliable, and trustworthy as well to establish yourself as a great babysitter.
I also recommend including the specific areas and ages that your babysitting services cover. It can help to include specific streets or subdivisions.
Mention any special services that you might offer, such as overnight or weekend babysitting, after school care, or transportation that you provide. Be sure to mention First Aid or CPR certifications if you have them as well.
(What kind of qualifications do parents look for in a babysitter? Click through to my article on babysitting qualifications to find out.)
You can post your babysitting flyers on bulletin boards in grocery stores, libraries, community centers, toy shops, daycares, children's clothing stores, churches, schools, or anywhere else that you think that a bunch of parents might see it.
Include a bunch of ways that you can be contacted, as possible. Listing your phone number and email address is a must. But you might want to also include your social media accounts or your website if you have one, just to make it even easier for parents to contact you.
I recommend including tear-off tabs with your contact information at the bottom of your flyer. Parents might not have time to stop and write down your information. Particularly if their hands are full with shopping or they're with a small child. So giving them a way to quickly tear off a tab with your contact information makes it far more likely that they'll actually follow through.
Don't consider yourself much of an artist? Don't worry. We have a free tool to help you!
Babysitting Flyers Maker!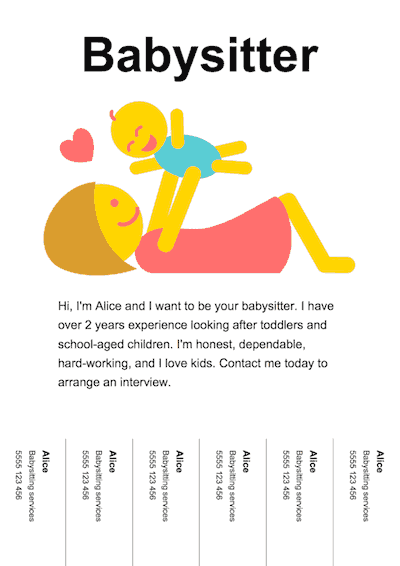 Make your own customized babysitting flyers with our free poster generator.
Multiple templates available and over 45 fun images to choose from.
It only takes 2 minutes!
Postering is such an effective marketing strategy! Read my article 12 Reasons Why Babysitting Flyers Work So Well to see all the reasons why.
5. Make Your Own Website or Babysitting Blog
Creating your own website is actually quite easy nowadays. You don't need to be a computer programmer and know how to code to get a babysitting website set up.
If you're just looking for something basic, you can create a free website using a service like Wix or Weebly. These platforms make it easy to create your website by just dragging and dropping and filling out basic information to create a great-looking site.
Include all of the information on your website that you'd normally put on a flyer or other type of advertisement. Remember to include your city and specific details about your services on your site. It will be accessible to anyone in the world, but it's only really useful to get parents within your city and the surrounding area to see your babysitting website.
You can increase your local visibility online by writing specific articles or pages on your website with keywords like "Oklahoma City babysitter" that relate to babysitting and also your location. The more you mention related keywords, the easier it will be for parents to find you when they're searching using Google or Bing.
If your babysitting blog becomes popular, you might even be able to earn money from advertisements on your website and other online services that you offer!
6. Use Newspaper Ads
Your local newspaper is another place to advertise your babysitting business. It will normally cost around $10 to get a basic advertisement included in your local paper. You can get larger or more prominently featured advertisements in the newspaper, but the cost will start to increase quite quickly with larger advertisements.
Newspapers can be a cost-effective way to advertise. However, fewer and fewer people seem to be reading physical newspapers these days. So you'll have to take a look at the types of babysitting clients you want to reach, and see if they seem like the kind of people that would read a newspaper.
I wouldn't recommend running newspaper ads for your babysitting business every week, or it will cost you a lot of money. But placing a few well-timed advertisements around back to school time or just before the summer holidays might get you a good amount of attention from parents.
7. Join A Babysitting Website
There are websites out there specifically devoted to helping match up babysitters with families that are looking for them.
They come in a variety of different business models with different features. Some are more basic and just allow you to create a profile or post a listing for free or for a small fee.
Others act more like an employment agency where you get paid directly through the platform and the site takes a percentage from each job that you work. In return, they do most of the work putting you in contact with potential clients, as well as running a background check when you join so that you only need to go through the setup process once.
If you're interested in having a company handle some of the administrative stuff behind the scenes so you can just focus on the actual babysitting, these sites can be a good choice. They let parents search for babysitters by entering their postal code or zip code. Once you start to get positive reviews and testimonials on a babysitting website, you're more likely to rank higher in searches and be contacted even more frequently.
How safe are babysitting websites? Find out what to look for in this article.
8. Partner With A Local Daycare
You can check with a local daycare in your area to see if they'd be willing to refer some of their clients to you.
This works best if you know the daycare provider or you've worked with them before, as they might be hesitant to recommend you if they aren't familiar with you. If you haven't met with the daycare before, it might be good to see if you could volunteer with them to show off your skills and get them confident in your abilities.
Most daycares don't provide care in the evenings or on weekends, so they won't see your babysitting business as a competitor. Instead, it might be a nice recommendation that they can offer to parents. Since lots are likely to ask if they have anyone that they can recommend.
Decide What Promotion Method Is Best For You
Which way you should advertise will depend a lot on your personal situation, the area that you're in, and other factors.
What Can You Afford?
For brand new babysitters without any other source of income, you might only have access to free methods of promoting your business. Even experienced babysitters might be on a tight budget and unable to pay for professional marketing. Luckily, most of the promotion methods I've discussed above are free or have a low cost associated with them.
If you feel like you need to advertise in a newspaper or pay for an online listing but don't have the cash, see if your parents might be willing to lend you the money. Then you can pay them back once you get paid for your first babysitting job.
But if you use a combination of free or low-cost promotional techniques like posting flyers or joining Facebook groups, you should be able to reach a large number of potential clients without spending a lot of money.
Wondering if you can write off babysitting expenses at the end of the year? Read through my babysitting tax guide to find out!
How Soon Do You Need Clients?
Promotions like word of mouth are great because they're free and completely passive. But the downside is that you have to wait for a current client, friend, or family member to bring up your babysitting business in a conversation with someone. So it could take weeks or months before you start to see referrals contacting you.
The more you can do to promote yourself, the faster you can expect to start getting contacted by parents who might want you to babysit for them. So it can be worth putting in a lot of effort upfront to really get yourself established. Print off a stack of flyers and visit everywhere within walking or biking distance that will allow you to advertise to put up your promotional materials. The bigger the area you cover, the more likely it is that someone who wants to hire you will see your flyers.
The same goes for online as well. You want to cover as much digital territory as possible, including all of the relevant Facebook groups and message board for your area that you can find.
Track Your Progress
If you just put up flyers, it can be hard to tell if anyone is actually seeing them or taking note.
Keep a close eye on them to see when tabs have been ripped off. It's also a good idea to ask parents how they heard about you too.
If you can get a good idea where most families are hearing about you then you can put more effort into those types of promotions that are working well for you, and spend less effort on the ones that don't really seem to be generating results.
What is the best method for finding babysitting jobs?
Through family and friends
Word of mouth
Babysitting flyers
Through a babysitting app or website
Social media
Newspaper or online ads
Some other way
↑ Vote to see results
Conclusion
When you're just starting out, the hardest part of babysitting can be finding parents who are willing to hire you.
Promoting your babysitting business can help you start to get some jobs right away. I recommend using a wide range of different advertising strategies to reach as many different parents as possible.
Marketing your babysitting business online is convenient and usually free. Take advantage of Facebook groups, classified ad websites, and other platforms that allow you to reach hundreds or thousands of potential babysitting clients with a single post.
But don't neglect real-world advertising opportunities like creating flyers or business cards either. With babysitters putting most of their effort into promoting themselves online nowadays, taking advantage of bulletin boards in your area could give you a huge advantage.