Are Babysitting Websites Safe?
(5 Safety Checks to Know)
Most people who are concerned about the safety of babysitting websites are looking at it from the perspective of parents who want to make sure their kids are safe. But in this article, we'll look at whether babysitting websites are safe for you as the babysitter.
Are babysitting websites safe? Babysitting websites are one of the safest ways to find a job. Definitely safer than posting flyers around town or looking on generic websites. The only way I'd argue could be safer is getting referred by a family member or friend to someone they trust.
In this article, you'll learn what risks babysitting websites might pose, what kind of safety checks these websites should have in place to protect you, as well as some warning signs and scams to look out for.
Why Could Babysitting Websites Be A Risk?
The safety of some babysitting websites has been brought in to question by recent news articles. But are babysitting sites as a whole safe or unsafe?
Babysitting apps and websites have been booming in popularity in recent years. Some people are even calling them the Ubers of the babysitting world. But with that rise in popularity, you have to question whether they're still able to withhold the safety standards that you expect.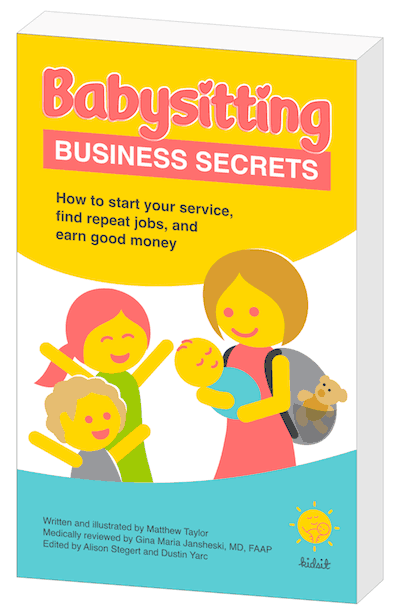 Take your babysitting service to the next level!
My book, Babysitting Business Secrets, is out now as an inexpensive ebook or full-color paperback. If you're serious about becoming the best babysitter you can be, or if you want to make as much money as possible, then this book is perfect for you. I reveal all my tricks and tips for first-time babysitters or experienced sitters who just want to up their game. Get your copy today! Or, learn more about the book here.
There's no denying that babysitting websites and apps are a godsend for parents. It's often very difficult for them to find safe, reliable, secure childcare like babysitters for their kids. They're also great for you as a babysitter because it gives you access to babysitting clients in your city that you otherwise wouldn't have had access to.
But with that convenience comes the opportunity for dishonest people to take advantage of both babysitters and parents. To some extent, that's the tradeoff that you make by choosing to look for babysitters or families over the internet instead of through more traditional means, such as asking family and friends if they know anyone personally.
So, Are Babysitting Websites Safe?
First, I would say that no way of finding babysitting clients is ever 100% safe. Even if a relative recommends you to someone, there's no guarantee that they aren't secretly a terrible person.
So while babysitting websites are arguably a little bit less safe than sticking within your network of family and friends, they aren't significantly more dangerous or risky. Especially compared to other ways of advertising your babysitting business, like posting flyers around town or advertising on a non-babysitting classifieds website like Craigslist.
Arguably, babysitting websites are structured in a way that puts more emphasis on protecting parents and their children than babysitters, but most of the protections in place also benefit you as the sitter as well.
At the end of the day, the onus is on you as the babysitter to verify what parents tell you through the website. The information about parents that gets presented on babysitting websites can be a good guide and it's usually correct, but never blindly accept that the information you read online is true.
Even if you meet a family who wants to hire you through a babysitting website, you should still go through all the formal processes you'd go through if a complete stranger phoned you up. That includes an in-person interview in a public place and other precautions for your own safety.
For more information on staying safe on the job, check out my other article How to Be a Safe Babysitter (Essential Safety Tips You Should Know)
I also encourage you to read our general guide How babysitters can stay safe online for some essential tips that all babysitters should know.
What Safety Checks Should Babysitting Websites Have In Place?
Depending on the babysitting website that you choose to advertise your services through, there may be more or fewer safety features available for you. But here are some of the common ones that you might come across.
1. Social Media Connections
Many babysitting websites will have both parents and babysitters sign up using a social media account like Facebook to verify their identity. Personally, I think this is one of the best safety checks you can do as a babysitter to make sure that any parent who contacts you is for real.
While it's possible for someone to fake an entire Facebook profile to scam you, it becomes exponentially less likely with the more information you see about them. You might see that they have some Facebook friends in common with yours, so you can ask your own friends about people that contact you.
You should also see tell-tale signs that they're a real parent looking for a babysitter. A normal person might have hundreds of photos on their Facebook profile, including many of their children. They're probably also in Facebook groups related to parenting, their child's school, or similar areas of interest. They'll also probably be friends with lots of other parents and have activity on their Facebook wall.
Of course, not every parent uses social media or is very active on it. But it's quite common in the age group of people who have younger children. So if your babysitting website shows a parent's Facebook account and it's looking suspiciously empty, that could be a huge red flag.
2. Ratings and Badges
Different babysitting websites might have different kinds of rating systems, reviews, or badges. So you'll have to see what's available on your platform. But these can often give you insight into what kind of person a parent is.
If the babysitting website you use also allows babysitters to rate parents, it can be a very valuable resource to you. Pay attention to any possible clients that have low reviews or negative ratings left by previous babysitters. You want a parent with a good rating and positive reviews. Some websites will even show you if a family has used a repeat babysitter, and how many times they've booked a sitter. That can be a great sign as well.
Just be careful to make sure that any recommendations you read are coming from someone who is independent. Some babysitting websites will also let friends or family members recommend or review other members they know.
3. Payment Verification
Many babysitting websites will make parents verify their bank account or credit card number before they're allowed to start booking a babysitter.
Since you usually get paid through the babysitting platform you're working with, there's less risk of a parent just not paying you. As long as you can prove that you actually completed the work for them.
If there is any dispute, you can present your side of the story to the website and the parents can present theirs, and the babysitting website will come to an impartial decision.
4. Parent Identity Authentication
Some babysitting websites will authenticate parents, while others won't. You really need to read into the details of how each website verifies both adults and babysitters on their website.
For example, some babysitting websites will just let you self-report that you have CPR training or a background check on your profile, but they don't actually confirm it by asking to see your paperwork. Any babysitting website that's more strict about verifying your credentials is also likely to have good safety protocols in place to verify parents too.
Not many babysitting websites will run full background checks on parents as they do on babysitters. While they might check you as the sitter to make sure you aren't in any national sex offender or crime databases, these websites usually only verify a parent's identity.
The site may ask parents to scan a copy of their driver's license or passport to verify they really are who they claim to be. While that's not as good as a full background check, it's definitely better than nothing.
5. A Safe Messaging System
A good babysitting website will keep most of your contact information fairly private until you're actually booked. That means any user can't just browse and see your full name, address, phone number, and other details.
Normally if you're just chatting through their messaging platform, it should use your username or only your first name to maintain a level of privacy until you both decide to work with each other.
What Are The Alternatives To Babysitting Websites?
There are a few other places where you can start looking for babysitting jobs, besides through a babysitting website. Although most of them are arguably less safe than using a babysitting website.
Find Jobs Through Your Own Network
Asking your friends or family if they know any parents who are looking for babysitters is probably the only method of finding babysitting jobs that I'd consider safer than a babysitting website because you have a bit of a built-in safety net. As long as you trust and respect the opinions of the person who is recommending you, then chances are the people they're recommending will be a good fit.
You can also do some of your own networking by reaching out to families with young kids in your neighborhood or introducing yourself to families at the local playground. Although since you're talking to strangers with this method, it poses a bit more risk.
Find Jobs Through Regular Job Sites
Regular job websites like Indeed, Seek, or Glassdoor might have job postings for babysitting jobs from time to time. It's a bit out of the ordinary for parents to look for babysitters through these sites, so I'd be a lot more cautious than using a website specifically devoted to babysitting.
Use Classifieds Websites Like Craigslist, Gumtree, or Kijiji
Classifieds websites allow parents to make posts looking for babysitters, and also allows babysitters to post offering their services as well.
However, these websites have a pretty bad reputation when it comes to scams. If you've ever bought or sold items through these websites, you know how unreliable or dishonest some of the users can be. Personally, I wouldn't trust a babysitter that I found through these websites to actually show up!
Look In Mom's Groups
If you're a parent yourself, you might have access to mom or dad's groups where you can offer your babysitting services or post flyers. This is a fairly safe way to find babysitting jobs since you've likely interacted with parents and their kids and already got to know them on a personal level. However, if you don't have kids of your own, you're out of luck finding jobs here. It would be a bit weird to show up to one of these groups without kids.
You can also try posting on forums and Facebook groups for parents, although many of them have strict rules against self-advertising.
Advertise By Yourself
You can print out flyers (see our free babysitting flyers maker) and business cards and post them on bulletin boards around town. Hit up your local gym, coffee shops, libraries, community centers, and other locations and drop off some advertisements with your contact information on them.
However, I'd consider this a less-safe way of finding babysitting jobs. That's since any member of the public who happens to be in those areas can get your personal details and contact you, whether they actually have kids or not.
Learn how to stay safe while babysitting. Read more in my article here: How to Stay Safe When Babysitting (Essential Tips You Should Know)
Babysitting Website Scams To Watch Out For
While I think babysitting websites are arguably one of the safest ways for you to find babysitting jobs, it's not 100% safe and there are still some things to watch out for.
It's important to work for a reputable babysitting website that does thorough background checks on parents as well as babysitters. That will weed out most potential scams you could see. Although there's still a chance that some of them could slip through, so be careful regardless of what website you use.
Here are some safety tips:
Don't respond to anyone who claims they're moving to your area soon, but currently lives in another country
This is almost always a scam. Also, look out for anybody who uses generic phrases like "your local area" instead of mentioning your city by name. Scammers are often mass-producing these messages and don't bother to customize them to your specific city.
Don't deal with any parents who want to send you money in advance, before you've actually done the babysitting work
This is almost always a scam where they "accidentally" send you too much and get you to send it back to them. Then they cancel their original transaction and you're out the money you sent to them.
Be extremely careful of any parent who wants to contact you outside of the babysitting website before you've agreed on a booking
Parents might want your email, phone number, or other details to contact you off the website. Or they might offer to pay you outside of the website to avoid extra fees. It's important to stay on the babysitting website where your conversations are monitored and safety procedures are in place. If you decide to talk to someone outside of the babysitting website, that company likely won't be able to help if anything bad happens.
Never take a babysitting job if parents refuse to meet in-person in a public place for an interview first
It will most likely be someone wasting your time. Always tell your friends or family members where you're going if you go to an interview, or get someone to drive you and wait in the car.
If you've never done a babysitting interview before, be sure to read my article What to Expect at a Babysitting Interview (By Phone, Video Chat or In-Person)
Always agree to a specific price before you take a babysitting job
If the job post says they'll pay between $5 and $30, expect to get the minimum unless you get them to agree otherwise. Don't let parents try to pay you less than the price you agreed to either. You'll have the price documented through the website in writing, and that's what they should be paying you.
If something seems really off when you get to a babysitting job, then leave right away
It's important that you stay safe, so if you see any big warning signs like dirty diapers or dog poop on the floor, broken windows, or a house so cluttered it seems unsafe, just make an excuse and leave right away.
Don't let parents be rude to you through babysitting websites
If they're willing to be rude to you online, imagine how they're going to treat you in person! Save yourself the stress and frustration. Just block and report them through the website and move on.
Decline any offers to do jobs other than babysitting
There's no reason for someone to be offering you a job working from home or being a mystery shopper if you're on a babysitting website! Any messages you get offering you jobs other than for babysitting are just spam.
What is the best method for finding babysitting jobs?
Through family and friends
Word of mouth
Babysitting flyers
Through a babysitting app or website
Social media
Newspaper or online ads
Some other way
↑ Vote to see results
Conclusion
You might have heard horror stories from people about bad experiences they've had through babysitting websites. Many of these take place on less reputable websites that don't do full background checks on both parents and babysitters to ensure safety for everyone involved.
When you're using a popular babysitting website, chances are that it will be just as safe or safer than many other ways that you could find jobs. It's particularly safer than finding jobs through classifieds websites like Craigslist, which have no built-in safety features for babysitters.
So it's fair to say that babysitting websites are generally safe and it's unlikely that you'll run into any problems. However, you should still be vigilant and do your own checks to verify the identity of parents you plan to work with. Meet them in a public place for an interview, check their ID and social media, and take other precautions to keep yourself safe.
Learn how to be a safe babysitter by following our essential safety tips and best practices while looking after children. Safety is so important!
Create Your Own Beautiful Babysitting Flyers in 2 Minutes! Choose a Template. Customize Your Design. Download a Free Printable PDF!
Learn how babysitters can communicate online safely, send and receive money with minimal risk, and protect yourself from viruses, hackers, and scammers
Learn why a babysitter might get insurance, what insurance the parents should have, and what insurance requirements there are for a child care center.