Babysitting Safety (Keep the Kids & You Away from Danger!)
As a babysitter, safety must be your top priority. You are responsible for the children under your care at all times and it's your duty to protect them from any dangers that may present themselves.
Dangers for children can be physical, like road traffic, choking hazards, sharp objects, or hot water, but they can also take more hidden forms such as stranger danger, food allergies, and electrical shock!
Your personal safety is also important. Babysitting work often includes meeting unfamiliar people, commuting late at night, and sending or receiving money online, each of these carry real risks that can't be ignored.
That's why, at Kidsit, we have assembled a growing library of useful articles and resources to help babysitters of all levels to learn and practice safe babysitting.
Download our free emergency contact sheets and take them with you on each babysitting job so you always have the right numbers to call if ever there is an emergency.
Here are our top safety articles for babysitters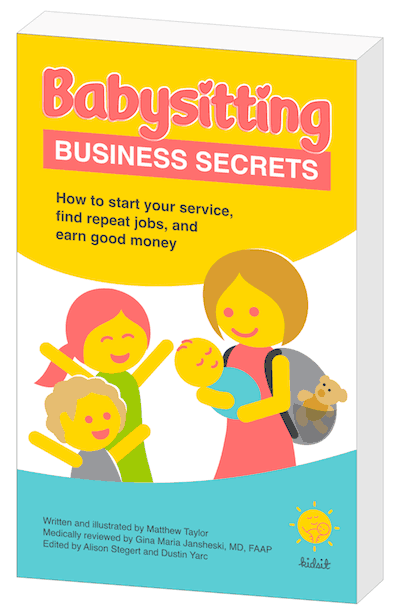 Become a better babysitter!
My book, Babysitting Business Secrets, is out now as an inexpensive ebook or full-color paperback. If you're serious about becoming the best babysitter you can be, or if you want to make as much money as possible, then this book is perfect for you. I reveal all my tricks and tips for first-time babysitters or experienced sitters who just want to up their game. Get your copy today! Or, learn more about the book.