Why Become a Babysitter?
(11 Reasons Why it's a Fulfilling Job)
Are you thinking about becoming a babysitter but don't know if it's right for you? Well, you've found the right place.
We're about to explore what babysitting is all about. You'll be pleased to know that babysitting is a real job with many benifits.
Why should you become a babysitter? Here are the top 11 reasons why babysitting is a great choice:
Let's learn why every one of these is a compelling reason to start babysitting today.
1. Babysitters love what they do
Babysitting is one of those rare jobs that people actually enjoy. You can look forward to it.
If you love kids then caring for children doesn't feel like work.
It's fun!
Every day can be a new adventure.
And if childcare comes naturally to you then the work will feel easy.
Even men can babysit, however, it can be more difficult to find work in the beginning, read our article Can men babysit? for more details.
So why not get paid to do what you love?
2. You can stay in-touch with your inner-child
A large part of babysitting work is to play with kids and have fun.
Dust off those old board games.
Play with your favourite toys.
Or get creative and invent games and activities utilising whatever you have around you.
If you can't think of any good games to play, check out our 200+ kids games and activities for creative ideas that will entertain even the fussiest kids!
Or bring one of our highly recommended kids books that lead on to excellent babysitting activities after the stories end. Parents will be impressed!
With the right approach you can turn mundane tasks into exciting games to motivate children and get jobs done.
And you're allowed to be silly to make kids laugh.
If the kids you're looking after have fun then they'll want you back again and again.
Are you looking after sick kids?
See our detailed article on babysitting sick kids for the best low-energy entertainment ideas.
Why not watch your favourite childhood movies again?
Or if it's sunny, go outside and enjoy fresh air and blue sky. While your friends are slaving away in the office you can fly a kite in the park.
And kids food is the best food (whether you're eating it or making it).
Create yummy snacks, prepare a healthy backyard picnic or cook macaroni and cheese.
Yum!
Make special space food and serve it in a makeshift spaceship under the kitchen table.
Invite dolls to an action figure tea party and help children serve food and pour drinks. Oops, we spilled a bit but don't worry, you're one step ahead, we have napkins!
The adventure is only limited by your imagination.
Before long you'll have a list of go-to activities that are always a hit with kids and you'll enjoy them too.
And by practicing your creativity and inventive play you can keep your inner child close to heart.
Work has never been so fun.
3. It's easy to get started babysitting
Here's one of the best things.
Babysitting requires almost nothing to get started.
Babysitting is also one of those rare jobs where you can start at a young age. How young? Check out our guide on the minimim babysitting age for the answer.
Download our Babysitting starter pack for helpful resources that you can print-out for free whenever you need, it's a must for new babysitters.
Also, try our free babysitting flyers maker to make printable posters to advertise your services around your neighborhood.
And learn what essentials you need to pack in your babysitting bag when you go on a babysitting job.
You don't need any special equipment.
And while it helps to have some basic qualifications, you can often start with the skills you already have.
An easy way to begin is to babysit for friends and family first.
You can even babysit for free a few times to get valuable experience and parent references to hep you get your first paid gigs.
Build up your confidence then branch out when you're ready. You probably know many families with kids near you that may need a babysitter.
Do you have special interests?
You may be in high demand if you can speak another language, tutor a school subject, teach music, art or coach sports.
Combine your interests with babysitting to maximise your enjoyment.
No long-term commitment required.
You can work as little or as much as you like, start and stop when it suits you and take holidays whenever you want.
Do your plans change often?
Babysitting jobs are flexible, they can fit into any schedule between work and other events.
And you can work anywhere in the world.
Babysitters are needed everywhere so you can easily get started no matter where you are.
Are you looking for babysitting work? Kidsit visitors can take advantage of our 20% off premium membership at Care.com - the largest and most recognised babysitting website online. Access our offer here.
The extra jobs you find can pay for itself in no time!
4. Make a difference in children's lives
As a babysitter, you can create beautiful memories for kids that will last a lifetime.
Bond with children.
Mentor them.
And kids will love you and look up to you.
You have the privilege of helping them grow, learn, and to find meaning in their lives.
Read our article on child psychology to learn how to tailor your babysitting strategies to the age of children under your care, and also see how babysitters can nurture children to bring out their best.
If you love helping kids then Babysitting can be a rewarding experience.
Many sitters become life-long friends with the parents and children they work with.
Strong connections between local families are the foundation of a healthy community and that's something needed more than ever in today's age of social media.
Friendly neighbourhood child carers help to create a local safe haven that all children can enjoy.
Your effort will be appreciated.
5. Babysitting teaches you valuable skills
You probably won't be surprised to learn that babysitting teaches you about child development.
What many don't know is all the other useful skills you can learn too:
Safety skills (Learn our essential safety tips for babysitting here).
Communication and relationship building.
Multi-tasking.
Cooking.
Time management and organisation skills.
Negotiation.
And money management.
Just to name a few.
And the best part is many of the skills you learn while babysitting are fully transferable to other occupations.
Learn how to add babysitting skills to your resume for a greater chance of getting that next job.
Time spent as a child carer is never wasted.
You'll learn techniques and know-how that will be valuable throughout your whole life.
See our complete list of skills babysitting can teach you, you'll be surprised just how much you can learn on the job!
Also, see our list of common babysitting responsibilities to learn what duties you may be expected to do.
6. Babysitting is a great way to earn extra money
There's often plenty of babysitting work available so you may be in demand.
Get paid cash.
After a while, you can build up a steady stream of work from repeat clients.
It's an easy commute too.
Local babysitting jobs are just around the corner (obviously) so say goodbye to being stuck in traffic on Monday mornings.
Walk to each job to stay fit and healthy.
You decide when and where to work.
Learning to deal with lots of people, managing money, and keeping organised are essential skills required to run a profitable business.
Read our babysitting rate guide and see how to negotiate a good babysitting pay to earn more per hour.
Also check out our list of other ways to to increase your babysitting pay by learning new skills and more.
7. Babysit while studying
Are you at college or university?
You can easily fit babysitting jobs into your study timetable.
Plus there's lots of work on weekends and during school holidays when you're normally free.
If you're studying early childhood education then babysitting work provides practical experience that will give you an edge over other students.
And practice is the best way to learn.
Plus the money you earn can pay tuition fees.
Take nighttime sitting jobs and get paid to do homework after you get the kids to sleep.
This point alone makes babysitting too good to resist for many students.
8. You're encouraged to gain important qualifications
Why not become more valuable by gaining new qualifications?
A first aid certificate is the most important because it prepares you for emergency situations. If you already have one, regular refresher courses are advised.
You never know when your CPR skills could save a child's life.
Read our guide on How to be a safe babysitter for essential babysitting safety tips.
Obtain a background check to help gain trust and credibility with parents.
There are different checks available depending on where you live, some examples are; Working With Children Check (WWCC), police check and criminal record clearance. Find out which is right for you.
You may also consider becoming a registered carer.
Babysitters with a drivers license can transport kids to and from school and other events. This is an essential requirement for some parents.
And then there's training.
You'll find lots of courses available to suit your experience level.
Start with babysitting lessons if you're a beginner.
Water safety is important if you're bathing children but it's critical if you're coaching swimming. Read our 26 water safety tips for babysitters.
Anaphylaxis training and special needs care are good examples of advanced qualifications that professional caregivers may pursue.
The more skills and experience you have, the more successful you can be.
By becoming a babysitter, the qualifications you gain now may make a real difference later in life.
See our list of the top 24 babysitting qualifications to see which ones are right for you and how to get them.
9. Babysitting prepares you for a career in childcare
If you're serious about pursuing childcare as a profession then babysitting is an essential interim job.
Make the most of your effort.
Collect parent references to illustrate your enthusiasm and dedication.
Network, and make new contacts whenever the opportunity arises.
Earn qualifications ahead of time.
And build up an impressive resumé of child-related work.
Always be on the lookout for new skills to learn and experiences that make you a more capable and well-rounded caregiver.
Potential employers will take notice.
This is how babysitting can lead to the childcare job of your dreams whether you want to be a nanny, a school teacher, or do child-related work of any other kind.
You may even want to turn babysitting into a business and make it a full-time career.
10. Babysitting offers many opportunities for personal development
Babysitting can help you grow as a person.
Your self-confidence can improve.
You'll become more responsible and reliable.
And as you work with lots of children you'll develop a greater sense of fairness and an appreciation for the less fortunate.
Attain independence if you haven't already.
Exposure to many different cultures and personalities will open your mind, make you more adaptable, and lead to a balanced understanding of the world.
And nurturing children can help prepare for parenthood.
11. Because caring for children may be your calling in life
It's true what they say...
Find a job you enjoy and you'll never work a day in your life.
If you're passionate about children then why not work with kids?
Let your enthusiasm and commitment shine through.
Follow your heart and your future self will thank you.
Conclusion
Babysitting provides more benefits than most people realise.
You can grow as a person, build valuable social connections, advance your career, and find true happiness, all while earning a decent income.
Is babysitting the right job for you?
Next:
Written & Illustrated by: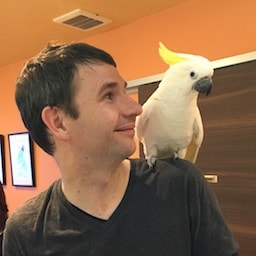 Kidsit Founder, Editor, Illustrator, and father of three beautiful kids in Sydney, Australia.
Updated: 30 July 2018
First Published: 2 April 2018
More Babysitting Tips
I'll walk you through the major steps of a babysitting interview process so you'll know how to prepare and what to expect.
See out how much you're actually worth as a babysitter by reviewing your skills, experience, the job requirements, and where you live.
We look at some of the key qualities that parents look for, and you should have if you want to be a successful babysitter!
Learn the steps needed to start babysitting with no experience. Once you have some experience under your belt, you'll be really marketable as a babysitter.
Learn how to tell for yourself if you're old enough to start babysitting, and things you can do to make yourself more likely to get hired as a young babysitter.
Learn why babysitting for free is a great choice, particularly as a beginner when you need to gain childcare experience and references.
Learn the most popular babysitting qualifications, what they are, why you need them, and how they can put you ahead of the competition when applying for jobs.
Learn the most common responsibilities that parents expect of their babysitters and how your duties may change depending on the job requirements.
Download and print our free babysitting kit. It's packed full of useful resources to make childcare easy and fun.
205 Kids Games, Activities & Ideas to keep even the fussiest kids entertained for hours.
See all the skills that babysitting can teach you and learn why most of them are fully transferable to other occupations.
With a well stocked babysitting binder, you can focus on caregiving because you know you have everything you need.
Learn some essential tips and strategies to bring to the bargaining table to help get you the pay rate that you deserve.
Learn how to babysit a baby by following our simple beginners guide and you'll know what to do in no time.
Learn if babysitting is right for you and which simple steps you need to follow to become a successful and confident babysitter.
Strike the best balance between professional and practical by following our handy clothing tips for your next babysitting job.
Learn these 8 simple tricks to nail a successful bedtime every night! It's surprising how many of these sleeping tips are not commonly known.
Learn what preschoolers need, what's important to them, effective discipline strategies, and common mistakes all babysitters should avoid.
Learn the important things to keep in mind when you're babysitting a toddler, as well as 28 tips to make your job a bit easier.
Learn how to tailor your babysitting strategies and activities to the age and development stage of the children in your care.
See what traits make a good babysitter, and different things you can do to make a good impression on both parents and kids alike.
Learn when babysitters need to provide food, what kind of food preparation you might be asked to do, and whether you need to bring snacks for yourself.
Learn why sleeping while you're babysitting is generally frowned upon, times when it might be okay, and six tips to help keep yourself awake while you're working.
65% of employers say that clothing could be a deciding factor between two otherwise equal candidates. Read our essential tips and beat the competition!
Be confident in your babysitting job interviews by preparing well. Follow our interview checklist so you never forget anything important!
Learn how babysitting shows leadership, how to effectively lead children, and how to develop important leadership skills through childcare work.
Learn what constitutes an employee and a self-employed independent contractor and see how they relate to working as a babysitter.
Learn why babysitting can be a rewarding and profitable business, who the business is right for, and how to setup a company structure.
Learn how to build meaningful relationships with the children you babysit and set the right conditions to build success in their life.
Impress future employers with a professional resume that highlights your babysitting experience. Follow our simple guide and get that job!
Learn all the steps for keeping safe from the interview, to on the job childcare. Our tips include preventative measures and best practices while babysitting kids.
Cleaning is a part of doing a good job. A good babysitter will tidy up any mess made while caring for the children. But how much cleaning is necessary?
The best way to bring your A-game is to be prepared for everything. This article will help you pack the ultimate babysitting pack.
Babysitting can definitely be considered work experience for your resume, job application, or college application. See how to list your experience...
In most places, you don't need qualifications to babysit. However, parents prefer carers with a First Aid Certificate & other basic credentials. Find out what qualifications you need.
We've assembled the best apps for babysitters to help track time, schedule clients, teach and entertain kids, and even turn your phone into a baby monitor.