If you've never looked after kids before, I highly recommend completing a babysitting course before you start to look for jobs.
Babysitting Courses
The Red Cross offers one of the most well-established and trusted babysitting courses in North America, Australia, and the UK. However, other organizations in your region may offer babysitting courses too. Just make sure to choose one that will supply you with a certificate when you complete the course.
I recommend attending an in-person course if you have the choice, but online courses can help you, too, if that's the only option you have.
Face-to-face courses are usually presented as a one-day training that takes approximately six hours to complete. By attending an in-person class, you'll be able to ask specific questions and learn from the live discussion. Plus, it's a chance to network with other future babysitters.
Online courses are more convenient. You can learn at your own pace and at a time that suits you. It's a good option if you live far from the course location, have a full-time job, or go to school. But you would miss out on the hands-on, practical experience that an in-person course offers.
All babysitting courses should teach you:
How to deal with difficult behaviors, like kids refusing to go to bed or take a bath
When to call emergency services versus when to call a parent
Basic medical advice, like how to handle bee stings or asthma attacks
How to communicate with parents and interact professionally
Most of all, a babysitting course should give you the confidence that helps you feel ready to take on your first babysitting job.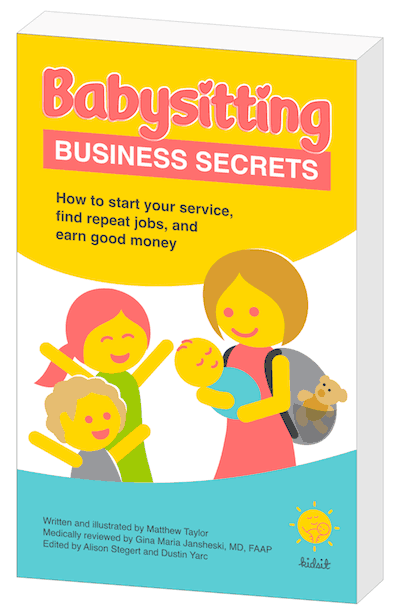 Earn more money babysitting!
My book, Babysitting Business Secrets, is out now as an inexpensive ebook or full-color paperback. If you're serious about becoming the best babysitter you can be, or if you want to make as much money as possible, then this book is perfect for you. I reveal all my tricks and tips for first-time babysitters or experienced sitters who just want to up their game. Get your copy today! Or, learn more about the book here.
First Aid and CPR Training
You might be able to find a combined first aid and CPR course where you can learn both of these topics together, or you may have to enroll in two separate courses individually. Either way, these two courses are must-haves. They are literally life-savers!
Along with their babysitting course, the Red Cross is also my go-to provider when it comes to first aid and CPR training. However, St. John Ambulance also offers a similar program. Both of these organizations have locations around the world.
If you're not sure where to sign up for CPR or first aid training in your city, try checking with your local YMCA or hospital. They should be able to point you in the right direction.
While a babysitting course will give you some very basic first aid information, a dedicated first aid course will go into a lot more detail. It will cover everything from minor scrapes and bruises to choking and concussions.
CPR stands for cardiopulmonary resuscitation. That's quite a mouthful! It's a skill that's used if someone has a heart attack, stops breathing, or suddenly loses consciousness and their heart stops. CPR keeps a person with no signs of breathing or heartbeat alive until an ambulance arrives. A combination of rescue breathing and chest compressions can help keep blood flowing and oxygen traveling to a person's brain.
Completing your first aid and CPR training will take longer than a babysitting course. Usually, these courses have a lot of material to cover and will take about 14 hours split across multiple days.
Once you complete each course, your certifications remain valid for about two years. After that, you'll need to take a shorter refresher course to renew your qualifications.
If you are serious about child safety, then you need access to a trusted first aid kit while babysitting. See our recommendation!
Learn how to communicate with a 13+-year-old teenager, find common ground, and make the babysitting experience as smooth as possible for both of you.
I'll cover the different roles that babysitters are filling in the post-COVID world, what parents will be looking for, and some things you'll want to learn.
I'll explain how to say no to babysitting grandchildren without feeling guilty about it and I'll give you 8 effective strategies to help you.