The Learning Dinosaur (an Educational DIY Game for kids)
Entertaining kids of different ages at the same time can be a challenge. Thankfully with just a cardboard box, some paint, and a few balls, you can create fun educational learning activities.
The learning dinosaur game is an excellent opportunity to teach kids shapes, counting, and coordination. It is also an excellent activity for kids of all ages to work on gross motor skills and eye-hand coordination skills.
Creating toys with recycled materials is one of our favorite things to do. As my husband calls it "free toys." With just a few supplies, you can make educational toys that are fun and entertaining. I'm going to show you how I created the learning dinosaur and the different ways you can use it with the kids, no matter what their age is.
Materials:
A cardboard box
A marker
Acrylic or washable paint in one color
Cutting tools such as Xacto knife, knife, or scissors
Small plastic balls
Safety note:
Please be careful when using cutting knives or scissors around young children. Always provide constant supervision and keep sharp objects out of harm's way when not in use.
Directions:
Step 1: Remove all flaps from the box
Step 2: Draw a dinosaur shape on the box
Step 3: Paint the dinosaur
Step 4: Darken the dinosaur outline
Step 5: Cut out different shapes.
Step 6: Label each shape with the shape name.
Step 7: Add score points for each shape
You're done! Now it's time to play
Because I have two kids of different ages (13 and 2), I created different variations of the games to be played according to the age of the kids. This way, the kids can play together, but they each have their own challenges.
Dinosaur Learning Activity For Babies
Kids under two years old take a lot of interest in random objects. They are discovering the world around them and are learning how things work.
Cause and effect activities are especially interesting to them. You will often see them throwing objects over and over just to see what happens.
Create a cause and effect game with the learning dinosaur.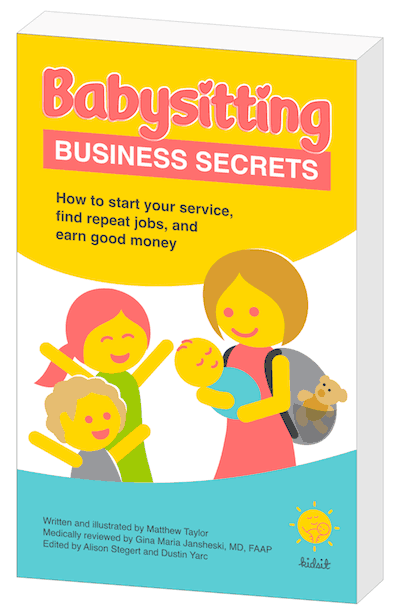 Take your babysitting service to the next level!
My book, Babysitting Business Secrets, is out now as an inexpensive ebook or full-color paperback. If you're serious about becoming the best babysitter you can be, or if you want to make as much money as possible, then this book is perfect for you. I reveal all my tricks and tips for first-time babysitters or experienced sitters who just want to up their game. Get your copy today! Or, learn more about the book.
Place a basket with balls and the learning dinosaur in front of them.
Show them how you grab each ball and place it in one of the dinosaur openings.
Ask the child, "where did the ball go?" Followed by showing them where the ball is.
Allow the child to try for themselves to place the ball in the hole and find where it goes.
Dinosaur Learning Activity For Toddlers
Kids over the age of two are ready to start learning shapes. My son loved this activity while I was creating the dinosaur at home.
Hand over the carved out shapes that are labeled and work with the child to find the right matching hole.
This activity allows us to practice shape recognition, vocabulary, and fine motor skills all at once.
Once the child understands the game, It is a great activity for independent play. Just make sure you show the child how to find the pieces under the box once he/she has inserted each shape.
If shapes are too easy, you can label the cutouts with numbers and letters to match those instead.
Dinosaur Learning Activity for Older Kids
For older kids, a learning dinosaur is an excellent tool for multiple learning games or even just fun games.
Want to practice multiplication? Hand them out a ball and ask them a multiplication problem. When the child answers, allow him to throw the ball into one of the holes to earn a few points.
Not in the mood for learning? Just work on gross motor skill work - which is those big body muscle movements. Stand back and practice tossing the ball and earning points.
You can make the holes bigger or smaller according to the child's age. You can stand farther or closer as well.
The idea is to have fun but make it challenging enough for each child's age.
My teenage son loves basketball, a great challenge for him. We even made it a family competition and invited my husband and my toddler to participate.
Can you guess who won? My son. I'm glad all that basketball training we have invested in has paid off.
Final thoughts
When you involve games where kids can actually move their whole body, you activate different parts of the brain when learning.
The learning dinosaur is an opportunity to learn through play. It is a way to engage all the senses.
For young toddlers, it is a mystery to drop in the ball and figure it out where it goes. It works on cause and effect, and that creates connections in the brain.
The learning dinosaur is a new way of learning as opposed to having to sit at a desk with paper and pencil in front of you.
Kids learn by doing and the learning dinosaur is a great tool to help them do just that.