How Can I Impress My Babysitting Parents?
Making a good impression is everything when it comes to babysitting. A good impression can mean more generous tips, repeat business, getting recommended to family and friends, and more.
How can I impress my babysitting parents? Make a good impression with parents before, during, and after you babysit for them. Text to confirm on the day of a babysitting job, then show up a few minutes early and be dressed appropriately. Go above and beyond with a little tidying up.
In this article, I'll go over some of the things that you can do before, during, and after a babysitting job to make the best possible impression with parents.
Before The Job
Here are a few things that you can do to impress parents before you even start working your babysitting hours.
Text To Confirm
Send parents a quick text message early in the day to confirm the job. This lets parents know that you haven't forgotten that you agreed to work on that day. Do this for the first few times that you babysit for a family at least, and then you can check with them to see if they want you to continue doing it every time or not. Once parents know you're dependable, they might not need it anymore.
Show Up Early
Parents will appreciate babysitters that show up ten minutes early. This gives them a chance to give you a report of any particular issues that are going on with their child that day, and to plan how the day will go with you. It also sets their mind at ease, instead of waiting around until the very last moment, wondering if you'll show up or not.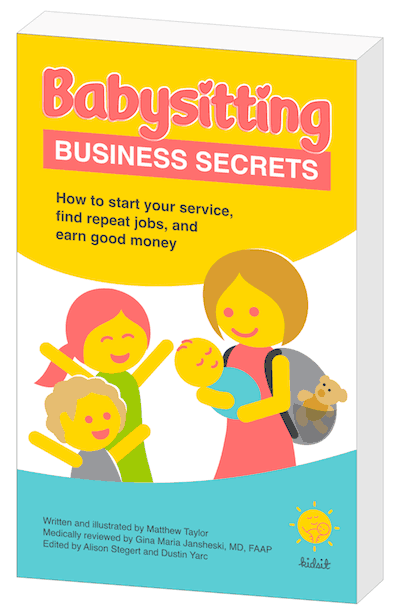 Start your babysitting business today!
My book, Babysitting Business Secrets, is out now as an inexpensive ebook or full-color paperback. If you're serious about becoming the best babysitter you can be, or if you want to make as much money as possible, then this book is perfect for you. I reveal all my tricks and tips for first-time babysitters or experienced sitters who just want to up their game. Get your copy today! Or, learn more about the book.
Take Off Your Shoes
Depending on where you babysit, it may or may not be the norm to take off your shoes when you enter someone's home. But it's always better to ask, rather than keep your shoes on in a no-shoes home, which can look rude.
Collect Basic Information
Showing up early is particularly important for the first time that you babysit for a parent. You'll want to take some time to get a list of emergency numbers, figure out what situations warrant contacting them, and writing down any medications or allergies that their kids have.
You can also ask about specific rules of the house, any rooms or activities that are off-limits, chores that kids need to complete, or other details.
Dress To Impress
Dress for your babysitting jobs in a way that makes you look competent and trustworthy. You don't have to go to an extreme with it. A nice plain t-shirt and a clean pair of jeans is good.
Just don't show up wearing pajama pants and a camisole.
Do you need more in-depth clothing advice? Check out my article What to Wear When Babysitting (How to be Professional and Practical).
Offer To Do More
If you're babysitting later and the kids will be asleep most of the time that you're babysitting, ask if there's anything you can do to help like tidying up or putting dishes away.
Most parents won't want to add on any extra tasks for you, but they'll be really impressed that you took the initiative and offered to go above and beyond your duties.
Reassure Them
Some parents are more nervous about leaving their kids home with a babysitter. Reassure them that everything will be fine, their kids will have a great time, and that you'll contact them if there are any issues.
Kids having trouble saying goodbye? Read my article How To Deal With Separation Anxiety (15 Tips For Babysitters).
During The Job
Once parents have left, you can still continue to do things that will impress them when they get back.
Take An Active Role
Don't be a lazy babysitter that just sits on the couch and watches television with kids you're watching. Get down to their level and play with them. Figure out some arts and crafts that you can do together, or other fun activities that they'll enjoy.
Spending quality time with kids that you're babysitting means they'll have a more enjoyable and memorable time. And they'll probably report back to their parents with rave reviews about you!
Keep Things Tidy
Try to clean up in small amounts throughout your babysitting shift. When kids are done playing with toys, put them away. Even if you don't know where they go exactly, even making an effort will impress parents. Since not every babysitter does it!
If you give kids a snack or meal, take a few minutes to wash up any plates and cups that you used.
Have Your Phone Nearby
Parents might want to get in touch with you. So have your phone within reach, and turn your volume up so you'll be able to quickly respond if they contact you. But log out of social media and other apps on your phone to avoid getting distracted by unwanted notifications.
Keep Parents Updated
Depending on the parent, they might want more or less information about how their child is doing. If they're nervous leaving their kid alone with a sitter, they might appreciate some photos of all the fun activities their child is doing. Or you can send them a quick text message to let them know when their child is asleep, and to say that you hope they're enjoying their evening.
After The Job
When your time to babysit is done, there are still some things you can get in to impress parents before you leave.
Be Flexible
Sometimes parents will run a bit late, usually because of traffic, slow service at a restaurant, or other things outside of their control. Do your best to be flexible and be willing to stay late.
If parents are consistently late and don't respect your time, then it's okay to bring it up with them. Especially if they aren't paying you for the extra time that you work. But they will also appreciate a flexible babysitter that doesn't make a big deal if they need to stay an extra hour once and a while.
Want to really impress parents? Consider babysitting for free! Read my article Babysitting For Free (6 Reasons Why its Good, Plus Coupons!) to see when it might make sense.
Give Parents A Report
Parents appreciate a quick rundown of what their kids have been up to while they were gone. Let them know all of the fun things you did together, what they enjoyed the most and any other details that you think they should know.
Compliment Them
Parents like to hear positive things, just like everybody else. Give them some sincere compliments. Tell them what a lovely house you think they have, how well behaved their child was, or other mood-boosting details. Don't lie for the sake of complimenting them, but you should be able to find at least one or two nice things to say.
Be Open To Feedback
Parents might have some constructive criticism about something you've done. Whether it's how to put a diaper on their baby, how you disciplined (or didn't discipline) their child, or any number of other things. Be open to changing how you do things to accommodate different families, and let them know that you'll try to better meet their needs next time.
Relax and Be Friendly
If you're still a young babysitter, it can seem intimidating to talk to adults. Think of parents more as your equals since you're in an employer-employee relationship. Don't be afraid to talk a bit about yourself or make some chit-chat, just don't get too personal.
The more a family gets to know you, the more likely it is that they'll trust you and depend on you. That makes it more likely that you'll get called back for repeat jobs or recommended to other parents in the future!
Be Available For Communication
If parents send a text message or call to check on your availability, try to get back to them as soon as possible. Ideally within 24 hours if at all possible. Parents appreciate having an open line of communication and someone that is easy to get in touch with.
Conclusion
There are a bunch of things that you can do before, during, and after a babysitting job to really make a good impression with parents.
The main theme that will impress parents is anything that you do which goes above and beyond. Many babysitters just do the bare minimum. So anything you can do on top of that could potentially make a positive impression on parents.
Respecting the time of parents you babysit for, taking an active role with their kids while they're gone, and being a good communicator is often enough to make a good impression with parents.
Next:
How to be a good babysitter