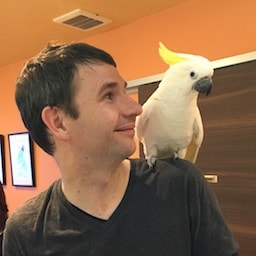 Matthew Taylor
I live in Sydney, Australia and I'm a father of three beautiful kids who are the world to me!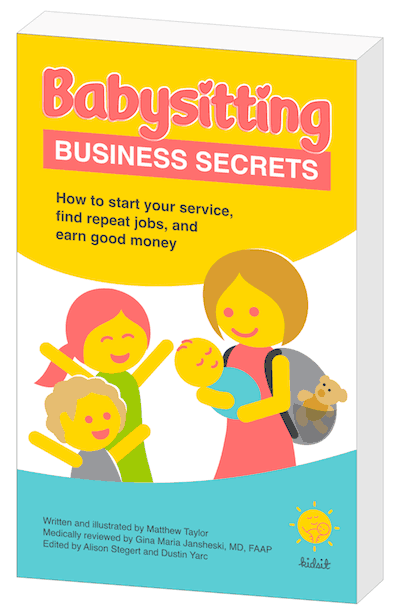 I'm the author of Babysitting Business Secrets, a book designed to help anyone to create their own successful and profitable babysitting service. It's available on Amazon as an ebook or paperback (full-color).
I founded Kidsit in 2018 when I noticed there was a lack of quality babysitting information online that parents and babysitters could rely on. I decided to do something about it, and so, Kidsit was born.
I use Kidsit as a place to share my experiences caring for my three children, my tricks for finding and hiring babysitters, and how to keep kids entertained with arts, crafts, and other inventive play ideas.
I believe all children should have an endless supply of paper, pencils, string, and sticky tape.
My artistic talent comes from growing up on a farm in a creative family with my father, a professional artist, and a private art teacher.
In 1994 I started my career as a cartoonist publishing my Ogga the Cane Toad comic strip and I became a full member of the Australian Cartoonists Association, the oldest cartoonist organization in the world. I began working as a graphic designer to supplement my cartooning income.
In 1997 I built my first website and began a transition to a full-time career in web development.
While building websites professionally for more than 20 years I have maintained a balance between my technical and creative skills by continually drawing.
From 2000 to 2019 I studied life drawing and anatomy at Julian Ashton Art School in Sydney, Australia.
I have always wanted to be a father and I was thrilled when my three kids were born in 2010, 2012, and 2016. It's been a wonderful experience to watch them grow into amazing little people.
I love to play with my kids, especially teaching them to draw, and to build things together out of whatever materials we can find. In our family, we have become experts at making fun with anything!
In 2020 I quit my day job to focus exclusively on making Kidsit the best babysitting resource on the internet. I spend each day writing and updating articles and drawing illustrations for every post to help create a unique and memorable design that visitors can enjoy.
In late 2020 I published my first babysitting book, Babysitting Business Secrets, get your copy from Amazon today!
Recent Contributions by Matthew
Learn whether a babysitter should do any cleaning as well as what types of cleaning you should and shouldn't expect them to do.
If you are serious about child safety, then you need access to a trusted first aid kit while babysitting. See our recommendation!
Learn how to communicate with a 13+-year-old teenager, find common ground, and make the babysitting experience as smooth as possible for both of you.
I'll cover the different roles that babysitters are filling in the post-COVID world, what parents will be looking for, and some things you'll want to learn.
I'll explain how to say no to babysitting grandchildren without feeling guilty about it and I'll give you 8 effective strategies to help you.
We have the best jokes that kids love, including riddles, knock-knocks, puns, nonsense jokes, Doctor-Doctor, and even funny Dad jokes!
Learn how babysitting shows leadership, how to effectively lead children, and how to develop important leadership skills through childcare work.
Learn which jobs are super flexible and let you work around your existing childcare schedule and earn some extra money!
I'll teach you step-by-step how to correctly make baby formula, how to keep the bottles and utensils clean, how to store it properly, and more.
I'll walk you through the complete step-by-step process of changing a diaper including specific tricks for changing girl or boy babies.
Your best option is to reach out to family and friends for a favor. If they aren't able to help, try our list of creative alternatives.
Babysitters can take care of more than one child at once. But there is a limit on how many kids a babysitter can watch effectively.
I'll explain how early to book your Valentine's Day babysitter. As well as what costs to expect, what to do if you can't find a sitter and more.
Learn what to expect when babysitting on New Year's Eve, how much to charge, what to bring, and recommended nighttime babysitting activities to try.
In this article, I'll share the do's and don'ts of babysitting on Valentine's Day. As well as how to make sure that you're getting paid what you're worth!
We'll discuss some jobs that are similar to babysitting but intended to provide support for adults, and how you can get started.
In this article, I'll share some professional-sounding alternative words for babysitting to put on your resume.
I'll explain the steps that you need to take to get a babysitting job, and how to prepare yourself to maximize your chances of quickly finding a great family to work for.
I'll explore some common situations where you may need to say no to a babysitting family, plus give some helpful tips to make it easier to say no.
Solve separation anxiety issues by trying our 9 handy tips and you can be leaving your child with a babysitter sooner than you think!
Learn why sleeping while you're babysitting is generally frowned upon, times when it might be okay, and six tips to help keep yourself awake while you're working.
I'll teach you all about babysitting older kids. You'll learn some of the benefits of watching older kids, as well as some of the drawbacks.
I'll let you know what kinds of things you should include in a babysitting reference letter and how to format it.
Use my reference letter examples as a starting point for writing the best babysitting reference.
I list the main emergency numbers that babysitters need by country. Plus, Download our Free Emergency Contact Sheets!
I'll go over some of the things that you can do before, during, and after a babysitting job to make the best possible impression with parents.
Learn what overnight babysitting involves, what items you should bring, how to prepare, and what questions to ask parents before they leave.
Men can definitely babysit, but there is a lot of stigma in child care. We go over the challenges male babysitters face, as well as how to overcome them.
We explain what a babysitting license is, what different kinds of certification are available, how to get a license, and whether you can babysit without one.
See all the skills that babysitting can teach you and learn why most of them are fully transferable to other occupations.
I'll tell you some of the top reasons why babysitting flyers work so well, then I'll let you know about some potential disadvantages to keep in mind too.
I'll go over some of the everyday situations that might end up leading to a babysitter filing a lawsuit against you and how to protect yourself.
We look at some of the key qualities that parents look for, and you should have if you want to be a successful babysitter!
I'll cover all the things that first-time babysitting need to know so there shouldn't be many surprises the first time that you babysit.
The majority of families will need to hire a babysitter between once per week and 1-2 times per month but it depends on your family's individual needs.
Learn what babysitting references are, why they're important, who you should use as a reference, and some essential tips to put you ahead of the competition.
Impress future employers with a professional resume that highlights your babysitting experience. Follow our simple guide and get that job!
I'll explain how to develop a healthy relationship with preteens that you've been asked to babysit.
I'll explain what a transgender person is, then I'll go over information on whether you should have any concerns about hiring a transgender babysitter.
I'll explain why parents may sue you as a babysitter, what they have to prove to win their case, and more.
It's not normal to pay a babysitter for an interview, however, for babysitting, there's one key exception you should know.
See what traits make a good babysitter, and different things you can do to make a good impression on both parents and kids alike.
I'll teach you how to prepare kids for a trip to the library, and give you plenty of cool activities that you can do once you're there.
Learn some simple tricks to make babysitting easier and more fun for both you and the kids. Sitting doesn't have to be difficult.
In most places, you don't need qualifications to babysit. However, parents prefer carers with a First Aid Certificate & other basic credentials. Find out what qualifications you need.
I'll explain what items to include on your babysitting flyer and why they're important. Plus what NOT to include!
I'll explain why spanking isn't okay and give advice on what you should do if you find out that your babysitter is spanking your child.
We cover what age a child can babysit their siblings and other factors to take into account, like their maturity level and how to prepare them for being alone.