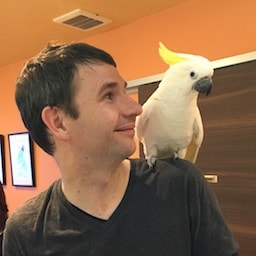 Matthew Taylor
Kidsit Founder, Editor, Illustrator, and father of three beautiful kids in Sydney, Australia.
Matthew created Kidsit.com after becoming frustrated with the lack of quality information available online about babysitting. Matthew uses this website as a place to share his experiences finding and hiring babysitters, what he has learned caring for his three children, tips he uses when teaching his kids to draw, and inventive play ideas.
He believes all children should have an endless supply of paper, pencils, and sticky tape!
Matthew's artistic talent comes from growing up in a creative family with his father, who was a professional artist and private art teacher for most of his life.
In 1994, Matthew started out as a cartoonist publishing his Ogga the Cane Toad comic strip before moving on to work as a graphic designer.
In 1997, he built his first website and began the transition to a full-time career in web development.
Since 2000, Matthew has studied life drawing and anatomy at Julian Ashton Art School in Sydney, Australia.
While building websites professionally for more than 20 years, Matthew has maintained a balance between his technical skills and creative abilities by continually drawing.
Matthew builds and maintains Kidsit.com on a daily basis, creating illustrations for many of the articles to incorporate a unique and memorable design that visitors can enjoy.
Recent Contributions by Matthew
Make sure your babysitter is capable, experienced, is a great fit for your family, and has a great personality too by asking the right questions.
Learn what constitutes an employee and a self-employed independent contractor and see how they relate to working as a babysitter.
Learn about the pros, cons, and costs of both daycare programs and hiring a nanny, plus we investigate some alternatives to consider.
Learn the most common responsibilities that parents expect of their babysitters and how your duties may change depending on the job requirements.
Learn how to tell for yourself if you're old enough to start babysitting, and things you can do to make yourself more likely to get hired as a young babysitter.
Make the right choice for your family by learning the subtle differences between babysitters and nannies and their typical responsibilities.
Impress future employers with a professional resume that highlights your babysitting experience. Follow our simple guide and get that job!
Learn these 8 simple tricks to nail a successful bedtime every night! It's surprising how many of these sleeping tips are not commonly known.
Read our food safety information that all babysitters should know including specific tips for infants, toddlers, and older kids.
Learn how to communicate well with the parents, set boundaries with the children, and establish who's in charge so the job runs smoothly.
Babysitting is most definitely a real job. Sitters get paid in real money and have real work. You can also earn more while babysitting than a lot of other jobs.
Learn what babysitters expect from parents when it comes to food. If you decide to provide dinner, try our 8 easy food ideas that are perfect for babysitters on the job.
Learn why babysitting can be a rewarding and profitable business, who the business is right for, and how to setup a company structure.
We explore the main benefits of being a babysitter to help you decide if it's the right job for you.
Babysitting can definitely be considered work experience for your resume, job application, or college application. See how to list your experience...
Learn the warning signs of a bad babysitter so you can take action as soon as possible and keep your family safe.
Learn exactly what a babysitter is, what job duties they do, the hours they work, how much they charge, and how they can help your family.
Learn how to choose a mature and capable babysitter that can keep your kids safe on overnight sitting jobs.
We look at the key differences between babysitting from home and running a daycare, special restrictions that might apply in your area, insurance, and costs.
Make the most of your downtime! Learn 10 things to do while babysitting after the kids are asleep, plus 7 things you should NEVER do!
Cleaning is a part of doing a good job. A good babysitter will tidy up any mess made while caring for the children. But how much cleaning is necessary?
We list the best outdoor games to can play at the park while babysitting, especially active games that can be played in areas where there's a lot of space!
Learn what paperwork is required to allow your babysitter to take your child to the doctor if you're unavailable to do so.
A male babysitter can be just as safe, caring, and responsible as a female one. Compare their qualifications and recommendations just like other candidates.
Use the tricks in this article to reliably get kids into the bath every time, with zero fuss and no complaining!
Learn what to pack for the beach, what kinds of fun seaside activities you can do, and some safety tips babysitters should keep in mind.
Use our babysitter reference questions to quickly and easily vet potential candidates and find the best sitter for your family
Learn how old, mature and capable your kids need to be before you can be comfortable leaving them home without a babysitter.
Finding a good babysitter isn't luck. We cover the top 15 signs of a good babysitter that you should be looking out for.
This guide will answer all of your questions about finding, vetting, teaching, and working with the right babysitter for your autistic child.
Learn how babysitters can communicate online safely, send and receive money with minimal risk, and protect yourself from viruses, hackers, and scammers
There are some things that babysitters should never do, see our list of the biggest offenders so that you know what to enforce.
Learn the places where it's common to tip your babysitter, the times when it's more appropriate to tip, how much you should give, and more.
Learn which qualities and characteristics a babysitter should have that make them a great caregiver your whole family will love.
Follow our step by step guide to hiring a babysitter from start to finish including screening, interviewing, performing background checks, and making an offer.
Learn the types of babysitter background checks that are available for safety and peace of mind and which ones are right for you.
Learn how to prepare your home, your child, and yourself for your first babysitter so you can finally enjoy a dinner date or night out for the first time in months!
Learn some non-obvious benefits when it comes to hiring a babysitter for your child or children. We'll also touch on a few of the disadvantages to consider.
Follow our tips to make sure the interview process goes smoothly and read our general guide on how the process should work.
Learn how long parents typically wait before hiring a babysitter, what the social norms are, and how you can ease into it to minimize any issues.
Learn how to keep kids safe during their bath, how to make bathtime fun, what items you need, and some general tips for hassle-free washing!
Learn how to fire your babysitter nicely and as smoothly as possible. As well as reasons you might fire a babysitter and reasons why you probably shouldn't.
Give your babysitter all the information they need by printing out our handy parent details form. Never forget important instructions.
Learn what separation anxiety is, what it looks like, and how to help minimize the effects while you're babysitting with our 15 tips.
Learn some basic water safety tips for children, as well as what to bring to the pool and what types of games kids might want to play.
I'll walk you through the major steps of a babysitting interview process so you'll know how to prepare and what to expect.
Learn why babysitting for free is a great choice, particularly as a beginner when you need to gain childcare experience and references.
Everything you need to know about babysitting kids with autism including how to prepare, effective care strategies, safety, and fun activities to enjoy together.