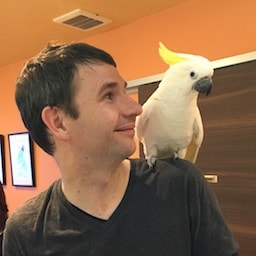 Matthew Taylor
Kidsit Founder, Editor, Illustrator, and father of three beautiful kids in Sydney, Australia.
Matthew created Kidsit.com after becoming frustrated with the lack of quality information available online about babysitting. Matthew uses this website as a place to share his experiences finding and hiring babysitters, what he has learned caring for his three children, tips he uses when teaching his kids to draw, and inventive play ideas.
He believes all children should have an endless supply of paper, pencils, and sticky tape!
Matthew's artistic talent comes from growing up in a creative family with his father, who was a professional artist and private art teacher for most of his life.
In 1994, Matthew started out as a cartoonist publishing his Ogga the Cane Toad comic strip before moving on to work as a graphic designer.
In 1997, he built his first website and began the transition to a full-time career in web development.
Since 2000, Matthew has studied life drawing and anatomy at Julian Ashton Art School in Sydney, Australia.
While building websites professionally for more than 20 years, Matthew has maintained a balance between his technical skills and creative abilities by continually drawing.
Matthew builds and maintains Kidsit.com on a daily basis, creating illustrations for many of the articles to incorporate a unique and memorable design that visitors can enjoy.
Recent Contributions by Matthew
There are some things that babysitters should never do, see our list of the biggest offenders so that you know what to enforce.
Learn the places where it's common to tip your babysitter, the times when it's more appropriate to tip, how much you should give, and more.
Learn which qualities and characteristics a babysitter should have that make them a great caregiver your whole family will love.
Follow our step by step guide to hiring a babysitter from start to finish including screening, interviewing, performing background checks, and making an offer.
Learn the types of babysitter background checks that are available for safety and peace of mind and which ones are right for you.
Learn how to prepare your home, your child, and yourself for your first babysitter so you can finally enjoy a dinner date or night out for the first time in months!
Make the right choice for your family by learning the subtle differences between babysitters and nannies and their typical responsibilities.
Learn some non-obvious benefits when it comes to hiring a babysitter for your child or children. We'll also touch on a few of the disadvantages to consider.
Follow our tips to make sure the interview process goes smoothly and read our general guide on how the process should work.
Learn how long parents typically wait before hiring a babysitter, what the social norms are, and how you can ease into it to minimize any issues.
Learn how to keep kids safe during their bath, how to make bathtime fun, what items you need, and some general tips for hassle-free washing!
Make sure your babysitter is capable, experienced, is a great fit for your family, and has a great personality too by asking the right questions.
Learn how to fire your babysitter nicely and as smoothly as possible. As well as reasons you might fire a babysitter and reasons why you probably shouldn't.
Give your babysitter all the information they need by printing out our handy parent details form. Never forget important instructions.
Learn what separation anxiety is, what it looks like, and how to help minimize the effects while you're babysitting with our 15 tips.
Learn some basic water safety tips for children, as well as what to bring to the pool and what types of games kids might want to play.
I'll walk you through the major steps of a babysitting interview process so you'll know how to prepare and what to expect.
Learn how to tell for yourself if you're old enough to start babysitting, and things you can do to make yourself more likely to get hired as a young babysitter.
Learn why babysitting for free is a great choice, particularly as a beginner when you need to gain childcare experience and references.
Everything you need to know about babysitting kids with autism including how to prepare, effective care strategies, safety, and fun activities to enjoy together.
BE SAFE! Learn how to prepare yourself for a fire emergency and how you and the kids should handle the situation if it ever happens while babysitting.
Learn to recognize dangerous water hazards and the basic safety tips needed to keep kids safe around water while you're babysitting.
See out how much you're actually worth as a babysitter by reviewing your skills, experience, the job requirements, and where you live.
With a well stocked babysitting binder, you can focus on caregiving because you know you have everything you need.
Learn how to deal with difficult children, it will make work easier, and can also open up extra well-paying jobs that others aren't willing to take.
Learn the most popular babysitting qualifications, what they are, why you need them, and how they can put you ahead of the competition when applying for jobs.
Learn some essential tips and strategies to bring to the bargaining table to help get you the pay rate that you deserve.
Learn how to babysit a baby by following our simple beginners guide and you'll know what to do in no time.
Learn the different tasks and responsibilities that need doing if you're babysitting at night time including the finer art of bedtime routines.
We have the best jokes that kids love, including riddles, knock-knocks, puns, nonsense jokes, Doctor-Doctor, and even funny Dad jokes!
Give yourself the best chance in a babysitting interview by asking parents the right questions that demonstrate your experience and interest in the job.
Learn if babysitting is right for you and which simple steps you need to follow to become a successful and confident babysitter.
Strike the best balance between professional and practical by following our handy clothing tips for your next babysitting job.
Learn these 8 simple tricks to nail a successful bedtime every night! It's surprising how many of these sleeping tips are not commonly known.
How sick is too sick? Do I need to find a replacement? What are the risks of babysitting when sick? Read on for the answers.
Caring for sick children doesn't have to be difficult. Follow my 10 worry-free tips to create a fun and rewarding experience that encourages a fast recovery, and don't get sick in the process!
Learn what preschoolers need, what's important to them, effective discipline strategies, and common mistakes all babysitters should avoid.
Learn the most common responsibilities that parents expect of their babysitters and how your duties may change depending on the job requirements.
Learn the important things to keep in mind when you're babysitting a toddler, as well as 28 tips to make your job a bit easier.
Learn how to tailor your babysitting strategies and activities to the age and development stage of the children in your care.
See what traits make a good babysitter, and different things you can do to make a good impression on both parents and kids alike.
Learn what risks babysitting websites might pose, what safety checks they should have in place, and some warning signs and scams to look out for.
Learn how to deal with parents who come home late when you're babysitting, and more importantly, how to avoid running into this issue in the first place.
Learn what a legal guardian is and the rights and responsibilities a legal guardian has, and how this is different to your obligations as a babysitter.
See how much money you can make as a babysitter, how to start getting sitting jobs, and how to increase your pay once you're already working.
We cover the many reasons why babysitting might actually be the dream career you've always hoped for.
Finding a good babysitter isn't luck. We cover the top 15 signs of a good babysitter that you should be looking out for.
Babysitters are often afraid to speak up about some of the annoying things that parents sometimes do, try to avoid these things!