Sitters CA Edmonton, AB:
Sitter Interview Tips
How you conduct your interview process is critical to identifying the most appropriate sitter for your family. In the following articles, we run through a recommended babysitting interview format and provide tips and tricks that you can use to learn the most about your candidates. We also offer a huge list of good interview questions and how best to utilize them depending on your unique circumstances.
Sitters near Edmonton:
19yrs (She/Her) From $22/hour
✓
✓
✓
✓
✓
-
-
-
-
-
-
-
-
-
-
-
-
-
-
-
-
✓
✓
✓
✓
✓
-
-
Sitters in Beaumont →
How Kidsit Works (only 2 Steps)
Post a job or login to use an existing one
Contact sitters with your job requirements attached
Kidsit is a Free Service 😊
Enter Your Job Requirements
How To Vet Babysitting Candidates
Sitter profiles on this site are not verified by Kidsit, it is up to the parent or guardian to do the vetting and to make sure they are who they say they are and the skills and qualifications they claim to have are valid. Follow our guides on checking babysitter references and running background checks.
What Makes A Good Sitter?
Finding a good sitter is not an easy task, the following articles highlight various qualities to look out for while you're gathering candidates for your open position. We also cover less commonly considered candidates such as male babysitters and answer commonly asked questions that parents have about them.
Age Recommendations
What age is too young (or too old) for a child to need a sitter? And how old should a sitter be? The following articles offer recommendations for sitter and child ages depending on the job requirements.
How Much Should You Pay A Sitter?
One of the most common questions parents have about babysitting is how much they should pay their sitter. The following articles look at the many factors that influence babysitter pay including your geographic location, age and experience of the sitter, age and number of children, and specific job requirements.
How To Prepare For A New Sitter
If you've never hired a babysitter before you may be wondering how you should prepare, the following articles cover all the main things you should know.
Sitter Responsibilities
The responsibilities your sitter has while on the job should be agreed to beforehand so everyone's expectations are met. The following articles can help you to decide what's right for you.
Babysitting Issues
Babysitting is not always easy for sitters or parents but it should always be safe. In the following articles, we reveal some key warning signs that you should be looking out for to ensure that your kids are safe and being lovingly looked after whenever you're away. We also discuss the things you can, and cannot do if you suspect something may be wrong.
Special Occasions
There are several key dates and events throughout the year when babysitters are in hot demand, read our guides below to give you an advantage over other families who are competing with you for the best babysitters.
Have Fun With Your Sitter!
Great sitters will become part of the family before long so it's important to treat them well.
Parent Admin
Hiring a babysitter comes with extra responsibilities and duties because you are an employer. In these articles, we discuss the various admin tasks that may be asked of you such as writing babysitting references for past employees and we also cover how this can affect your tax.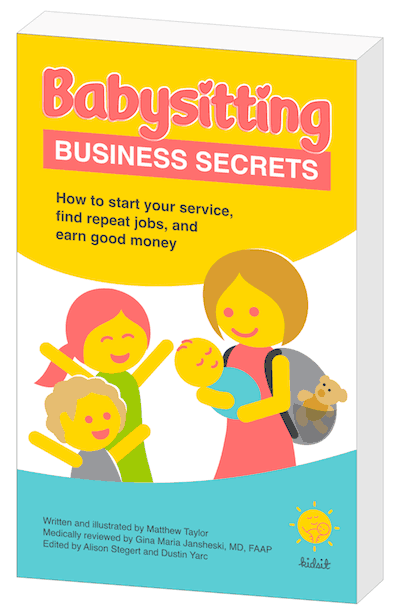 The Perfect Gift For Your Babysitter
My book, Babysitting Business Secrets, is out now as an inexpensive ebook or full-color paperback. If your babysitter is serious about becoming the best sitter they can be, then this book is perfect for them. I reveal all my tricks and tips for first-time babysitters or experienced sitters who just want to up their game. Get your copy today!
- Matthew Taylor, Kidsit Founder