Can't Find a Babysitter?
(Try Our 13 Sitter Alternatives)
You have an important meeting or a special date with your partner that you've been planning for months, but your babysitter has canceled at the last moment. What are your options?
What can you do if you can't find a babysitter? Your best option is likely to reach out to your family and friends for a favor. If they aren't able to help, you might need to look at more creative options or use a professional babysitting service.
In this post we'll look at some alternative options you can try if you're not able to find a babysitter.
What Should You Do If You Can't Find a Babysitter
There are a few different scenarios that you might run into where you needed a babysitter that now isn't available:
You might need a babysitter so you can go to work.
Your babysitter might be to watch your child while you go on a much-deserved date night with your partner.
Maybe you've got an elderly parent or relative that needs your care.
You may even just need some time to take care of yourself to rest, relax, and find some inner peace.
Ask Yourself - Is This Voluntary or Mandatory?
The first question you need to ask yourself is whether the thing you planned to do while a babysitter looked after your children is necessary or not.
Some things like going to our job are pretty much required and really hard to get out of. Other things like going to help with a school bake sale or going to see a movie you might be able to cancel or put off for another day.
13 Babysitter Alternatives
Here are some other ways you can make sure that your child is supervised while still getting things done.
1. Get your partner to help
If both of you were going to do something but their activity is less important, see if they're willing to stay home. If you go with this option, it's best to schedule a time in the near future when you'll watch the kids in return while your significant other goes and does their thing. It's only fair.
Obviously, this one won't work if the reason you got a babysitter was for date night unless you want to take your toddler along as a third-wheel to that fancy restaurant.
2. Ask a family member
Get out your phone book or the contacts app on your phone and start making calls! Try your brother, your parents, an aunt, an uncle, your cousins. Anybody who lives in your city and might be willing to help.
3. Call your friends too
If you can't get ahold of a family member or they're all busy, you can call in a favor from a friend. Preferably one that already has their own kids and has met your child before, so it won't be traumatic for either party once you leave. If you have a friend with two kids of their own, it's not really that much more work to add a third kid to the mix. Especially if they're all about the same age and can play together.
4. Try your church
If you're religious, see if your church can help. You can either contact some members of the congregation that you're friends with, or the church itself. Some churches offer babysitting services on a donation basis.
5. Contact your gym
This one sounds like a bit of a stretch, but it can work! Some gyms have dedicated childcare services where they'll watch your kid for a few hours. Or you could possibly get them into some kind of day program or class just for one day or evening. This is an especially good option in the summer when school is out and there are all kinds of different summer camps running.
6. Put your kids to bed earlier
Okay, now I'm definitely not suggesting that you just put your kid to bed and leave the house. That would be awful, they might wake up and need you. But if you were just getting a babysitter to study for a university test or catch up on a project at work, you might just be able to stay home and do it.
If your child goes to bed at around 8 pm, that's a solid 3 or 4 hours of work that you can get in before you need to sleep yourself. You just might need to put off cleaning or other tasks that you'd normally be doing at that time instead.
7. Make it a day date
If date night with your partner got canceled because of a lack of a babysitter, you could reschedule it during the day! If you can both book a day off or call in sick, you can enjoy spending a whole day together while your kid is at daycare or school. You won't get to watch the sunset together, but there are lots of things couples can do together during the day like go for lunch, catch a movie, go to the art gallery, or just hang out around the house together.
8. Have a fancy dinner at home
If your dinner date got canceled, that doesn't mean you can't bring an elegant dinner home to you! Break out the candles and fancy wine glasses. You can do this with your kid as well, but it might be best just to wait until they go to bed and order some take-out from your favorite high-end restaurant once they're asleep.
9. Take the day off work
Worst case scenario if your childcare falls through during the day is that you'll just have to take the day off. Depending on how flexible your manager is, you might have the option to work from home or make the time up later. Otherwise, you might need to use a vacation day or call in sick.
10. Have a backup
If you're reading this and are desperately scrambling for a babysitter, it's already too late for this option. But if you're preparing in advance, it's good to designate a backup replacement for your babysitter in case they're sick or unavailable. Usually, babysitters will have other friends that can also fill in, so you might want to ask if the babysitter if they have anyone they could recommend too.
11. Go to a drop-in daycare
Search in Google to find a drop-in daycare in your city. They have pretty reasonable prices that are comparable to what you'd pay a babysitter. The downside is that most of them close around 5 or 6 pm so they're only an option during the day.
12. Is your child sick?
Your regular daycare or babysitter might not want to watch your child if they're ill. Local hospitals normally offer specialized drop-in services for sick children in bigger cities. They're more costly since you'll have an actual nurse or other medical professional caring for them, but it might be worth the peace of mind.
13. Bring your kid to the office
Your boss may or may not be okay with this idea, but it doesn't hurt to ask. I have worked at jobs when employees occasionally bring their kids into the office when they couldn't find childcare and it was never an issue. Normally the kids would just sit and play games or watch videos on their phones for most of the day. If your child is well-behaved, there probably won't be an issue putting them in a conference room to do some arts and crafts for a few hours.
Related Questions
Can your employer fire you if you have to stay home to take care of your kids?
It depends on where you live. In the US, labor laws are harsher and an employer can pretty much fire an employee for anything that makes them unable to work when they're scheduled. There are some exceptions like the Federal Family and Medical Leave Act that allows for 12 weeks of unpaid leave if you or an immediate family member has a serious health condition. But it doesn't apply if your child just has the flu.
Should I just take the first replacement babysitter I can get?
Even if you're somewhat desperate for a replacement babysitter when your main sitter cancels, it's still critical to do your due diligence and quickly follow up on their references, background check, and generally make sure they're reliable. After all, it's your child's safety and well-being that's at stake.
See our babysitter intiview guide and ask these good interview questions to quickly learn about candidates, and make sure you still do a quick babysitter background check before hiring.
Written by: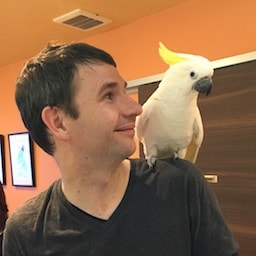 Kidsit Founder, Editor, Illustrator, and father of three beautiful kids in Sydney, Australia.
Published: 2 February 2019
More Babysitting Tips
Learn how old, mature and capable your kids need to be before you can be comfortable leaving them home without a babysitter.
A male babysitter can be just as safe, caring, and responsible as a female one. Compare their qualifications and recommendations just like other candidates.
This guide will answer all of your questions about finding, vetting, teaching, and working with the right babysitter for your autistic child.
Learn about the pros, cons, and costs of both daycare programs and hiring a nanny, plus we investigate some alternatives to consider.
Learn which jobs are super flexible and let you work around your existing childcare schedule and earn some extra money!