Can a Babysitter Take a Child to the Doctor?
(How to Grant Permission)
Accidents and illness can happen at any time. So if you're unavailable and your child gets injured or sick, what can your babysitter do in your absence?
Can a babysitter take your child to the doctor? You can designate anyone to take your child to the doctor on your behalf. However, you will need to fill out paperwork or speak to your child's doctor in advance to grant permission to them. Check with your doctor, because their specific requirements can vary from office to office.
This article will discuss what is needed for a babysitter to take your child to a doctor, why specific paperwork is required, what that paperwork is, and other medical information that you should provide your babysitter with.
Can a Babysitter Take a Child to the Doctor?
Some doctor offices just require a phone call from you as a parent to authorize a babysitter. But what if you're traveling or stuck in an important meeting all day and your babysitter has no way to contact you when your child suddenly falls ill?
That's why it's important to do all the necessary work in advance that will allow your babysitter to take your kid to the doctor without any issues.
If you only need someone to watch your child once or twice a month, it might not be worth setting up your babysitter with authorization to take your kid to see the doctor. It can be especially tedious if you use multiple babysitters.
But if you have one full-time babysitter or someone who is watching your child for more than just a few of hours per week, it's a good idea to give them the ability just in case they ever need it.
Why Can't Babysitters Just Take Your Kid to the Doctor?
In most places, only parents and guardians are allowed to legally authorize medical treatment for children.
Babysitters aren't considered guardians, regardless of whether they're your neighbor, friend, or even your relative.
Doctors offices won't provide medical treatment for kids who aren't accompanied by a parent or guardian.
You might even have trouble getting assistance at a hospital or urgent care center. Although I've never heard of a child who needed treatment being turned away from the emergency room because they didn't have a guardian with them.
That's why it's important to get everything set up in advance. Even if your babysitter never needs to use the power you give them, it's better safe than sorry.
What Kind of Paperwork do you Need?
Your babysitter will need a medical release form, your medical insurance details, and potentially a limited power of attorney if you want them to be able to make more serious medical decisions for your child.
What is a Temporary Medical Release Form?
This is a temporary, one-time, medical release permission. It very clearly indicates which dates the child will be in the babysitter's care.
You can create this kind of form yourself. Here is an example of the kind of language it should contain:
I, (YOUR NAME), am on vacation and will be out of town from (DATE) to (DATE). During this time, I am leaving my (SON/DAUGHTER), (THEIR NAME AND DATE OF BIRTH), with (BABYSITTER NAME AND PHONE NUMBER). I am reachable at this phone number (YOUR PHONE NUMBER.)
This letter should be signed by both you and the babysitter, and ideally, it should be notarized to make it more official.
What Is An Ongoing Medical Release Form?
If your babysitter is going to be caring for your child off and on for years, it's not really feasible to be constantly writing up new temporary release forms.
In that situation, you can use an ongoing medical release form.
Again this is a letter you can write up yourself that gives your babysitter authorization to get medical attention for your child whenever you're absent.
Make sure to be clear that you're only approving the babysitter to get pediatric medical attention when a parent or guardian isn't available.
You should explicitly have a line that says the terms and conditions of the form don't expire unless the babysitter's services are terminated.
This form should also be dated and signed by both you and your sitter.
Medical Insurance Forms
This is especially important in the United States, but even in countries with free healthcare, it's good to provide your babysitter with your insurance details.
Your babysitter should have your health insurance information so they aren't stuck footing the bill for any procedures that aren't already covered.
There are a number of ways you can do this. You can simply make a copy of your insurance card that you keep in your wallet if you have one, or your official paperwork. Or you can just include your insurance details as part of your medical release form that we discussed previously.
The information your babysitter and health provider will need are:
The name of your health insurance company
Your group number
Your plan ID number
The dates of coverage
These details might be needed at a hospital or urgent care center in addition to the doctor's office.
Limited Power of Attorney for Consent to Medical Care
Now we get to a more serious document.
You normally can't just write a power of attorney document by yourself, you'll usually need to get a lawyer or attorney to help you draft one. Although in some places, medical centers will have forms you can get and fill out to leave with your babysitter.
A limited power of attorney gives your babysitter the legal right to make medical decisions for your child while you're away. This gives your babysitter more power when it comes to things like emergency procedures, as opposed to just regular doctor appointments.
What Should you Give your Babysitter Besides a Medical Form?
In addition to creating a medical release form for your babysitter as outlined above, there is some other pretty critical information that you should provide them with.
A list of medicines your child needs. If your child requires specific medication, you should have a list for your babysitter that outlines what medications they need, how much to give, and when they need to be taken.
Where to find extra medical supplies or medicine. This is important if they're hard to find or unusual. For example, if your child is diabetic they might need supplies like blood testing strips. If your babysitter runs out, they might not know that they can go and get them at any pharmacy.
The phone number and address of your child's primary care physician. If something does happen, your babysitter will need to know how to get in contact with the right doctor and where to go. You might also want to include the phone number for your child's dentist and any specialists they see.
If it's important that your babysitter can take your kids to the doctor then make sure you discuss this during the interview process to ensure your sitter is comfortable with this responsibility.
Related Questions
Do daycares or schools require me to provide a medical release form?
These institutions typically provide their own medical release forms that you would have signed as part of the enrollment paperwork for your child.
Do babysitters need a release form to take a child to the dentist or optometrist too?
Yes. Other types of doctors will similarly require a form saying you give your babysitter permission or consent to seek treatment for your kid. Your standard medical release form should be good enough, but you might want to call and see if they need their own designated form to be filled out.
How old does a child need to be to make their own medical decisions?
In most US states, a parent or legal guardian needs to give consent up to age 18 (the age of majority) before treatment can be given to minors.
In Australia, how old a child must be to give their own consent varies by state and territory. For example, it can be as young as 14 in New South Wales and is 16 in South Australia.
In Canada and the UK, minors are able to make their own medical decisions once they're considered competent enough to understand and make their own informed decision. Generally, this criterion is judged by the treating doctor or healthcare provider.
Written & Illustrated by: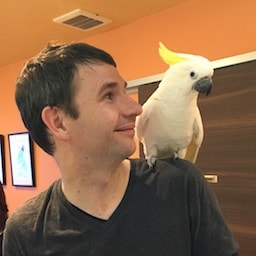 Kidsit Founder, Editor, Illustrator, and father of three beautiful kids in Sydney, Australia.
Published: 14 January 2019
More Babysitting Tips
Learn which qualities and characteristics a babysitter should have that make them a great caregiver your whole family will love.
Make the right choice for your family by learning the subtle differences between babysitters and nannies and their typical responsibilities.
Give your babysitter all the information they need by printing out our handy parent details form. Never forget important instructions.
Learn about the pros, cons, and costs of both daycare programs and hiring a nanny, plus we investigate some alternatives to consider.
Learn the warning signs of a bad babysitter so you can take action as soon as possible and keep your family safe.
Learn whether a babysitter should do any cleaning as well as what types of cleaning you should and shouldn't expect them to do.
Follow our tips to make sure the interview process goes smoothly and read our general guide on how the process should work.
Babysitters are often afraid to speak up about some of the annoying things that parents sometimes do, try to avoid these things!
We cover the best childcare options that are available to families while on vacation that both kids and parents will love.
This guide will answer all of your questions about finding, vetting, teaching, and working with the right babysitter for your autistic child.
Learn exactly what a babysitter is, what job duties they do, the hours they work, how much they charge, and how they can help your family.
Learn what babysitting expenses parents are eligible for, and receive a tax credit or deduction. It can save you thousands of dollars!
Discover the best holiday gift for your babysitter that's not stressful or costs a lot of money but still shows them that you care.
Be aware that pulling a prank on your babysitter means you're probably going to get one in return. So make sure you can handle the consequences!
Learn the basic laws that various countries have about recording people with or without their consent, and see the pros and cons of using a nanny cam.
Your best option is to reach out to family and friends for a favor. If they aren't able to help, try our list of creative alternatives.
Learn how old, mature and capable your kids need to be before you can be comfortable leaving them home without a babysitter.
The majority of families will need to hire a babysitter between once per week and 1-2 times per month but it depends on your family's individual needs.
Babysitters can take care of more than one child at once. But there is a limit on how many kids a babysitter can watch effectively.
To successfully win a lawsuit against a negligent babysitter, you'll need to prove a duty of care, a breach of their duty, and causation.
A male babysitter can be just as safe, caring, and responsible as a female one. Compare their qualifications and recommendations just like other candidates.
Learn how to choose a mature and capable babysitter that can keep your kids safe on overnight sitting jobs.
It's not normal to pay a babysitter for an interview, however, for babysitting, there's one key exception you should know.
Learn what babysitters expect from parents when it comes to food. If you decide to provide dinner, try our 8 easy food ideas that are perfect for babysitters on the job.