How Many Babies Can a Babysitter Watch?
Babysitters can take care of more than one child at once. But there is a limit on how many kids a babysitter can watch before they're not able to provide a necessary level of supervision and support anymore.
How many babies can one babysitter watch? It depends on the age of the children, among other factors. Every country and state has their own legal maximum number of children that a babysitter can watch. There is no consensus between different locations, but it's safe to say that a babysitter can certainly watch two children of any age.
After you've read this article, you'll know some of the laws regarding how many children an unlicensed babysitter can watch at one time, factors that impact how many kids one person can watch, and whether babysitters charge per child.
Babysitting Limits - What Are The Rules In Different Countries?
The number of babies that a babysitter can legally watch will vary from place to place. In most cases, the rules are completely different for each place and there's no commonality between them.
In Canada. There are no specific rules for babysitters, but we can safely assume that a babysitter could be classified as an unlicensed daycare if they're watching multiple kids. In that case, a babysitter in Canada could watch:
A maximum of 5 kids.
A maximum of 2 children under the age of 2 (This changed recently. Caregivers could previously care for 5 children of any age.)
The babysitter needs to include any of their own children they're watching in the group of 5 if they're under 6 years old.
Above these numbers, a license would be needed.
In the UK a babysitter can watch:
A maximum of 6 children under the age of 8.
Of those 6, a maximum of 3 can be a "young child." The law says a child is a "young child" until the September 1st that comes after their 5th birthday.
In the US, the number of kids that a babysitter can watch varies widely from state to state.
As an example, in Florida, a babysitter could watch up to 5 preschool children, but no more than two that are under 1 year old. They can also watch additional school-age children up to a maximum of 10.
In Michigan, babysitters need a license to care for children in their own home more than 4 weeks per year and if paid more than $600 per child in a year.
Factors That Impact How Many Kids One Babysitter Can Watch
There are a bunch of things that will impact how many kids a babysitter can watch at a given time besides only the number of kids.
Age of the children. Age plays a big factor. The younger a child is, the more work it usually is to look after them. Infants and kids under 12 months are by far the hardest to watch and need the most attention. Once a kid gets older than 5 or 6, the amount of work to look after them really starts to drop. Kids around 8 to 10 more-or-less take care of themselves compared to younger kids, as long as they're well-behaved.
Babysitter's experience and age. These two aspects of the babysitter can make a huge difference to the number of kids they can effectively manage.
A 13-year-old who has only been babysitting for less than a year will probably struggle just to care for two kids.
An experienced babysitter who has previously worked for a daycare can probably take care of 3 kids without breaking a sweat. Realistically they're probably capable of taking care of 5 kids at once, with 2 of them being infants, all on their own.
Special needs of the children. Watching kids with special needs or disabilities is a lot harder than watching other kids. A child with ADHD or autism might be a handful all on their own.
If your child is on the autism spectrum then I highly recommend you read our guide: How to find a babysitter for a child with autism to learn what qualities to look for in a special-needs caregiver.
Behavior of the children. For babysitters, their job is a lot easier with well-behaved kids that will just sit and watch a movie or quietly do crafts while being watched. Dealing with hyper or moody children makes the job exponentially harder because constant micromanaging of each minute will be required.
Do Babysitters Charge Per Child?
More children means more work, as any parent can attest to! Especially when there's a range of ages.
Experienced babysitters will normally give you an hourly rate that depends on the number of children you have.
Brand new or inexperienced babysitters probably just have one flat amount in mind that they want to earn, or to be honest, are probably just going to accept whatever you offer them.
A good general rule is to pay your babysitter an extra $1 or $2 per hour for each child. So if you're paying your babysitter $10 per hour for one child, then for two children it would be $11 or $12 per hour.
Most people agree that's pretty fair. Watching two kids isn't double the work, but it's definitely not an unnoticeable difference either.
I'd pay a bit extra for a babysitter who is watching your infant too. They require so much more attention. Plus nobody likes changing dirty diapers.
Should You Pay A Babysitter Overtime?
Say you're running really late one day. Maybe your car broke down, and your babysitter had to stay an extra 2 or 3 hours later than you had originally planned. Do you have to pay them overtime?
At a regular retail job, you normally wouldn't be entitled to an overtime rate just because your boss asked you to work late or cover someone else's shift and take on more hours. I'd use the same logic when it comes to babysitters.
In some places, it might be the law that employees need to be paid time and a half if they are working more than 40 hours per week. Your babysitter is unlikely to ever hit that cap. And even if they do, babysitters are considered more like contractors so that wouldn't necessarily apply.
So no, you aren't legally required to pay your babysitter overtime if they work extra. You should definitely pay them their normal hourly rate for the extra hours covered, and it would be nice to add in a few extra dollars for their inconvenience though.
How Do You Pay An Overnight Babysitter?
There are a few different ways to pay your babysitter when they have to stay the night.
Lots of people will pay a babysitter's regular hourly rate up to a certain time, like until 10 pm, and then pay a flat rate like $50 for the entire time they're asleep until a reasonable morning time like 7 or 8 am.
Other people pay their babysitter their regular rate while they're awake and minimum wage while they're asleep.
Your babysitter might also want to charge their regular hourly rate if they need to wake up and help the kids for any reason in the night, and will charge for as long as they're awake.
If you have a newborn or infant that your babysitter is watching, you'll probably want to actually pay them even more than their normal rate for their inconvenience, since they'll be up feeding and changing the baby all night and won't get a good night's sleep.
Learn more about babysitting costs in our article: The complete guide to babysitter pay.
Related Questions
What's the difference between a licensed and unlicensed daycare?
An unlicensed daycare isn't regulated by the government. A licensed daycare is regulated by the government and has to meet specific standards including staff qualifications, fire escape plans, menus that meet nutrition guidelines, adequate space for play, eating, and sleeping, and mandatory inspections from a government inspector. Some unlicensed daycares or babysitters may voluntarily do these things, but it's not required.
What other things affect a babysitter's rates?
In addition to charging for extra kids they're watching, babysitters may ask for extra based on certifications (like CPR or first aid), additional responsibilities like picking up the kids from school or helping with homework, on special occasions like Valentines Day or New Years Eve, and some might even want to be compensated for travel and expenses.
Written by: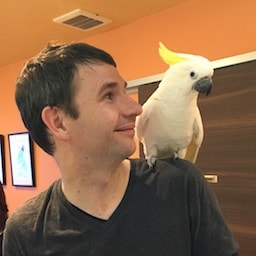 Kidsit Founder, Editor, Illustrator, and father of three beautiful kids in Sydney, Australia.
Published: 1 February 2019
More Babysitting Tips
Learn about the pros, cons, and costs of both daycare programs and hiring a nanny, plus we investigate some alternatives to consider.
Learn which qualities and characteristics a babysitter should have that make them a great caregiver your whole family will love.
Make the right choice for your family by learning the subtle differences between babysitters and nannies and their typical responsibilities.
Make sure your babysitter is capable, experienced, is a great fit for your family, and has a great personality too by asking the right questions.
We cover the best childcare options that are available to families while on vacation that both kids and parents will love.
Learn what babysitting expenses parents are eligible for, and receive a tax credit or deduction. It can save you thousands of dollars!
Learn how old, mature and capable your kids need to be before you can be comfortable leaving them home without a babysitter.
The majority of families will need to hire a babysitter between once per week and 1-2 times per month but it depends on your family's individual needs.
Learn how to choose a mature and capable babysitter that can keep your kids safe on overnight sitting jobs.
Follow our step by step guide to hiring a babysitter from start to finish including screening, interviewing, performing background checks, and making an offer.
Learn some non-obvious benefits when it comes to hiring a babysitter for your child or children. We'll also touch on a few of the disadvantages to consider.
Follow our tips to make sure the interview process goes smoothly and read our general guide on how the process should work.
Learn how to fire your babysitter nicely and as smoothly as possible. As well as reasons you might fire a babysitter and reasons why you probably shouldn't.
Learn how to hire a babysitter for New Year's Eve, what the requirements are, whether you need a backup sitter, and how much it will cost you!
This guide will answer all of your questions about finding, vetting, teaching, and working with the right babysitter for your autistic child.
Learn exactly what a babysitter is, what job duties they do, the hours they work, how much they charge, and how they can help your family.
Learn which jobs are super flexible and let you work around your existing childcare schedule and earn some extra money!
Learn the basic laws that various countries have about recording people with or without their consent, and see the pros and cons of using a nanny cam.
Your best option is to reach out to family and friends for a favor. If they aren't able to help, try our list of creative alternatives.
To successfully win a lawsuit against a negligent babysitter, you'll need to prove a duty of care, a breach of their duty, and causation.
A male babysitter can be just as safe, caring, and responsible as a female one. Compare their qualifications and recommendations just like other candidates.
Learn what paperwork is required to allow your babysitter to take your child to the doctor if you're unavailable to do so.
It's not normal to pay a babysitter for an interview, however, for babysitting, there's one key exception you should know.
Learn what babysitters expect from parents when it comes to food. If you decide to provide dinner, try our 8 easy food ideas that are perfect for babysitters on the job.